Matt Ryan May Be the Next Quarterback Involved in a Blockbuster Trade as His Falcons Tenure Could Soon Be Over
Matt Ryan and the Atlanta Falcons have had a lot of success together. However, they have also had some down years, as Ryan and the Falcons have missed the playoffs in each of the last three seasons. So, with him soon turning 36 years old, could Atlanta trade Matt Ryan? Despite the Falcons recently saying that they expect their star NFL quarterback to return in 2021, some reports are connecting Ryan to a quarterback-less AFC team.
Matt Ryan has had success as the Falcons' quarterback
RELATED: Falcons Owner Arthur Blank Bought a $180 Superyacht With 2 Hot Tubs and Cabins for 23 Guests
The Atlanta Falcons selected their franchise quarterback in Matt Ryan with the No. 3 overall pick in the 2008 NFL draft. Ryan has since proven to be one of the best quarterbacks in the NFL.
In his rookie season, Ryan led the Falcons to an 11-5 record and the playoffs. This came after they went 4-12 the year before without him. Then, in 2010, Ryan earned a Pro Bowl selection by throwing for 3,705 yards, 28 touchdowns, and nine interceptions. The Falcons went 13-3 that year, too, and reached the divisional round. The playoff appearance that season was also ultimately Atlanta's first of three straight.
Additionally, in 2012, Ryan then earned his second career Pro Bowl selection. He threw for 4,719 yards, 32 touchdowns, 14 interceptions, and led the league with a 68.6% completion percentage that season. The Falcons went 13-3 again that year, too, and reached the NFC Championship Game.
However, Atlanta then missed the playoffs the next three seasons from 2013 through 2015. In 2016, though, Ryan had his best season as the Falcons' quarterback, and Atlanta was an excellent team. Ryan ultimately won the league MVP award that year, throwing for 4,944 yards, 38 touchdowns, and only seven interceptions. The Falcons then ended up going 11-5 and all the way to the Super Bowl but ultimately lost in overtime to the New England Patriots.
Since then, Ryan has continued to play well, throwing for over 4,000 yards and 20 or more touchdowns every season. He also threw for 4,924 yards, 35 touchdowns, and seven interceptions in 2018. After making the playoffs in 2017, though, the Falcons have missed out on the postseason each of the last three years. They also went 4-12 in 2020.
The Atlanta Falcons could move on from their quarterback
RELATED: Julio Jones Could Be the Next Victim of Atlanta Falcons' Failures
The Falcons fired head coach Dan Quinn and general manager Thomas Dimitroff in 2020. They have since hired Arthur Smith as their next head coach and Terry Fontenot as general manager.
With Atlanta potentially looking toward their future, and with Ryan, most likely, wanting to win again, there has been some speculation about the two sides potentially parting ways. Additionally, in January, Arthur Smith told ProFootballTalk that "No decision with personnel has been made" when discussing Ryan and Julio Jones' futures in Atlanta. He said this instead of standing by the team's two superstars.
However, in February, Falcons owner Arthur Blank said in an interview on NFL Network that Atlanta expects Ryan "to be a Falcon next year, fully," according to NFL.com. Ryan, who is signed with Atlanta through 2023, has also said on ESPN that he wants to be back in Atlanta in 2021.
This still doesn't mean that the Falcons won't trade Matt Ryan, though. In fact, some reports have him connected to a team in the AFC — the Indianapolis Colts.
Matt Ryan could be the Colts' next quarterback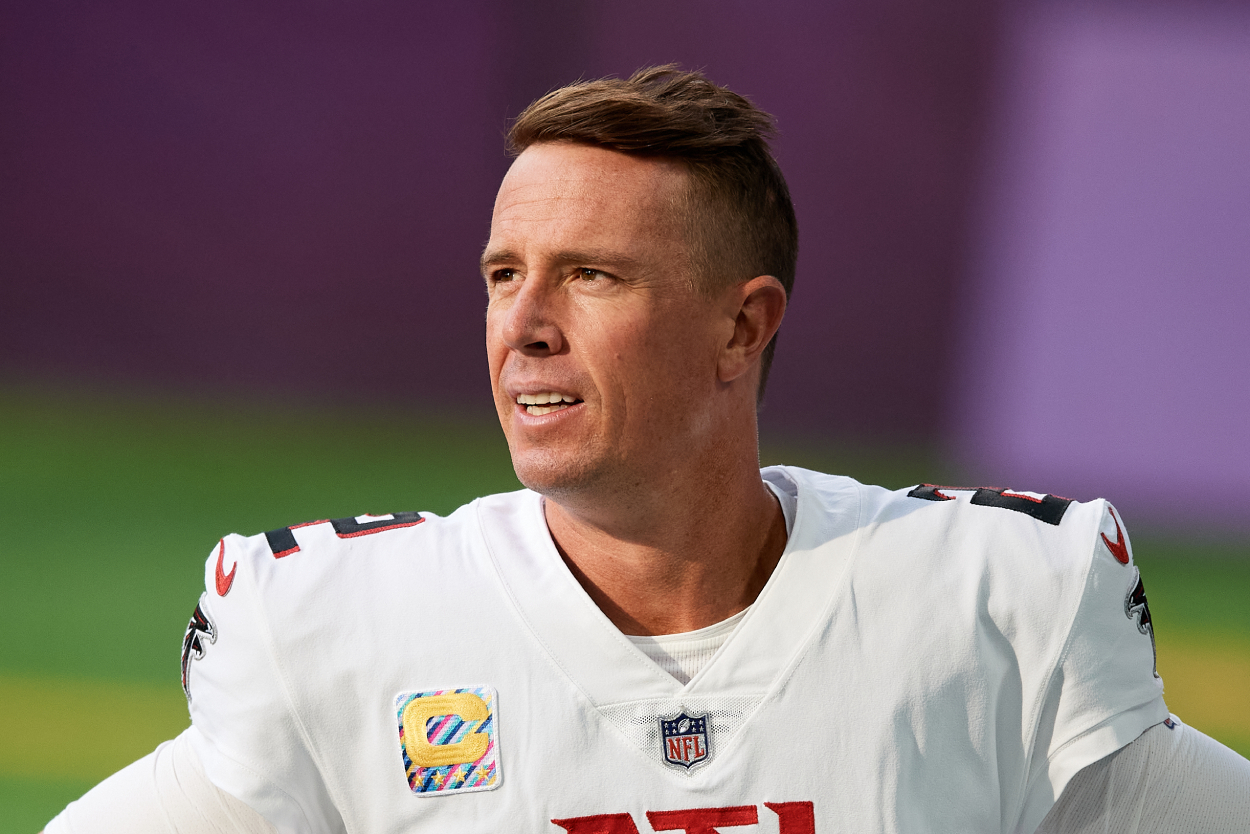 RELATED: Carson Wentz Reportedly Knows the Exact Team He Wants to Ditch the Eagles for in 2021
Dan Dakich is typically known for his college basketball coverage on ESPN, as he formerly played and coached for Indiana University. However, Dakich, who hosts a radio show in Indiana, recently gave some insight into what he has been hearing more of lately.
"Starting to hear more and more about Matt Ryan and [the Colts]," he tweeted on Feb. 9.
No, Dakich didn't say that the Falcons are definitely going to trade Matt Ryan to Indy. He simply just said that he has heard more reports connecting Ryan to the Colts. So, if more people are talking about it, then there could be some truth to the reports.
The Colts are built to win a Super Bowl, but they just need a quarterback. Indianapolis has a good offensive line that could protect Ryan, a great running back, some decent weapons, and an excellent defense. Ryan, of course, wouldn't have Julio Jones anymore, but the Colts would absolutely give him a better chance to win than the Falcons will be able to in 2021. Ryan could easily be that quarterback the Colts need to reach the mountaintop, too.
No, there aren't any serious reports yet, as most of them seem to just be rumors and speculation. But if the Falcons draft a quarterback, and if Matt Ryan is ready to win now, he could be the next QB involved in a blockbuster trade. He could ultimately become the Colts' next quarterback.
Stats courtesy of Pro Football Reference