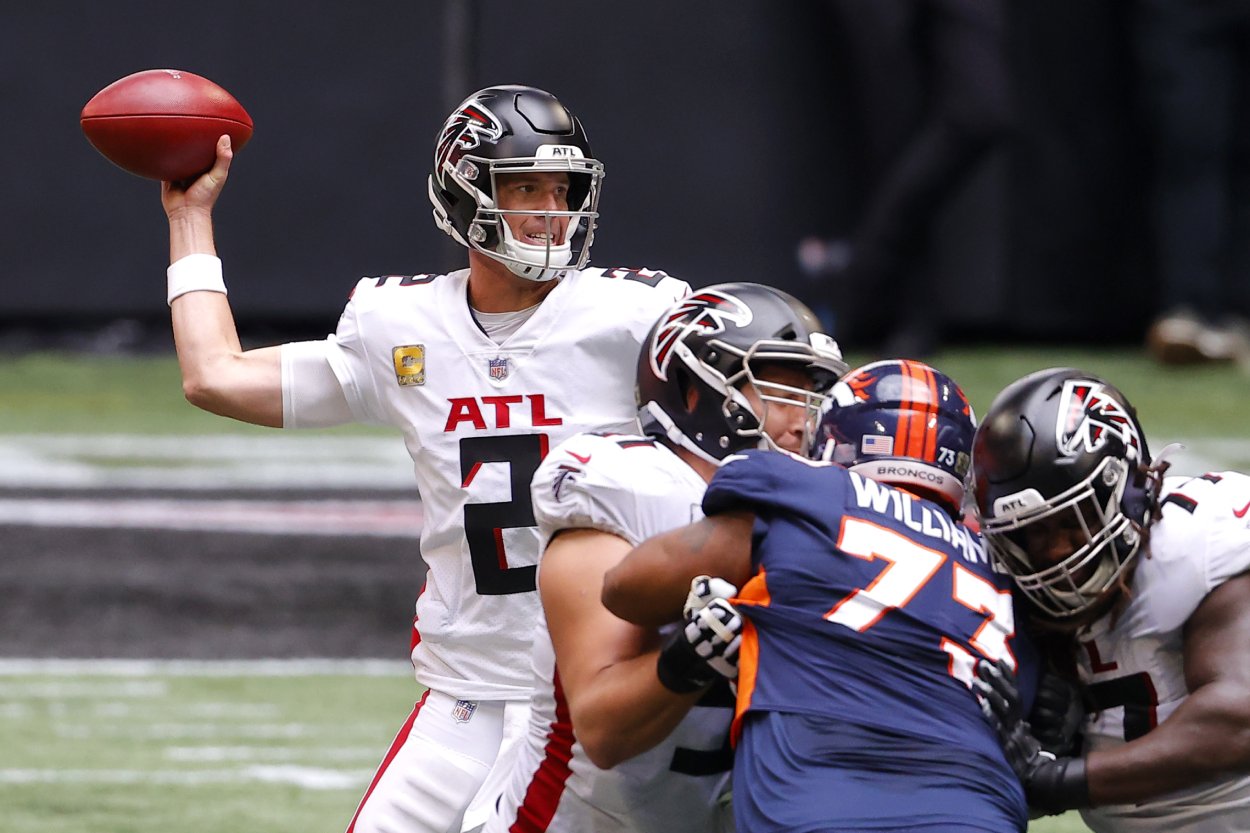 What if the Denver Broncos Replaced Peyton Manning With Matt Ryan in 2016?
The Denver Broncos should have tried trading for Atlanta Falcons quarterback Matt Ryan in 2016.
Denver Broncos fans have spent nearly a decade waiting for a suitable successor to Peyton Manning. But what if we told you that Matt Ryan could have been that quarterback?
Sorry, Broncos fans. We know that idea may be tough to handle. Please work with us, though, and try to think about a world that sounds so much better than reality.
What if the Atlanta Falcons traded Matt Ryan after the 2015 season?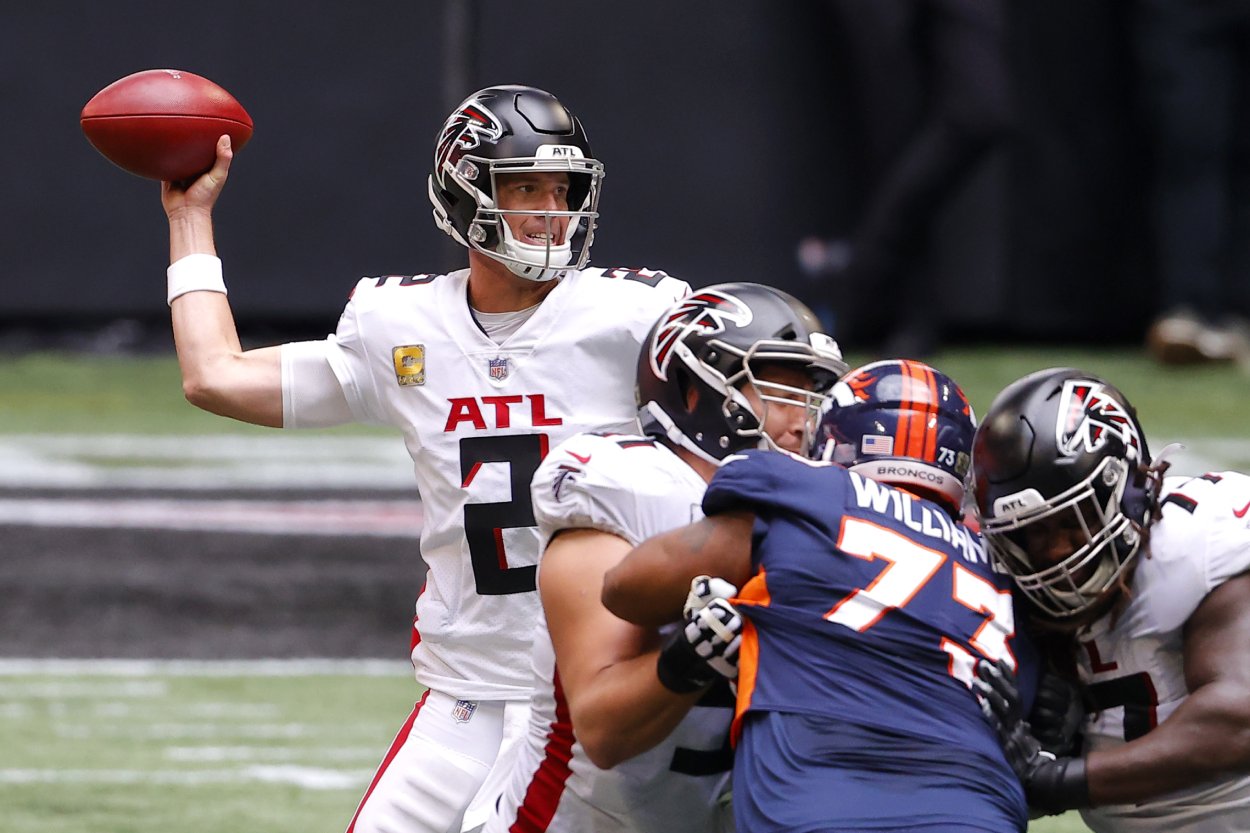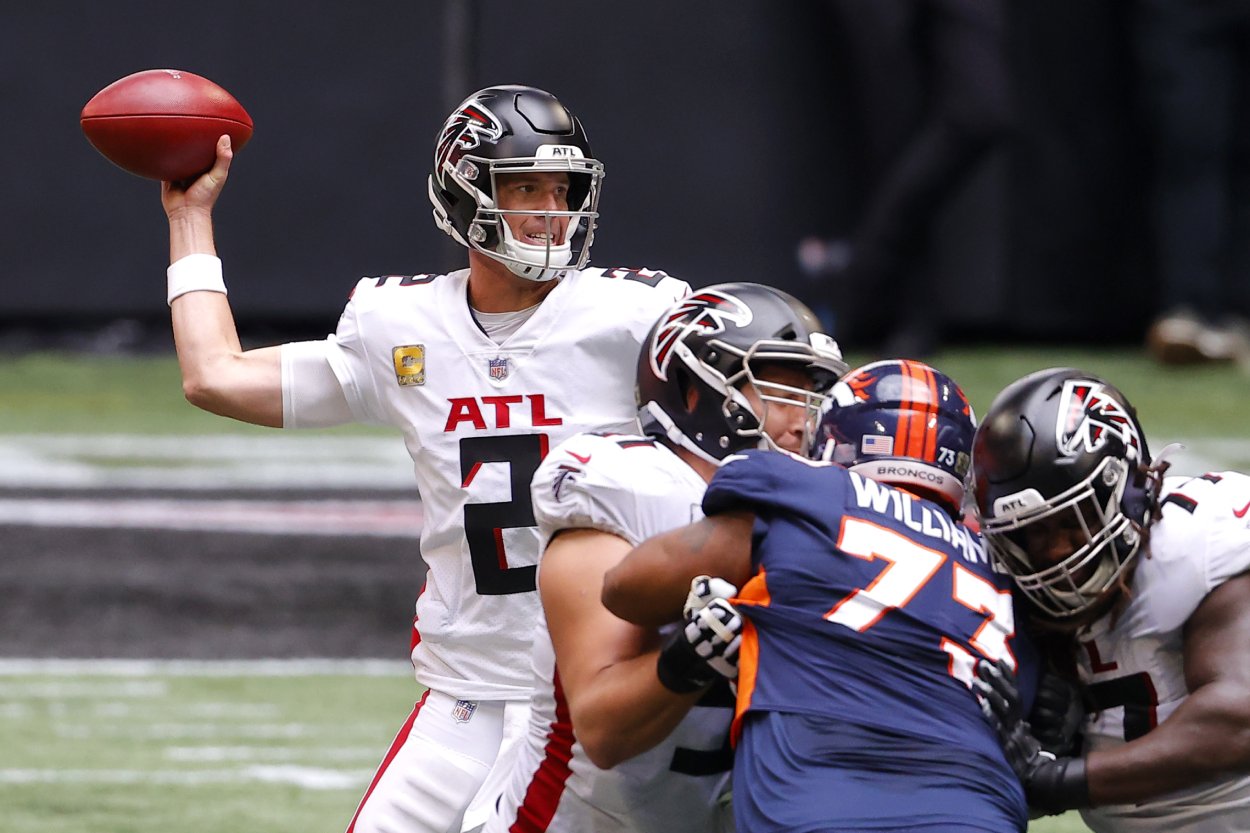 Peyton Manning ended the 2015 NFL season with a Super Bowl ring. Matt Ryan left that year with questions about his long-term future in Atlanta.
Despite opening the campaign with five straight wins, the Falcons went from 6-1 to 8-8 and out of the playoffs. Ryan threw nine touchdowns against nine interceptions in the Falcons' final seven games, a stretch in which the team went 2-5.
On Dec. 1, 2015, Mike Florio of ProFootballTalk openly wondered if the Falcons would try to trade their franchise quarterback. At the time, Atlanta owed Ryan more than $50 million over his next three seasons. As we know, the Falcons held onto Ryan, and there were no credible reports in the spring of 2016 about them exploring a trade. With that said, what would have happened had the Broncos been willing to make a trade work? 
Denver had salary-cap issues and likely would have needed to part ways with Ryan Clady, an injury-prone offensive lineman who had a $10.1 million cap figure in 2016. Let's say Denver sent Clady, the 31st overall pick, a mid-round pick in 2016, and a 2017 conditional pick to Atlanta for Ryan. 
Ryan played the entire 2016 season at 32 years old. When the Eagles traded 33-year-old Donovan McNabb to Washington in 2010, they received a second-round pick in that year's draft and a conditional pick in 2011, one that became a fourth-round selection. 
Would Ryan have revived his career with the Broncos?
If we go with the aforementioned trade, the Broncos would have essentially traded Clady, quarterback Paxton Lynch, running back Devontae Booker, and either receiver Carlos Henderson or cornerback Brendan Langley for Ryan.
On paper, that would be a steal. Ryan won the 2016 NFL MVP Award when he completed 69.9% of his passes for 4,944 yards, 38 touchdowns, and seven interceptions. Of course, the Falcons' season ended that year with a historic collapse in Super Bowl 51 against Tom Brady and the New England Patriots.
However, Ryan would not have had Kyle Shanahan in Denver. Shanahan, the Falcons' offensive coordinator in 2016, is widely credited with helping Ryan revive his career. Would Rick Dennison, who worked with Matt Schaub in Houston, have achieved that same success?
Instead of throwing to Julio Jones, Ryan would have had Demaryius Thomas and Emmanuel Sanders as his primary receivers. Both earned Pro Bowl honors in 2016 with Trevor Siemian taking most of the quarterback snaps.
It is hard to predict how much Ryan would have improved if he did not have Shanahan and Jones. However, the Broncos almost certainly would have been better off in the long haul with Ryan instead of Siemian, Lynch, or virtually all of the quarterbacks who have suited up in Denver since Manning retired.
The Broncos are still trying to find a franchise quarterback
Ryan is still going strong at age 36, and the new Falcons regime is optimistic about his future. The team used the fourth overall pick on Florida tight end Kyle Pitts instead of a quarterback in the 2021 NFL draft.
Somewhat surprisingly, the Broncos did not select a quarterback at any point in the draft, which may bode well for Drew Lock. The 2019 second-round pick completed 57.3% of his passes across 13 starts in 2020 for 2,933 yards, 16 touchdowns, and 15 interceptions.
The 2021 season will have been six years since Manning's final campaign. Siemian didn't pan out, Lynch quickly turned out to be a bust, and Joe Flacco didn't revive his career in Denver. It is now up to Lock, and there is still time for him to figure things out. But if he can't, Broncos fans will have to keep wondering, "What if?"
Like Sportscasting on Facebook. Follow us on Twitter @sportscasting19.