Why Matt Ryan's 500-Yard Game, Like His Career, Comes Up Short
In a pass-heavy league where franchise signal callers are king, it's not surprising that many of the NFL's top gunslingers are well-positioned to capture the 2016 MVP award. Yet, there's one elite passer who, despite consistently putting up respectable numbers, often finds himself on the outside looking. However, following the ridiculous exhibition he just put on in Week 4, Matt Ryan may finally earn a spot at the table.
Don't get us wrong, we've seen Matty Ice shred opponents before. After all, there's a reason why the three-time Pro Bowler is constantly mentioned with the game's elite passers. Yet, during Atlanta's 48-33 victory over the Carolina Panthers, we saw Ryan do something different; something that few quarterbacks have managed to do throughout NFL history. On this particular afternoon, the Falcons QB joined the 500-yard club.
By the time this massively one-sided affair was over, Ryan's stat line looked as if it had just come out of a video game — 28 for 37, 503 passing yards (a team record), four touchdowns, and one interception; a performance for the ages. Unfortunately, while this is a game folks will probably talk about for a while, we can't help but focus on the negative. Yes, contrary to popular belief, there is a negative in all this.
While Ryan's passing numbers should be celebrated, sadly, they also represent a microcosm of his entire career. Big numbers, mild success; ultimately, coming up just a bit short. Most of the time, we refer to his lack of heroics in the postseason, but in this particular case, we point out how he came up just shy of joining the list of the greatest single-game passing leaders in NFL history. In fact, if Ryan's was hoping to make a real dent in the books, these seven players are the ones standing in his way.
7. Matthew Stafford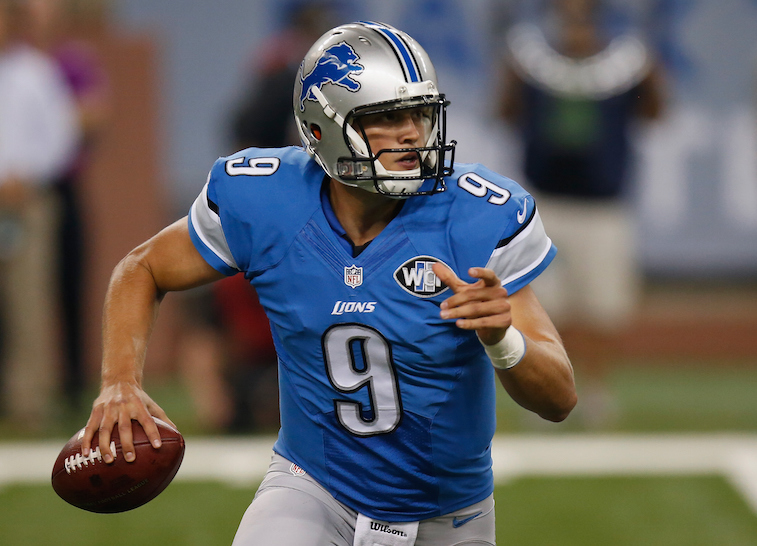 Passing yards: 520
On January 1, 2012, Matthew Stafford went to Lambeau Field and straight lit up the Green Bay Packers. The former Georgia Bulldog completed 36 of 59 passes for 520 yards, five touchdowns, and two interceptions, finishing the contest with a quarterback rating of 103.8. Unfortunately for Detroit fans, this superstar effort wasn't enough.
To the surprise of pretty much everyone, Stafford was out-dueled by Green Bay backup Matt Flynn (31 of 44, 480 passing yards, six touchdowns, and one interception), and the Lions fell to their NFC North rival by the score of 45-41. Clearly, it pays to have some of the best fans in the National Football League.
6. Dan Marino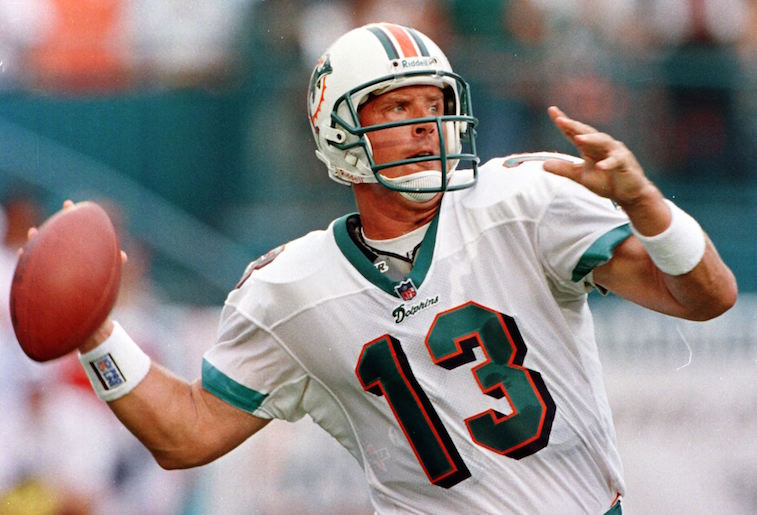 Passing yards: 521
Despite throwing for 521 yards against the New York Jets on October 23, 1988, Hall of Fame quarterback Dan Marino experienced what can best be described as an "up and down game." He completed 35 passes for three touchdowns that afternoon, but it took him 60 attempts and five picks to get there. To add insult to injury, the Dolphins also came up short, losing on their home field by the score of 44-30. If only this wasn't a trend throughout Marino's career.
4. (tie) Ben Roethlisberger
Passing yards: 522
Against the Indianapolis Colts on October 26, 2014, Ben Roethlisberger, unlike the previous two quarterbacks on the list, put on a passing clinic and led his team to an all-important victory. Big Ben completed 40 of 49 passes for 522 yards, six touchdowns, and no interceptions. Behind this superhuman effort from the 6-foot-5, along with 10 receptions, 133 receiving yards, and two touchdowns from Antonio Brown, the Steelers pounded the Colts 51-34. As you can see, it pays to have elite quarterback play in the NFL.
4. (tie) Boomer Esiason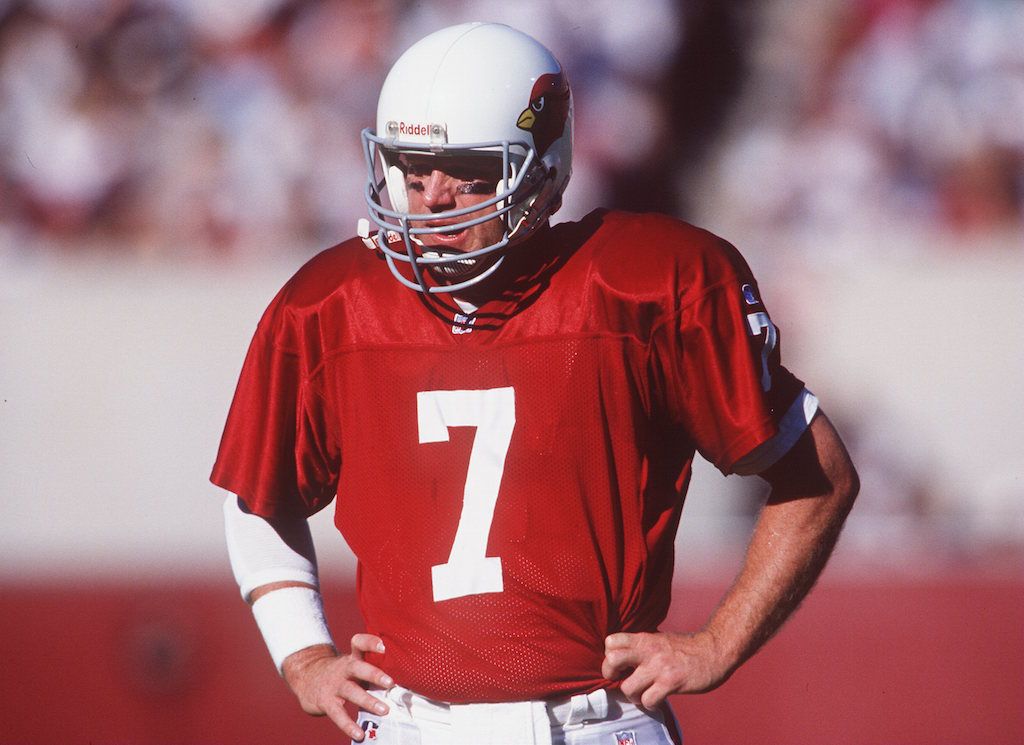 Passing yards: 522
At the ripe young age of 35, quarterback Boomer Esiason had one of the most impressive performances — from a passing yards standpoint — of his career. On the road against the Washington Redskins, the four-time Pro Bowler completed 35 of 59 passes for 522 yards, three touchdowns, and four interceptions. More importantly, he brought the Arizona Cardinals back from a 14-point deficit to win the game 37-34 in overtime.
2. (tie) Matt Schaub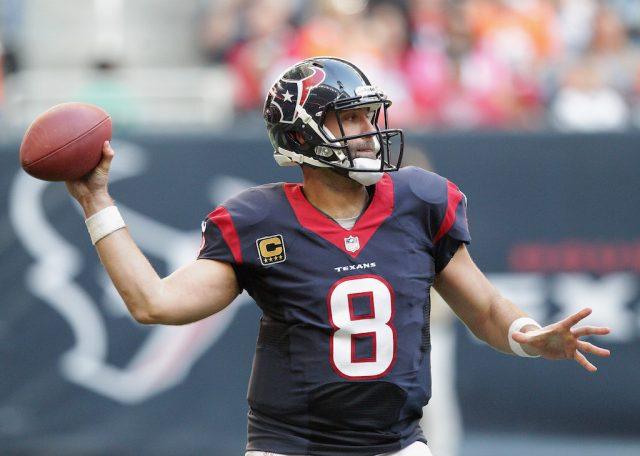 Passing yards: 527
As hard as it is to believe, there was a point in time when Matt Schaub appeared to be the answer at quarterback in Houston. In fact, during a home game against the Jacksonville Jaguars on November 18, 2012, the former Virginia Cavalier torched the competition, connecting on 43 of 55 passes for 527 yards, five touchdowns, and two interceptions in a 43-37 overtime win for the Texans. This victory gave Houston a 9-1 record overall. Unfortunately, like Schaub's time with the organization, this mark wouldn't last.
2. (tie) Warren Moon
Passing yards: 527
On December 16, 1990, Warren Moon and the Houston Oilers traveled to Kansas City to take on the formidable Chiefs. Fortunately for the visiting team, its quarterback was more than ready to deliver an A-plus performance. In the Oilers' 27-10 victory, Moon completed 27 of 45 passes for 527 yards and three touchdowns, and finished the game with a quarterback rating of 123.1. That, ladies and gentleman, is why he's in the Hall of Fame.
1. Norm Van Brocklin
Passing yards: 554
The New York Yanks (yes, that was an actual team) had the misfortune of opening their 1951 season on the road against the Los Angeles Rams. In this massively one-sided affair, Rams quarterback Norm Van Brocklin completed 27 of 41 passes, threw five touchdowns (and two interceptions), and set the single-game passing mark with 554 yards. It's safe to say this epic performance was a major reason why Los Angeles won the contest 54-14.
Statistics courtesy of Pro-Football-Reference and ESPN.