Matt Schaub Has Quietly Made Nearly $100 Million in the NFL
As easy as it is to forget, Matt Schaub was a borderline elite quarterback in the early 2010s.
A former third-round pick who backed up Michael Vick in Atlanta, Schaub rose to stardom with the Houston Texans. With Schaub behind center, Houston completed its ascent from an expansion franchise to an AFC contender.
It's been quite a few years since Schaub last held a starting role, but that hasn't stopped him from quietly making nearly $100 million in the NFL.
Matt Schaub has had a long NFL career
A third-round pick from Virginia in 2004, Matt Schaub is still going strong all of these years later. Despite having Michael Vick entrenched as the starting quarterback, Atlanta drafted Schaub to serve as a suitable backup who, potentially, they could trade down the line.
That's exactly what happened. After three years and two starts in Atlanta, the Falcons traded Schaub and a first-round pick to Houston in March 2007 for the Texans' first-round pick, that year's second-round pick, and a 2008 second-round pick.
Schaub is best known for the seven years he spent in Houston from 2007-13. The Texans' replacement for former No. 1 overall pick David Carr, Schaub completed 64.6% of his passes for 23,221 yards, 124 touchdowns, and 77 interceptions.
At his best, Schaub was a Pro Bowl quarterback and a game-changing gunslinger. But at his worst, Schaub struggled with risky throws and durability; he only played a full 16 games three times in those seven years.
An injury kept Schaub out of the postseason that followed the 2011 season. He led Houston to the second round of the 2012-13 playoffs before the Texans lost to Tom Brady and the New England Patriots, a fate they'd repeat several times in the coming years.
Schaub has bounced around the NFL since leaving Houston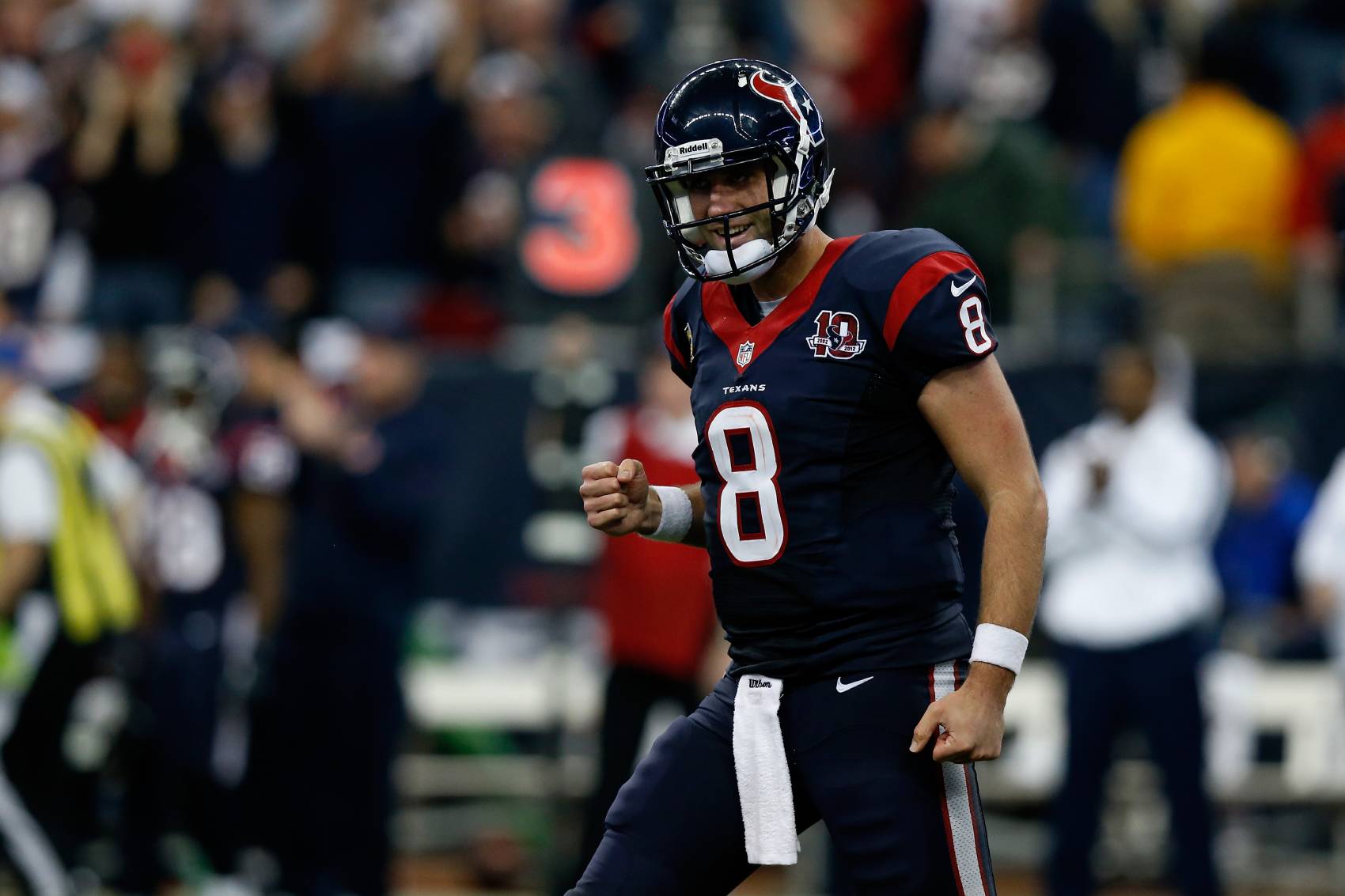 Like former MLB second baseman Steve Sax, Matt Schaub had his own case of the "yips" in 2013. He struggled with throwing pick-sixes and ended the year with 14 interceptions to 10 touchdowns in 10 games.
Houston ended the year on a 14-game losing streak and traded Schaub to Oakland in the spring of 2014. Fittingly, Houston traded Schaub, who had interceptions returned for touchdowns in an NFL-record four straight games in 2013, to the Oakland Raiders for a 6th-round pick.
Or, in other words, a pick-6.
After replacing David Carr in Houston, Schaub spent 2014 backing up the younger brother, Derek Carr. Schaub moved to Baltimore in 2015 and threw three touchdowns to four interceptions in two starts. Schaub returned to Atlanta in 2016 and has been there ever since.
Last year, Schaub started a game for the first time since 2015. He completed 39 of 52 passes for 460 yards, a touchdown, and an interception in a 27-20 loss to Russell Wilson and the Seattle Seahawks.
Matt Schaub has quietly made a ton of money
When a quarterback plays for nearly 20 years, he's bound to make his fair share of money along the way.
Matt Schaub made over $92 million through the 2019 season. His current contract with the Atlanta Falcons will pay him $2 million in 2020, bringing him to nearly $95 million barring any coronavirus-related contract changes.
Schaub earned $69.4 million of that in Houston; that included a $17 million signing bonus from a five-year, $66 million contract he signed in 2012.
Matt Schaub won't enter the Hall of Fame when the 39-year-old eventually retires. But he at least has been properly compensated for a lengthy and successful NFL year.