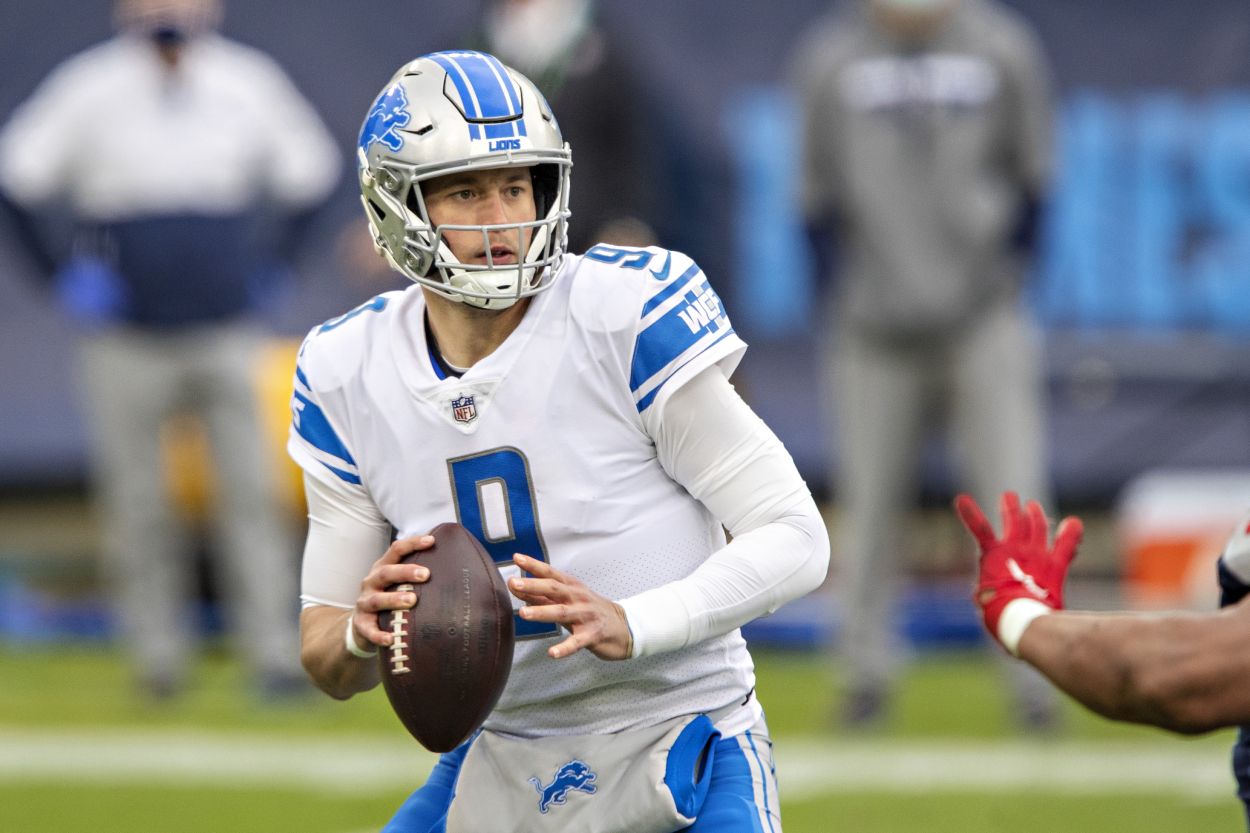 Matthew Stafford Can Go From Bottom Feeder To Super Bowl Champion With His New Potential Team
Matthew Stafford has been a great quarterback on some bad Lions teams. Now, he could go from a bottom feeder to a Super Bowl champion.
Matthew Stafford has been one of the more underappreciated quarterbacks of his era. It has mostly been because of the fact that he is on the Detroit Lions, though. This isn't just because Detroit is a small-market team compared to teams like the Dallas Cowboys, but it's because the Lions have consistently failed to put a good team around Stafford. Well, Stafford and the Lions appear to be done with each other, and his next team could actually be a perfect fit for him. In fact, he could go from a bottom feeder to a Super Bowl champion.
Matthew Stafford has been an excellent quarterback
The Detroit Lions selected Matthew Stafford with the No. 1 overall pick in the 2009 NFL draft. He has since become an excellent QB.
Stafford struggled in his rookie season, throwing 13 touchdowns and 20 interceptions in 10 games, and he then only played in three games in 2010. However, in 2011, he came back and dominated, which led to him winning the 2011 AP Comeback Player of the Year award. Stafford ultimately threw for 5,038 yards, 41 touchdowns, and 16 interceptions that season. He led the Lions to the playoffs that year, too, but they lost in the wild-card round.
Stafford was then as consistent as they come from 2011 through 2017. He threw for over 4,200 yards and 20 touchdowns or more in each of those seasons. He also threw for 24 touchdowns or more in five of those seven seasons. The Lions only made it to the playoffs three times in those seven seasons, though, and lost in the wild-card round each time. 
Detroit last made the playoffs in 2016, as the team has missed the postseason in each of the last four seasons. In 2019, though, Stafford only played in eight games, but was incredible in those games. He recorded 2,499 yards, 19 touchdowns, and five interceptions. Stafford came back and played in all 16 games in 2020, though, and he threw for 4,084 yards, 26 touchdowns, and 10 interceptions. However, the Lions only went 5-11 and they failed to win more than six games for the third consecutive season.
For his career, Stafford has thrown for 45,109 yards and 282 touchdowns, which are both No. 16 all-time. He is also fourth all-time in passing yards per game, too, with 273.4.
He is most likely leaving the Detroit Lions
According to NFL.com's Tom Pelissero, sources say that Stafford has met with the Lions recently and has said that he would like a fresh start. The Lions are now planning on discussing trade options for Stafford.
"The sides have had open and healthy discussions since the season ended," Pelissero wrote. "But with the Lions starting over again, hiring Dan Campbell as head coach and Brad Holmes as general manager, Stafford told the team he feels it's the right time to move on and team officials agreed, per sources."
Several teams could be interested in Stafford. However, the most logical one could make Stafford a Super Bowl champion.
Matthew Stafford could lead the Indianapolis Colts to a Super Bowl
The Indianapolis Colts' fan base has been discussing potentially trading for Matthew Stafford since about midway through the 2020 NFL season. That's not a knock on Philip Rivers — who recently announced his retirement. He had a great season with the Colts. Stafford is about to turn 33, though, and Rivers just turned 39. Stafford just makes more sense long-term.
Now, with reports coming out that Stafford and the Lions are most likely parting ways, Colts fans and non-Colts fans are all saying that Stafford and Indy are a match made in heaven.
The Colts have a great offensive line to protect Stafford. They also have one of the best young running backs in the NFL in Jonathan Taylor, who ran for 1,169 yards this season. Additionally, according to MLive, Stafford hasn't had a 1,000-yard rusher since Reggie Bush in 2013. Taylor would take the pressure off Stafford and would force opposing defenses to focus on the run game, not just the passing game. Stafford has always had to play defenses that are just focusing on stopping him.
Additionally, the Lions only had a defense that ranked better than 13th in points once since 2011. They also ranked 20th or worst six times in the last 10 seasons and were 32nd this season. The Colts, on the other hand, had a top 10 defense in 2020.
The Indianapolis Colts are built to contend for Super Bowls. They just need a quarterback. Matthew Stafford is also built to contend for Super Bowls. He just needs a team. The pairing almost makes too much sense.
Stats courtesy of Pro Football Reference