Matthew Stafford and His Wife Kelly Open Up About the Vacation That Landed the Former Lions QB With the Rams: 'A Crazy Story'
Matthew Stafford is one of the most incredible stories of the 2022 Super Bowl. The former Detroit Lions quarterback never got the credit he deserved while playing for a struggling franchise. Little did he know, a vacation with his wife, Kelly Stafford, would change his life forever.
The Los Angeles Rams went all-in on the 2021 NFL season, and trading for Stafford was a massive gamble that has paid off. Now, the 34-year-old quarterback is one win away from hoisting the coveted Lombardi Trophy.
Matthew Stafford and Kelly Stafford ran into Sean McVay and Andrew Whitworth in Cabo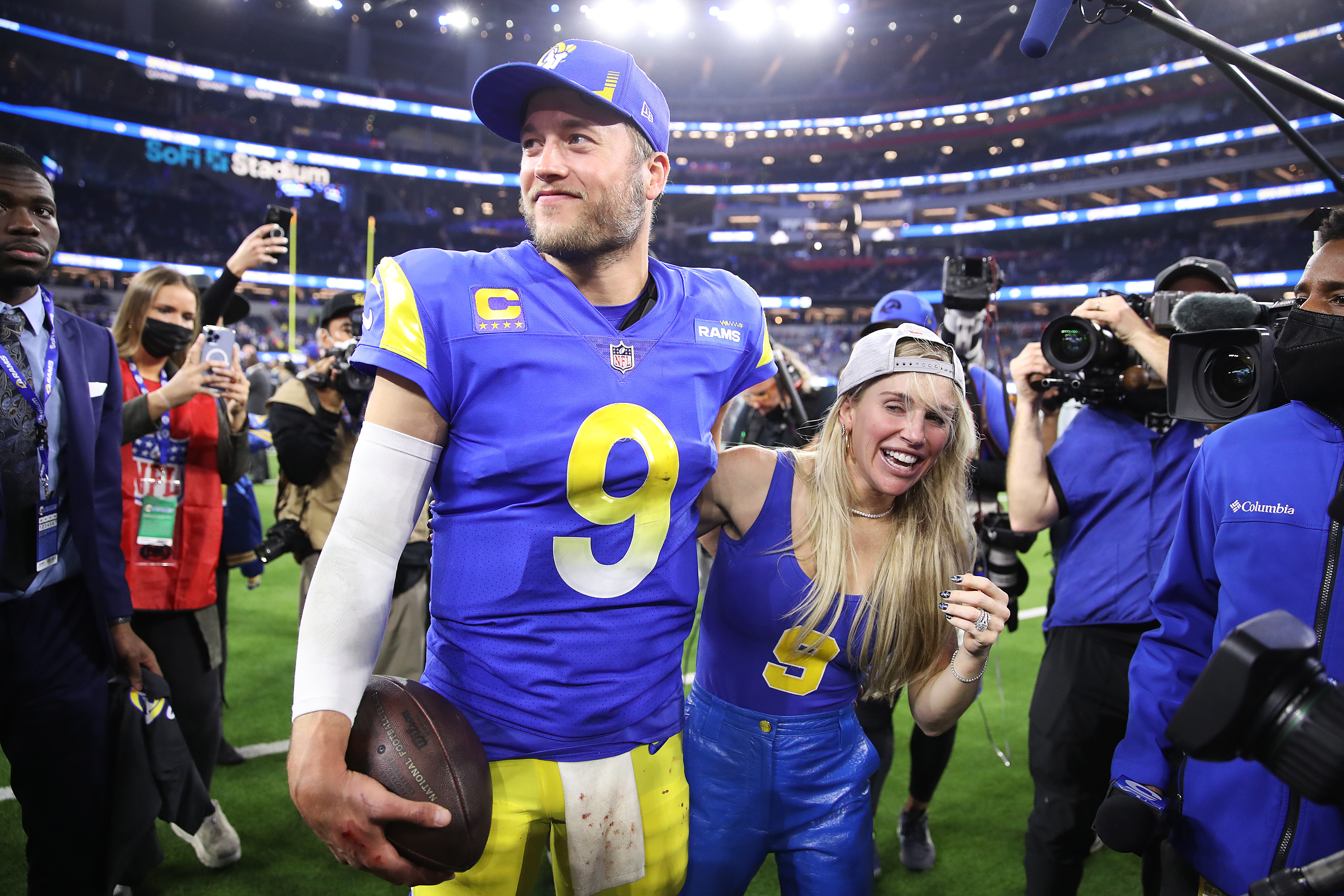 The LA Rams' path to acquiring Matthew Stafford is unique and seems scripted from a movie. As the veteran quarterback and his wife, Kelly Stafford, tell it, it was undoubtedly an experience to remember.
The Staffords recently sat down with NBC Sports' Maria Taylor ahead of the 2022 Super Bowl. The couple discussed their vacation to Cabo San Lucas, Mexico before the 2021 season, which led to the former Lions signal-caller joining the Rams.
"We went there, and lo and behold," said Kelly Stafford. "We walk to the pool, and there's Whit [Andrew Whitworth]. I immediately was like, 'That's a big dude, that's a football player.' We can't even get away. Then, Sean McVay came around the corner. We got to know him a little bit. They started talking football immediately, and I was like, "Alright, I guess I'll just go to the bar."
Matthew Stafford suggests that even though he was extremely close with Whitworth and McVay, the connection was apparent when they ran into each other on vacation.
"I knew who he was," Stafford said of McVay. "Her [Kelly] brother played against him in high school. So it's this weird dynamic, long backstory to it. We just started talking a little football, bouncing plays from their season and my season. He realizes I was remembering a lot of these plays and talking the same language as he is."
Stafford knows the story might seem fabricated but assures that it's true. "I feel like people don't believe it," Stafford added. "But it's just a crazy story, and it's why we're here today. I'm happy it happened. It was a big-time moment for our family."
The former Lions quarterback has thrived in LA
Matthew Stafford's future with the Detroit Lions was up in the air after the 2020 season. Kelly Stafford decided to fly down to Cabo with every intention of taking her husband's mind off football. Who could've guessed they would bump into the head coach of the LA Rams?
The chance meeting set the foundation for one of the most monumental moves of the 2021 offseason. Rams general manager Les Snead struck a deal acquiring Stafford from the Lions for two first-round draft picks, a third-rounder, and quarterback Jared Goff.
LA gave up a lot to get Stafford in town, and it was uncertain if the offseason gamble would pay off.
The fresh start in a winning environment did wonders for the former Georgia Bulldogs standout. Stafford hit the ground running with the Rams offense. He threw for 4,886 yards, 41 touchdowns, and 17 interceptions while completing 67.2% of passes in the regular season.
Stafford's chemistry with wide receiver Cooper Kupp led the way for the offense in 2021. Their instant connection helped Kupp put up historic numbers in his fifth NFL season. It didn't take Stafford long to get in sync with Odell Beckham Jr., either.
Matthew Stafford, Kelly Stafford, and their family had roots in Detroit, but the move to LA will all be worth it if the Rams win the Super Bowl.
What a Super Bowl victory does for Stafford's legacy
Detroit is not a prime destination for NFL free agents. The Lions have never won a Super Bowl, and it's never really been close to one, either. Still, Matthew Stafford gave all he had to the franchise to change the narrative.
Unfortunately, the Lions made just three playoff appearances with Stafford under center, with all of them ending in a first-round exit. The trade to the Rams gave the 34-year-old quarterback a legitimate shot at competing for a championship.
Still, doubts emerged about whether or not Stafford would be enough to get LA over the hump. He hadn't won any playoff games, so that stigma stuck with him until he actually did it. He's silenced many doubters during the Rams' playoff run.
Stafford posted a career 74-90-1 record in Detroit. That mark is nothing to write home about, but it's also misleading, given the quality of the teams he played for. This Rams team is by far the most talented team he's ever been a part of, and a win could significantly alter his legacy.
Matthew Stafford has always been a good quarterback who got overlooked because he played for the Lions. Now, he's on the big stage with an opportunity to silence the critics once and for all.
All stats courtesy of Pro Football Reference. 
RELATED: Kelly Stafford Encourages Lions Fans to Cheer on Matthew Stafford in the 2022 Super Bowl: 'Detroit Is What Made Matthew. It Made Him the Quarterback He Is Today'