The Rams Understand Matthew Stafford's 'Hunger' and His Teammates Are Eager to Feed Him
Before he throws his first touchdown for the Los Angeles Rams, Matthew Stafford may want to research restaurant dining in California. 
Alright, Rams offensive lineman Andrew Whitworth wasn't talking about that kind of hunger when he recently discussed his new quarterback. But according to his left tackle, it's so far, so good for Stafford and the Rams this summer. 
Whitworth praised Stafford's 'hunger' and experience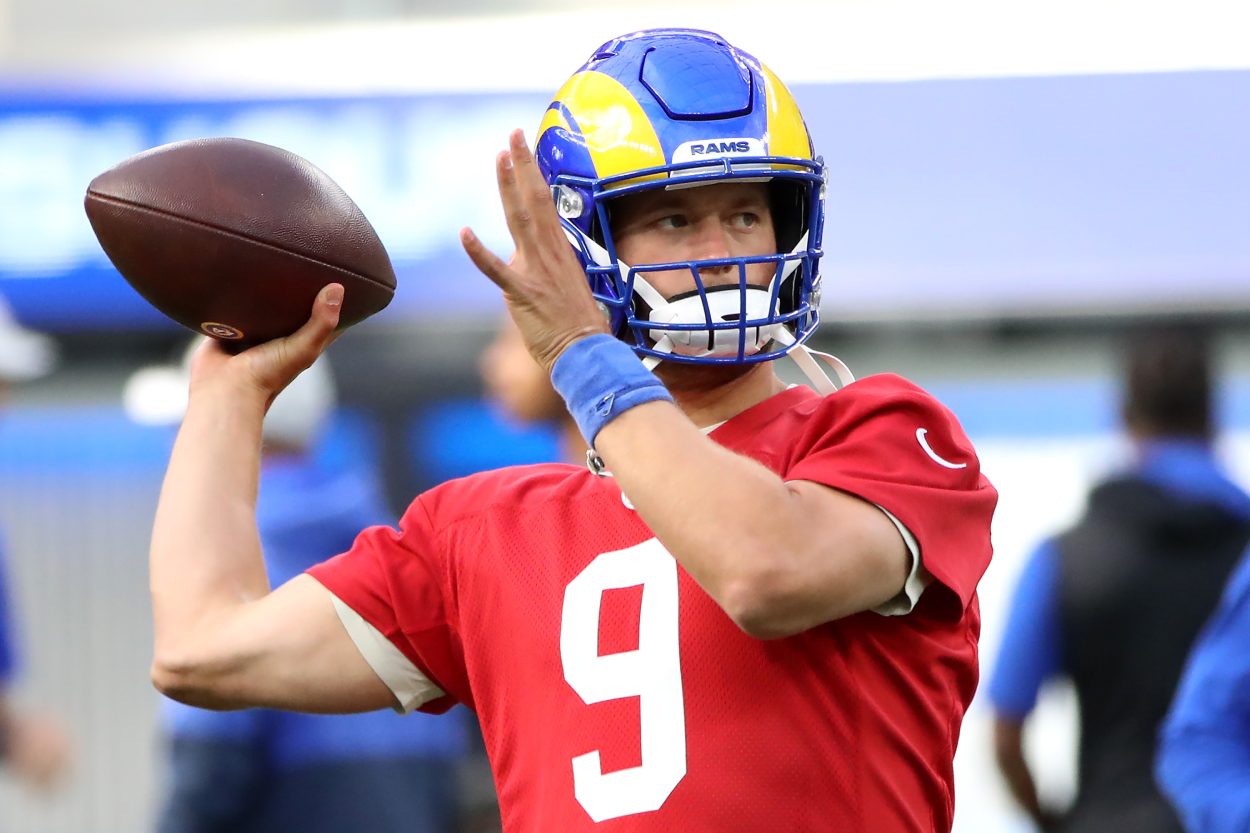 By the sound of things, Stafford has certainly taken well to Hollywood.
If you're still skeptical, just ask Whitworth, the Rams' veteran left tackle and established leader. The four-time Pro Bowler recently appeared on The Jim Rome Show and quickly made it clear how excited he is to have Stafford at quarterback. 
"Matthew is one of those guys you can tell, [he's] just a veteran QB who has played a lot of football and has been a really good football player in this league for a while and is just yearning to have some success. And you see it in him, how hungry he is, how hard he works, and also just how talented he is."

Andrew Whitworth
That hunger is certainly understandable given that the Lions won none of the three playoff games Stafford started in his 12 seasons. 
Whitworth is excited about having Stafford on the Rams
When it comes to talking about Stafford, Whitworth sounds like the teenager whose latest Instragam photo is finally blowing up with likes.
If someone read the lineman's comments without realizing he was referencing Stafford, they might think the praise applied to Aaron Rodgers or Tom Brady. Consider Whitworth's commentary about Stafford's ability to read a defense and share his analysis with teammates.
"He's read things a lot of different ways. So he's had that opportunity of experience where there's things he can help young linemen with, there's things he can help young receivers, backs, tight ends — just little tidbits that he can say, 'Hey, against this coverage, this is what you'd want to do,' that almost feels like a coach on the field a little bit."

Andrew Whitworth
That does not sound like the type of praise someone would naturally expect for a quarterback with a career record of 74-90-1. But Whitworth sees something in his new quarterback that the football world at large may have missed during his tenure with the Lions.
It can be easy to view comments like that as a shot against Jared Goff, the Rams' previous starting quarterback. But this really is nothing more than a veteran offensive lineman, one who desperately wants to win a Super Bowl ring, sharing his excitement about adding a talented and proven gunslinger to the mix.
Should the Rams be considered a Super Bowl contender with Stafford at quarterback?
If all goes to plan for the Rams, this is absolutely a team capable of making a deep run in the NFC playoffs next season.
Stafford has a dangerous offense around him, including receivers Cooper Kupp and Robert Woods. In addition, Aaron Donald, the reigning NFL Defensive Player of the Year, and star cornerback Jalen Ramsey lead a defensive unit that should create havoc for opposing offenses throughout the fall.
As of June 27, 2021, Odds Shark gave the Rams +1300 odds (bet $100 to win $1,400) to win the Super Bowl. Only the Kansas City Chiefs (+500), Tampa Bay Buccaneers (+650), and Buffalo Bills (+1200) had better odds.
It is an excellent sign that teammates already see Stafford's hunger and eagerness to win with the Rams. This is not a situation where a big-name player is only in it for the money — Stafford will earn $20 million during the 2021 season — and the fame. He wants to hold the Lombardi Trophy above his head, and Whitworth is prepared to help make that dream a reality.
Betting odds courtesy of Odds Shark as of June 27, 2021. How to get help: In the U.S., contact the National Council on Problem Gambling helpline at 1-800-522-4700.
RELATED: Calvin Johnson Unintentionally Identified Matthew Stafford and the Rams' Breakout Target for the 2021 Season