Matthew Stafford and Jared Goff Share an Unpleasant Bond That Comes With Leading the Lowly Detroit Lions
It's not easy being the quarterback of the Detroit Lions. That's something, Matthew Stafford, though currently with the Los Angeles Rams, knows well. That's also a fact that Jared Goff is having to come to grips with.
The Lions are currently winless on the season and are likely heading for another loss in Week 7's tilt against the Rams. Stafford, their former quarterback, is leading one of the NFL's most explosive offenses and at 5-1, the Rams have to feel like a Super Bowl contender.
Though the two quarterbacks don't really know each other, they certainly know of each other. They also have a connection that will bond them in NFL eternity. The Lions traded Stafford to the Rams this offseason, receiving Goff and multiple first-round picks as compensation.
There will always be comparisons between the two quarterbacks, though Stafford is easily in the better situation right now. Speaking of situations, Goff is currently experiencing a demoralizing one in Detroit that Stafford knows all too well.
Losing is all too commonplace for the Detroit Lions. That's something Matthew Stafford and Jared Goff both understand
The 2021 Lions have lost six games in a row, and Goff is playing terrible football. He's completed 159-of-238 passes for 1,505 yards, just seven touchdowns, and four interceptions. He hasn't thrown a touchdown in two straight games and is touchdown-less in three of his last four.
To be fair to Goff, he's far from the only reason the Lions are playing poorly.
Detroit is giving up 28.7 points per game while only scoring 18.2. The running game and offensive line was supposed to be a strength this season, but the Lions are rushing for only 91.9 yards per contest.
Head coach Dan Campbell is in his first season, and things have been so frustrating that he actually cried in a post-game press conference after a tight loss to the Minnesota Vikings.
The Lions are in a miserable place, but that's nothing new for the franchise.
The Lions have never won a Super Bowl, and to make matters worse, they haven't even won a playoff game since 1992. That's 29 heartbreaking years without a playoff win. Detroit was also the first NFL team to go winless in a 16-game season, back in 2008.
Yes, losing is just par for the course for Detroit, and that's something that Stafford was all too familiar with himself. He played in Detroit for 12 seasons, and though he was an upper-echelon quarterback in terms of statistics, he had an overall win-loss record of 74-90-1 and never won the NFC North.
Stafford and Goff share an unpleasant bond in Detroit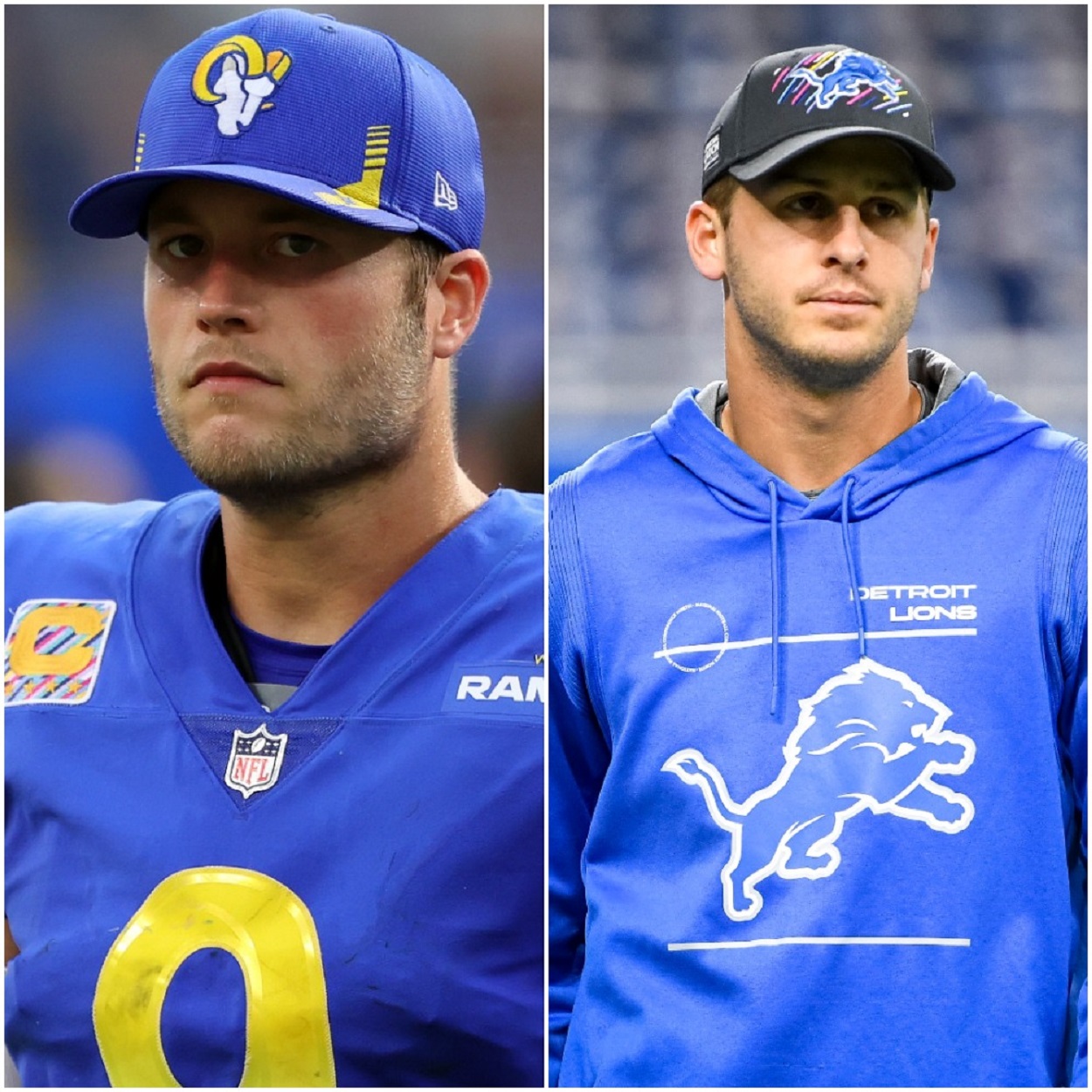 Week 6's loss to the Cincinnati Bengals was undoubtedly a low point for the Lions so far. Campbell's teams had been chippy and played tough in losses to that point, but they simply ran out of steam against the Bengals. The score was 34-11, but it wasn't even that close. The Lions lost the time-of-possession battle by over 10 minutes. They committed nine penalties and were able to only muster up 36 rushing yards.
Fans in Detroit were obviously frustrated, despite the Lions clearly being in a rebuilding year, and much of their frustration came out in the form of boos. Goff heard the boos loud and clear, and in fact, he validated the fan's frustration after the game.
"I feel their frustration man. These fans here deserve a lot better than what we've been giving them, so it's our job to do that, and there [are] frustrated people all over right now," Goff said, according to Heavy.com.
Stafford and his teams were also not above being booed by Lions fans, either. Though Stafford was undeniably one of the better quarterbacks in the league, the talent around him in Detroit was usually sub-par. He faced his fair share of boos at Ford Field, and he sympathizes with his quarterback companion.
"It's happened to me there," he said, according to the Detroit Free Press. "It's happened to probably every quarterback in the league, you know, some time or other in their career. Sometimes, it's motivating. Sometimes, you just don't want to hear it and you want to go into halftime or at the end of the game, figure out what you did wrong and how we can go out there and be better the next time."
The Lions are probably headed towards another tough loss
Anything can happen, which is why they play the games, but Detroit is a major underdog heading into the matchup against the Rams.
For one, the Rams will have the home-field advantage. They also have one of the top offenses in the NFL, led by Stafford's 1,838 yards and 16 touchdowns on the season (compared to four interceptions).
Of course, there's always the emotional aspect of the game that could throw things out of wack for Stafford, but he seems pretty confident that he can keep his head on straight against his former team.
"I'm going to enjoy getting the chance to see some of those guys that I spent a lot of time and played a lot of meaningful football with. But at the same time, once the ball is snapped I'm going to do everything I can to play as good as I can to help our team win," he said.
For what it's worth, the Lions are 15-point underdogs heading into this game, according to ESPN. They also have a 13.4% chance of winning the game, according to ESPN's matchup predictor based on the Football Power Index.
They likely won't get booed on the road, but the bad feelings probably won't end anytime soon for Goff and his teammates.
Stats courtesy of ESPN and Pro Football Reference.
RELATED: Matthew Stafford Expresses His Biggest NFL Career Regret: 'I Wish I Could've Gotten It Done'