Matthew Stafford's Passer Rating Makes It Clear That Change Is a Good Thing for the Quarterback
Former Detroit Lions quarterback Matthew Stafford is embracing the chance to prove himself in a different context. It was no secret that the 33-year-old quarterback was likely held back by his former squad in more ways than one. But opportunities, like the one he has with the Rams, can be double-edged swords.
Stafford has no one to blame but himself now that he's employed in Los Angeles. The offense is stacked, even with running back Cam Akers out for the season. It's a chance to prove once and for all that Stafford's career was hurt by the organization around him. So far, Stafford is proving doubters wrong.
Matthew Stafford lacked support from the Detroit Lions
The trade was one of the top blockbuster moves of the offseason: Stafford was sent packing to the Rams in exchange for QB Jared Goff, two first-round draft picks, and a third-round draft pick. Sports Illustrated reports that, despite the issues with surrounding Stafford with players, he was heartbroken to leave Detroit.
"When I got drafted there in 2009, I had every intention […] of playing every single snap of my career in a Detroit Lions uniform," Stafford said. But he didn't leave it with a sunshine and roses perspective. "It just kind of got to that point where it was the best thing for both sides."
After finishing the 2020 season 5-11, and watching his head coach Matt Patricia sent packing, the former Lions QB1 saw the writing on the wall. He began his own research to look for landing spots and worked with the Lions ownership to make it happen. It was a risky choice, but one that appears to have paid off.
Stafford's improvements with the Los Angeles Rams are instantly evident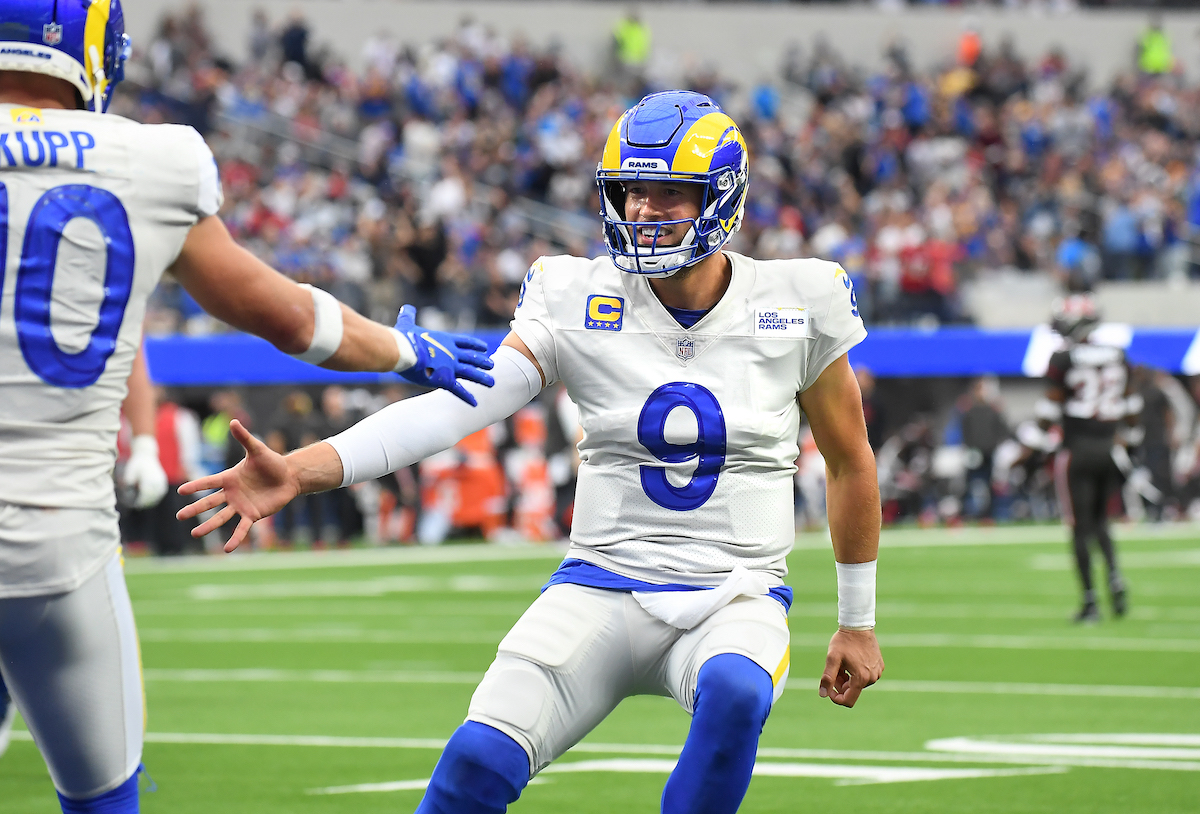 The Rams' debut, the first primetime game of the year, involved two major market teams squaring off to set the narrative for 2021. Stafford faced high expectations from the many commentators who thought he would excel without the Lions' limitations.
For the Bears, it involved proving that head coach Matt Nagy, first-string quarterback Andy Dalton, and rookie first-rounder Justin Fields could establish a new era for the franchise. Unfortunately for the city of Chicago, it was Stafford's narrative that instantly established itself as concrete fact. USA Today reports that his LA debut bordered on perfection, with a 156.1 passer rating.
Across 26 attempted passes, he only missed the mark on six. He gave up no turnovers, notched three touchdowns, and the Rams demolished the Bears 34-14. According to Pro Football Reference, it's the best season debut and passer rating that Stafford has achieved since he entered the NFL in 2009.
Could Stafford lead the Rams to the playoffs in 2021?
Stafford led the Rams to another victory in Week 2, taking out the Indianapolis Colts in a narrow 27-24 win, as ESPN reports. LA took the game back in the second half, including a game-winning touchdown drive. He wasn't as sharp as in his debut, throwing 19-for-30, totaling 278 yards, two touchdown passes, and one interception.
But this can be waved off as a result of slamming his throwing hand against an opposing player's helmet early in the game. Here is where being on the Rams helps elevate Stafford. If he isn't as sharp, he has better pieces around him to prop him up.
The game's favored target was wide receiver Cooper Kupp. He pulled in nine receptions for 163 yards and scored both of Stafford's touchdown passes. It was his second-best career performance and a solid hint at what's to come for Rams fans.
Stafford is capable of coming in clutch late in games, even with a minor injury. And now, he finally has the support to follow through more efficiently on those moments. With the Rams starting 2-0 for the fourth time under head coach Sean McVay, it's a distinct possibility that Stafford has found himself on a playoff-capable team for 2021.
RELATED: Matthew Stafford Leads Charge for New-Look Rams and 'Making Things Happen'