Matthew Stafford: Ranking the 5 Best Quarterbacks Selected After the Los Angeles Rams Star in the 2009 NFL Draft
Matthew Stafford is finally playing in the Super Bowl. After a patchy tenure with the Detroit Lions, the Los Angeles Rams gave up Jared Goff and a nice haul of picks to land Stafford.
In his first season in LA, Stafford has not disappointed. The Rams went all-in to make the Super Bowl this season, and Stafford fulfilled their request by playing at a high level all season long.
Now, the Rams face the Cincinnati Bengals at Super Bowl 56, and Stafford finally gets his chance to shine. The former Georgia star was selected first overall in the 2009 NFL Draft for a reason.
However, most people forget who the other quarterbacks were after Stafford. Well, let's rank the five best quarterbacks selected after Stafford during that draft — and yes, most of these names will be new to you.
For this list, we are only ranking players based on their on-field achievements and numbers. We did not consider any off-field issues.
Based on consideration of the aforementioned prerequisites, the best players rank as follows:
5. Pat White, Miami Dolphins, No. 44 overall
Who? This will be a common theme, at least until No. 3. Pat White was the fourth QB selected in this draft, with Stafford leading the way.
But, he played just one season in the NFL with the Miami Dolphins and appeared in 13 games. However, White was not a quarterback — he got moved over to wide receiver. White didn't make it to the 2010 season, although he did try to make an NFL comeback a couple of times.
Although White would've been the perfect gadget-type player for today's NFL, it just never worked out. Now, White is coaching for Campbell University.
The only reason he is No. 5 on the list and not completely shut out is because of the other options: Tom Brandstater, Rhett Bomar, Nate Davis, Mike Teel, and Keith Null. Yeah, this wasn't a loaded draft class at the QB position. Still, this has to be one of the Dolphins' worst picks in a long time.
4. Stephen McGee, Dallas Cowboys, No. 101 overall
Don't worry; most fans haven't heard about Stephen McGee before. That is because McGee didn't last in the NFL very long at all.
He played in three games across two seasons for the Cowboys, and that game where he replaced Jon Kitna was the most action McGee got. He finished with three career touchdown passes and tried to stick around with other teams.
Unfortunately, McGee had no luck. In 2013, he stuck around with the Houston Texans but was cut before the season began.
In 2015, McGee was a financial planner in Texas. His career was extremely short-lived.
3. Curtis Painter, Indianapolis Colts, No. 201 overall
A three-minute video is all it takes to show Curtis Painter's career touchdown total in the NFL.
The Indianapolis Colts drafted Painter in the sixth round of the Stafford draft class and, well, he didn't last long either. Painter played 14 NFL games between the Colts and the New York Giants.
However, in 2011 he started eight games for the Colts and went 0-8. But, that ultimately led to Andrew Luck going to Indy with the first overall pick in the 2012 NFL Draft — so thank Painter for that.
Painter's final NFL season was in 2013, where he had a miniature cup of coffee with the Giants. Then, nothing else. It's pretty surprising that Painter is even this high, but White didn't turn out, and McGee was nothing more than a two-year rental for Dallas, so here is Painter at No. 3
We'll get to some of the good stuff.
2. Josh Freeman, Tampa Bay Buccaneers, No. 17 overall
It was very tough to decide between Sanchez and Josh Freeman for the top spot. But, compared to Stafford, nobody is even close. After all, nobody else from that QB class is even in the NFL anymore.
Freeman had four successful campaigns with the Buccaneers, totaling 80 touchdowns and 66 interceptions across that span. Freeman even held the franchise record for touchdown passes before Jameis Winston broke it in 2018.
The came Tom Brady, who ended his career — for now, at least — with 83 touchdowns across two seasons. Freeman exploded his sophomore year in the NFL, but he moved on to the Minnesota Vikings after year four before finishing his NFL career with the Colts.
Freeman had fewer interceptions than Sanchez, but Sanchez had the playoff success and better numbers all around.
1. Mark Sanchez, New York Jets, No. 5 overall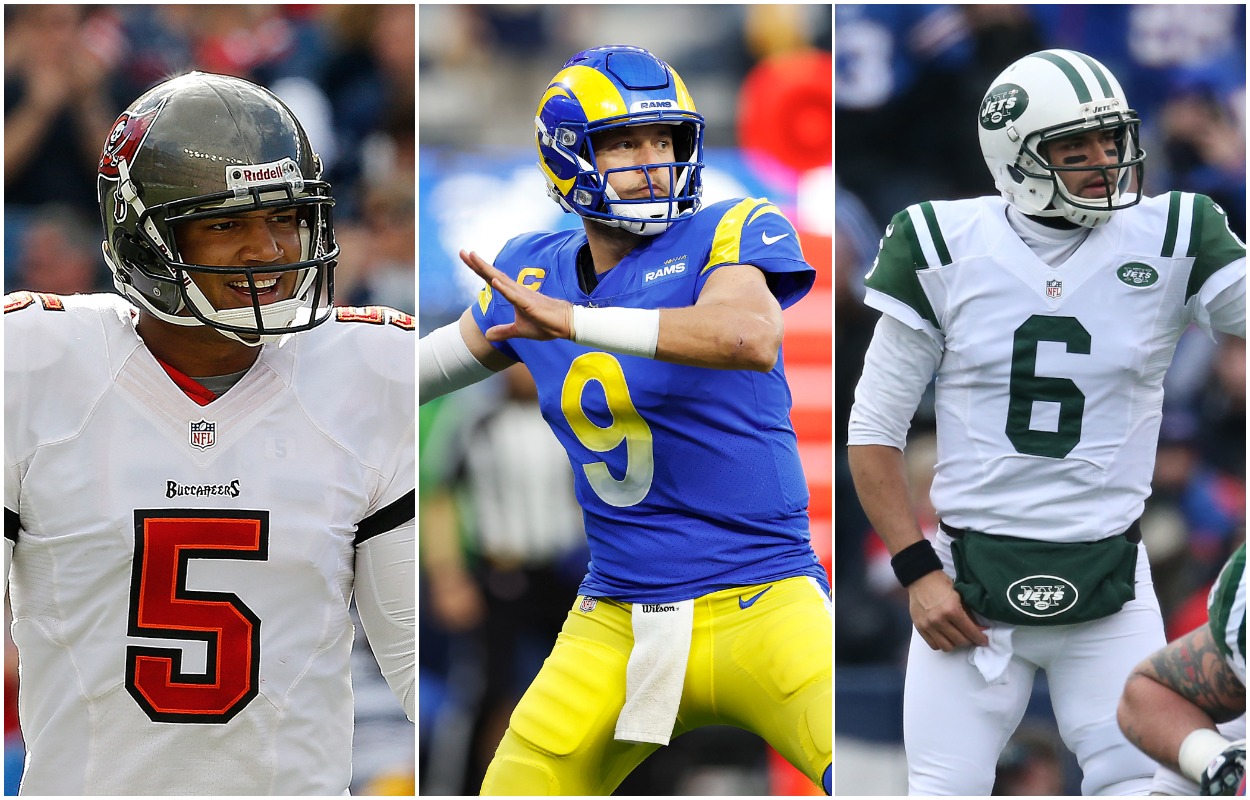 Yes, Mark Sanchez, finally a name everybody recognizes. After a stellar career at USC, Sanchez was taken No. 5 overall and the second QB in the draft behind Stafford.
Sanchez started 62 regular-season games across four seasons for the Jets, throwing 68 touchdowns and 69 interceptions. He led the Jets to an 11-5 record in 2010 and a playoff appearance. In his rookie season, Sanchez also led the Jets to a playoff trip, defeating the Bengals and LA Chargers before falling to the Colts in the AFC title game.
In the 2010 season, the Jets defeated the Colts and the New England Patriots — both on the road — before nearly mounting an improbable comeback in the AFC title game against the Pittsburgh Steelers.
Those two playoff trips alone kept Sanchez in the league for some time, although the infamous Butt Fumble will be what he is most known for.
After his Jets tenure ended, he spent a couple of seasons with the Philadelphia Eagles, had a brief stint with the Cowboys, and then a few cups of coffee with Washington.
Sanchez ended his NFL career with 15,357 yards and 89 passing touchdowns with 13 rushing scores.
Sanchez will always be known as a Jet, and he actually brought them to a pair of AFC title games. Now, he is calling football games for FOX.
Sanchez ended his NFL career with 15,357 yards and 89 passing touchdowns with 13 rushing scores. If it weren't for Freeman and Sanchez, the entire QB class besides Stafford would be an afterthought.
Stats Courtesy of Pro Football Reference