Mavericks Coach Rick Carlisle Reveals Why Kristaps Porzingis Never Posts Up
Things looked good for the Dallas Mavericks this year. That includes their 102-98 win over their local rivals, the San Antonio Spurs. It was a narrow win, but a win nonetheless. Their second-year star Luka Doncic returned from an ankle injury, and he looked great doing it. Not only that, but he has an All-Star caliber running mate and a consummate team player in Kristaps Porzingis.

But instead of focusing on Doncic's return, Charles Barkley zeroed in on what he didn't like about the Mavs winning play. He led the charge among a TNT commentary crew that largely fell in line with his thoughts — that 7-foot-3 Latvian hero Kristaps Porzingis should spend more time in the post.

Is Barkley right? Why wouldn't a coach such as Mavs boss Rick Carlisle, have a giant like Porzingis post up more often?

The death of the post up in the NBA
Barkley and co. have a grievance with the current state of the NBA. Porzingis isn't the only player not getting assigned to post up in the huddle. Except for outliers like the Lakers' Anthony Davis irregularly going for the play, the NBA lives in the perimeter.

Back in 2015, Bill Simmons' Grantland declared the post up dead, while predicting its triumphant return sooner rather than later. By 2019, Simmons' successor site The Ringer wistfully noted that the post up remained cold in the ground the entire time.

The current meta of the NBA allows for aggressive zone defenses that make it hard to get the ball in for a jump shot opportunity. Positionless plays meant to open up stretch fours leave less room for the offense to press into the post for the and one.

It led to a situation where the 76ers lead the way with post plays, largely due to Ben Simmons' inability to shoot for three. They still only post-up 10% of the time.

How Kristaps Porzingis tends to be used on offense
The New York Knicks selected Kristaps Porzingis fourth overall round of the 2015 draft. He hit the NBA scene strong, putting up numbers reminiscent of a young Tim Duncan.

That was 2015. Despite his size, which would've been perfect for post-ups in the 1990s, the Knicks rarely put him in that position.

After an ACL injury and some clashes with Knicks ownership, Porzingis happily found himself traded to the Mavericks. Post-ups disappeared entirely from his menu under Mavs coach Rick Carlisle.

Barkley might be apoplectic about it, but Carlisle has incredible strong reasoning for leaving the conventional wisdom of another era behind.

Rick Carlisle's justification for avoiding the post
Before we dive into Carlisle's words, take a look at this inhuman highlight above. That is Kristaps Porzingis taking a Stephen Curry-esque sniper shot, using his height to its full advantage. It looks like a pretty good fit for the Rockets-style perimeter game that defines the current NBA.

Carlisle certainly feels that way. In the post-game presser, where he was informed of Barkley's frustrations, he spelled it out.

"A post-up is not a good play anymore. It's just not a good play. It's not a good play for a 7-foot-3 guy. It's a low-value situation."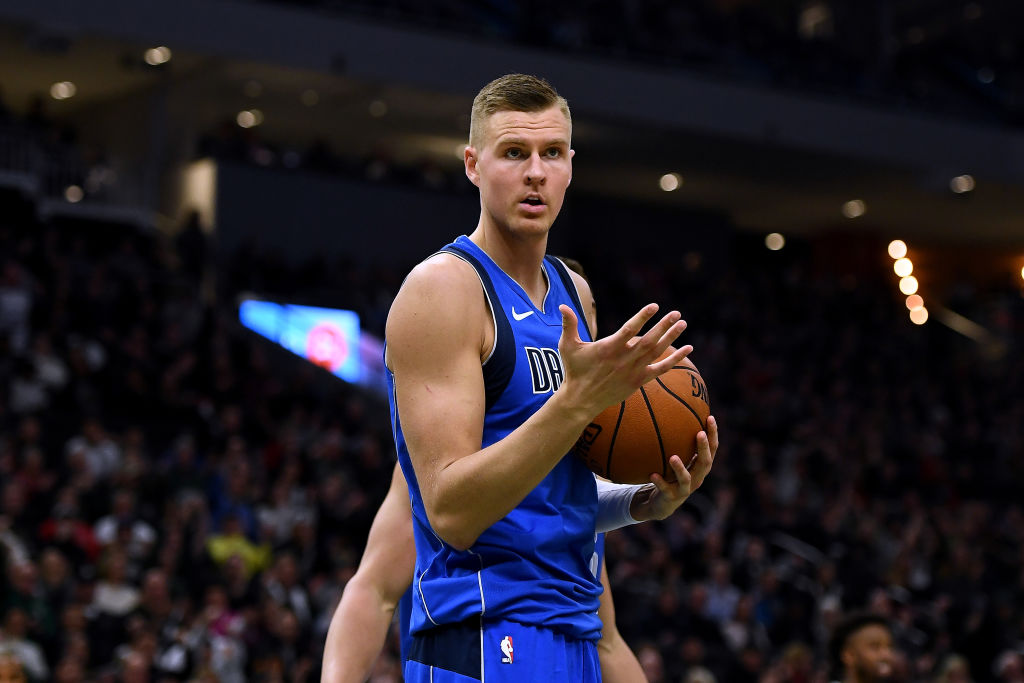 That isn't to say that Porzingis is useless closer to the rim. He makes 76.7% of the shots he takes shots within three feet of the rim. But he's a historically great shooter outside the 3-point line, contributing massively to the Mavs' title as the best offense in the league. Yes, even better than the Milwaukee Bucks' much-hyped offense.

It's essentially a question of using Kristaps Porzingis as a perimeter shooter who sometimes drives, or going with an old-school, post-up approach simply because he's taller than most players. He's functionally among the best in the league at both.

Do you go for a riskier offensive play? Or do you take full advantage of a big man who can shoot over anyone, from anywhere? Sorry Charles, but Rick might have the right perspective on this one. The 2020 version of the NBA simply calls for it.