Max Holloway Revealed How He Learned Some of His UFC Moves to Joe Rogan
Max Holloway may be one of the greatest featherweights of all time. He's fought and beaten UFC legends like Jose Aldo and Frankie Edgar while being one of the youngest champions ever. In a recent interview with Joe Rogan on the Joe Rogan Experience, Holloway revealed just how he learned some of his moves.

The history of Max Holloway
In 2012, the then-20-year-old joined the UFC. Like many fighters, he showed talent and skill in his earlier fights. However, Holloway lost his first UFC fight — a loss that aged well — to Dustin Poirier, who's had a decorated record since then. In any case, Holloway rebounded and won his next three fights. 
The Hawaiian fighter faced tough competition once more. First, he lost to Dennis Bermudez, who went on to have a decorated record, and then he lost to a young Conor McGregor. McGregor was knocking everyone out in his early UFC fights, so the fact that Holloway didn't get knocked out by him was proof of his toughness. 
After this loss, Holloway went on a 13-fight winning streak. For perspective, both Khabib Nurmagomedov and Tony Ferguson are currently on a 12-fight win streak in the UFC. Holloway was dominant during this period. He knocked out many people who faced him, including UFC legends like Aldo and Anthony Pettis. 
However, this streak ended when Holloway moved up in weight and challenged Poirier again, this time for the interim lightweight title. In the close, five-round fight, the judges gave the fight to Poirier, who went on to lose to Nurmagomedov.
Holloway, meanwhile, bounced back and beat Edgar. In his next fight, he lost his title in another close, five-round fight to Alexander Volkanovski.
How Max Holloway learned some moves
In his interview on the "Joe Rogan Experience," Holloway told Rogan that during his early UFC career, he actually played the UFC video game to learn striking moves. Rogan was amazed by Holloway's claims that he didn't have many coaches to help him train in his first seven fights in the UFC.
So instead Holloway decided to play one of the older UFC games and try some moves there. He played fighters like Renan Barao and Aldo, and he'd study the techniques those fighters used. Then, he'd have a friend hold pads for him while he tried out those moves in real life. 
While this is a unique way to train as a UFC fighter, it obviously isn't ideal. That said, Holloway was 4-3 in his first seven UFC fights, so it wasn't the worst thing to do. Of course, as Holloway said, he later got a real striking coach, and he's learned a lot more about how to fight since then. 
Who's next for Holloway?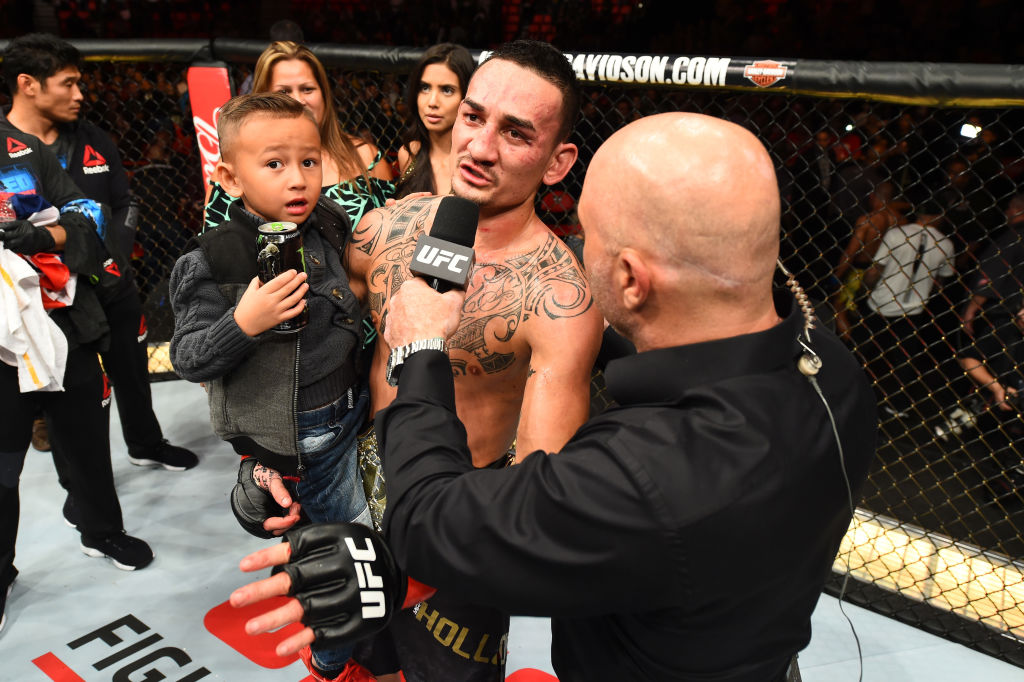 Although he's no longer the champion, the world is his oyster. Holloway has expressed interest in moving up in weight permanently and fighting men like Nurmagomedov, so this could be possible. If he moves up in weight, then he could fight many opponents as it's a whole new division for him. 
If he stays at his weight class, then there are fewer options as he's beaten most men in his division already. Among the men he could fight there: Chan Sung Jung, or as he's better known, The Korean Zombie, recently knocked out Edgar in the first round. If Jung doesn't get to fight for the title next, then a fight with Holloway makes the most sense. 
That said, UFC President Dana White has also said he could set up a rematch between Holloway and Volkanovski. If Holloway wants his title back, then this would be the fight to make.