Max Kellerman's Days on 'First Take' Are Numbered but He Still Has Something to Say About Tom Brady: 'Father Time Comes for Everyone'
Max Kellerman has been opposite of Stephen A. Smith on ESPN's First Take for the past five years, but he has also had a rivalry with NFL GOAT Tom Brady during that time he's spent on the show.
OK, so maybe it's a one-sided rivalry. Kellerman just thought Brady would "fall off a cliff" due to his age, but TB12 keeps defying Father Time.
The commentator, though, is actually leaving First Take before the Bucs QB even ends his career. So, it appears he's getting a couple of more comments in about Brady prior to his final debate.
He's, however, not totally wrong.
Max Kellerman is leaving ESPN's 'First Take'
According to USA Today, ESPN officially announced on Aug. 24 that Kellerman is leaving First Take. He will replace Zubin Mehenti on his show with Keyshawn Johnson and Jay Williams but will also host a new TV series. His weekly show about boxing will continue as well.
In regards to First Take, the network said it would reveal its updated format for the show in the near future. But Andrew Marchand of the New York Post reported that it's expected to welcome a rotation of guests to debate Stephen A. Smith, who has been on First Take since 2012.
Kellerman has been on the debate-format show since 2016 when he replaced Skip Bayless, who is now at Fox. It's unclear when his last day on First Take will be.
Max Kellerman still has something to say about NFL GOAT Tom Brady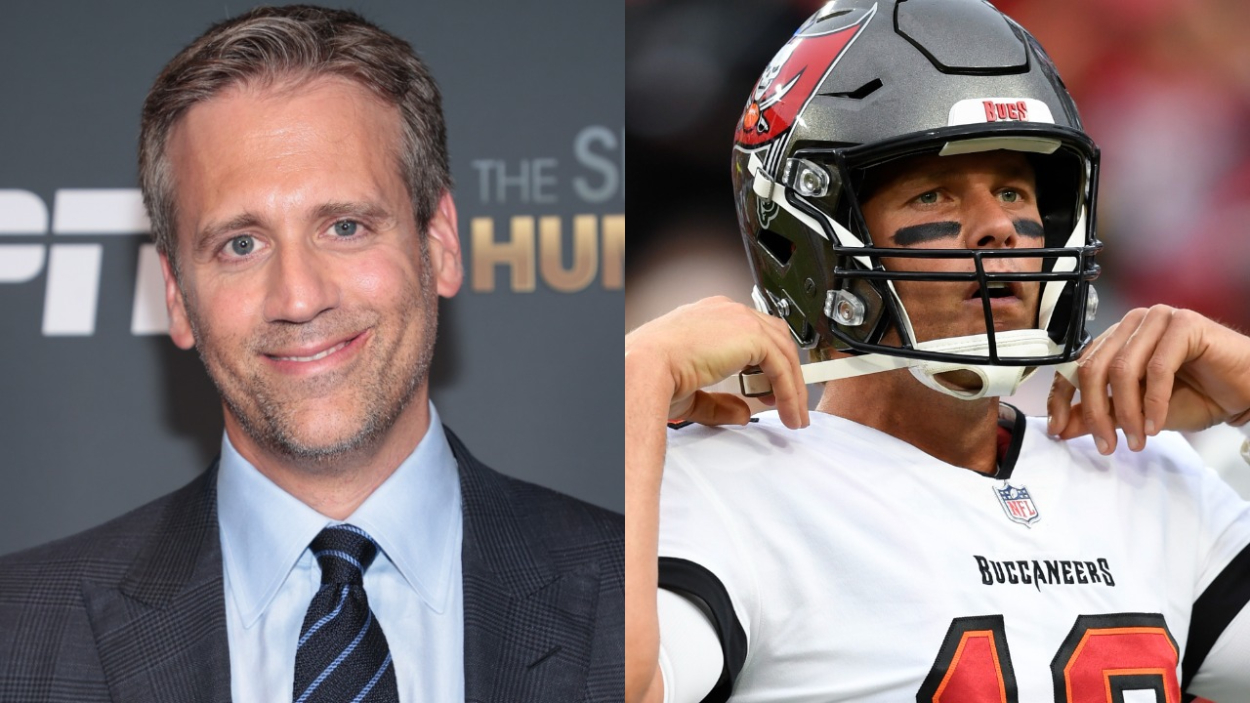 Not long after Kellerman joined First Take in 2016, the commentator claimed that TB12 was the greatest QB to ever live, but he also said that — since Brady was in his late 30s at the time — he was just about done in terms of being able to play at a high level.
"Tom Brady's just about done," he said, per ESPN's YouTube. "It could be his next game he plays. It could be a year from now. But he is going to fall off a cliff."
Kellerman stood by his comments for a while, but after Brady went to three straight Super Bowls from 2016 to 2018 and won two of those titles before winning another Super Bowl with the Buccaneers in 2020, the ESPN personality accepted defeat.
Now, though, with his days on First Take numbered, he recently wanted to make sure people knew Brady will still get old eventually.
"It's possible he could have his best season from a certain point of view," Kellerman said on the Aug. 23 episode while debating whether TB12 could have his best season ever in 2021.
He then eventually got to what everyone was waiting for him to say.
"I hate to bring it up, but, one of these days, he's going to have to get old, it's going to have to happen," Kellerman said. "… I obviously can no longer bank on it. I will say this: Father Time is undefeated. I thought Bernard Hopkins once upon a time fought him to a draw, and I was wrong. When Hopkins was like 50, 51, he got knocked out of the ring by Joe Smith. Eventually, Father Time comes for everyone, even if it seems like Tom Brady is way up on points at the moment."
OK, so it may seem like Kellerman is just getting his last shots in on Brady, but he's not totally wrong.
Tom Brady does, in fact, have to get old eventually
Kellerman might have a history of going after Tom Brady, but his claim about the NFL GOAT isn't wrong; he will have to hit a wall eventually.
Brady just turned 44 years old, and the oldest player in NFL history was George Blanda, who retired at 48. Blanda was no longer playing quarterback at that point, though, as he was strictly sticking to kicking.
When it comes to other legendary quarterbacks, Brett Favre played his final season at 41 years old while Peyton Manning's last season came at 39. Drew Brees also retired this offseason after playing at 41 in 2020.
So, Brady is already in uncharted territory, and it's hard to imagine him having a bad year in 2021 with the team he has around him. But as Kellerman said, Father Time is undefeated, so the GOAT will have to slow down eventually.
Whenever that time comes, the ESPN commentator will likely breathe a sigh of relief.
Like Sportscasting on Facebook. Follow us on Twitter @sportscasting19.