Max Kellerman Reveals an Understated Reason Beyond Kyrie Irving's Absence and James Harden's Struggles for the Brooklyn Nets Horrid Start
The Brooklyn Nets are 2–3, and there are many more questions than answers surrounding the club. There are two apparent reasons for the slow start. James Harden is struggling, and Kyrie Irving is missing. Brooklyn's record-setting offense from last season is nowhere to be found, and not even a hot start from Kevin Durant is helping. ESPN's Max Kellerman offered some fascinating insight into a behind-the-scenes move from the offseason that might be weighing on the Nets.
On the court, Brooklyn lost free agents Jeff Green and Spencer Dinwiddie. The Nets bought out veteran DeAndre Jordan and traded Landry Shamet to the Phoenix Suns. In their stead, Patty Mills, Paul Millsap, LaMarcus Aldridge (back from retirement), and Jevon Carter came on board. Nicolas Claxton is playing rotational minutes for the first time in his career. None of these changes is earth-shattering.
The Brooklyn Nets did make some changes off the court
The coaching staff underwent some churn in the offseason. The Brooklyn Nets lost Ime Udoka, who was named head coach of the Boston Celtics. Daniel Jones is the new strength and conditioning coach, and longtime NBA assistant David Vanterpool joined the coaching staff.
But as Max Kellerman pointed out on ESPN's Keyshawn, JWill & Max show on Oct. 28, there is another big name missing from the bench.
Longtime NBA coach Mike D'Antoni served as an assistant last season to first-year head coach Steve Nash, his two-time MVP point guard with the "seven seconds or less" Phoenix Suns in the mid-2000s.
Nash wasn't just a first-year head coach in Brooklyn; he was a first-time head coach. D'Antoni had Nash on his roster for four years in Phoenix and another two with the Los Angeles Lakers, so a familiar face and a guiding hand were available.
D'Antoni is 70, and after the grind of nearly 30 years on the bench in Italy and the NBA, retirement may have seemed like an excellent option. He spent 16 seasons as an NBA head coach with the Suns, Lakers, Denver Nuggets, New York Knicks, and Houston Rockets.
His career record is 672–527, but his teams never got past the conference finals once they got to the postseason. D'Antoni had the Rockets a game away from the NBA Finals in 2018, but Chris Paul's hamstring injury ended Houston's chances against the Golden State Warriors.
Is D'Antoni's absence part of the problem in Brooklyn?
Max Kellerman and Jay Williams believe Nash is missing D'Antoni
On their show, both Max Kellerman and Jay Williams speculated how much not having D'Antoni is hurting the Brooklyn Nets. Kellerman linked D'Antoni's absence directly to the star he used to coach in Houston, Harden.
"They had D'Antoni on the bench last year," Kellerman said. "You mentioned this, Jay. D'Antoni and Harden can roll out of bed; here's the ball; we know how to do this, right? D'Antoni is not there this year. How much of an impact is that having on Harden?"
Williams made a couple of points:
"Well, I think James Harden will be OK, but that familiarity and having a guy like that on the sideline that understands what positions on the floor he needs to put you in so you could be at your optimal best? I think that's a huge missing thing. I started thinking … Mike D'Antoni's not there. It puts a lot more pressure on Steve Nash with a lot of the sets that they're doing with (assistant coach) Jacque Vaughn.

"I did see a veteran, world championship coach in Erik Spoelstra run circles around Steve Nash, and I think as you start getting deeper into basketball, the evolution of where Steve Nash goes as a head coach will determine how far I think the Nets can go as well."

Jay Williams
Could it be as simple as Nash being exposed without his veteran mentor beside him?
Championship pedigree is limited on the Brooklyn Nets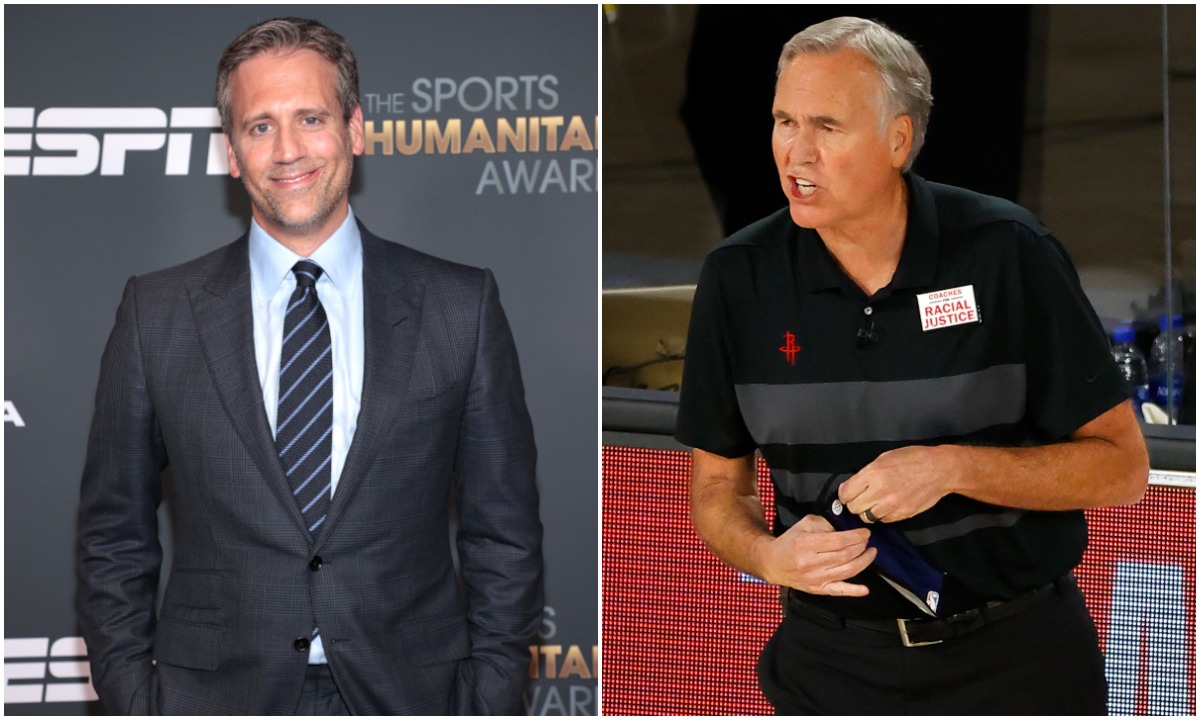 Nash never won a championship as a player, though he was a consultant for title-winning teams in Golden State. But there are no rings among the coaching staff. While D'Antoni didn't have one either, Max Kellerman's point remains. His absence might be having a ripple effect through the organization.
Kevin Durant won two titles with the Warriors. Patty Mills picked one up with the San Antonio Spurs. Irving won a championship with the Cleveland Cavaliers, but he's not there right now.
Veteran leadership isn't a problem. Brooklyn has seven players in their 11th season or later. Only seven players on the roster, including their two-way players, have played three years or less.
But what the Nets don't have a lot of experience with is winning at the highest level. Much scrutiny accompanied Nash's hiring, and without D'Antoni, there appear to be some flaws coming to light.
There are nine current NBA coaches with rings: Mike Budenholzer, Frank Vogel, Nick Nurse, Steve Kerr, Tyronn Lue, Gregg Popovich, Spoelstra, Rick Carlisle, and Doc Rivers. Suppose you're looking for unemployed coaches who fit that criteria, good luck. They're all ancient: Phil Jackson, Pat Riley, and Larry Brown are the most recent title-winning coaches not currently on an NBA bench.
Nash might be the guy to bring the Brooklyn Nets their first title. But first, he's going to have to get them above .500 to do that.
Statistics courtesy of Basketball Reference.
RELATED: Kevin Durant Might Be Lying to Himself and Nets Fans With His False Confidence in the Team Without Kyrie Irving: 'Of Course We Have Enough'