Max Verstappen Anoints New Nickname to Teammate Sergio 'Checo' Perez
Max Verstappen is calling his Red Bull Racing teammate a bad name. Not bad as in terrible. Bad as in awesome. 
The 2021 Formula 1 drivers' champion credited Sergio "Checo" Perez with holding back Lewis Hamilton just enough for him to gain an advantage during the late stages of the controversial Abu Dhabi Grand Prix on Dec. 12. 
And, thanks to Perez's defensive driving tactics, Verstappen seized the opportunity to capture the much-debated F1 world championship.  
Max Verstappen introduces the new 'minister of defense,' Sergio Perez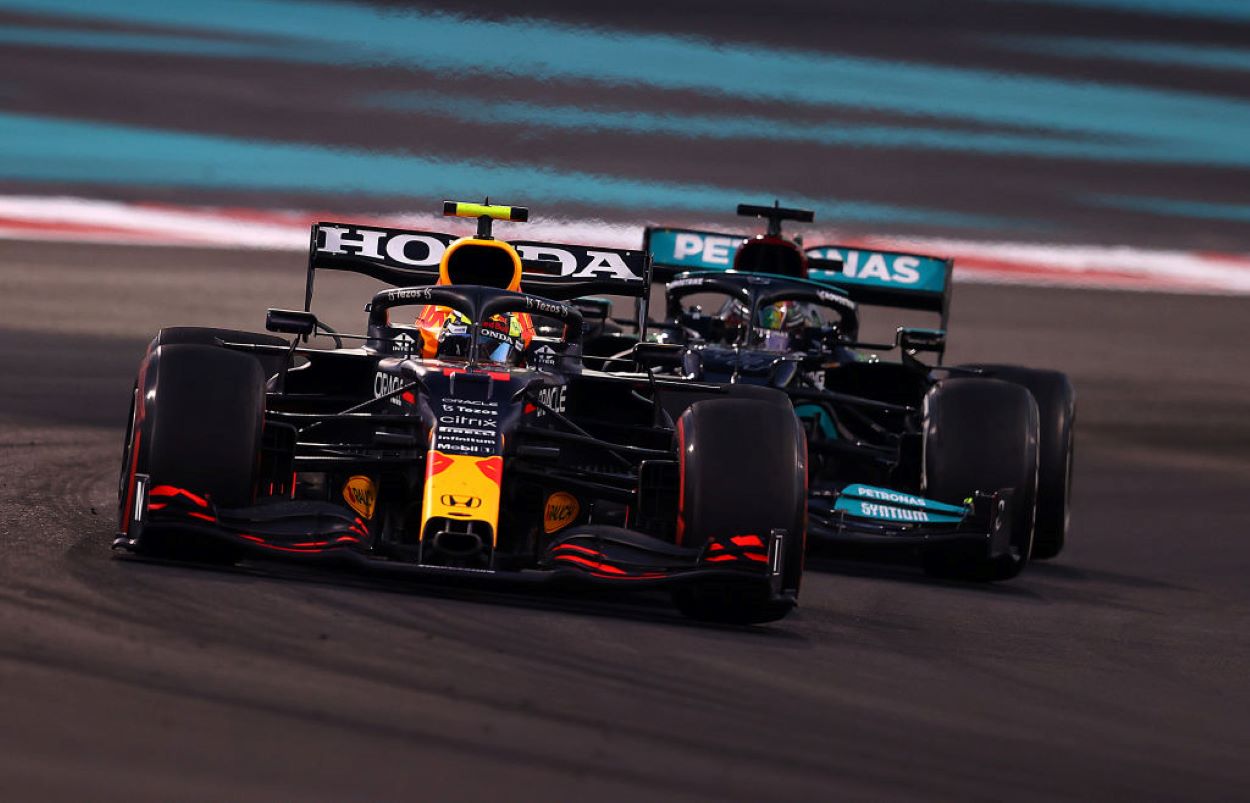 By holding back the then four-time defending champion during a season-defining stretch, Verstappen was able to pick up approximately six seconds on the dominant leader. 
Six crucial seconds. 
Hamilton passed Verstappen, the pole-sitter, early and paced the field through much of the season-ending event. Aiding his teammate's bid for his first F1 title, Perez drove defensively on old tires, weaving up and down the Yas Marina Circuit. 
Hamilton had fresher tires but couldn't use their grip. He was stuck behind Perez. 
Rehashing the drama-filled conclusion, highlighted by his last-lap pass of Hamilton, Verstappen spoke of Perez's influence on the outcome. 
No need to call him Checo anymore. Everyone should just call him "the minister of defense," Verstappen said while shooting a Red Bull Racing video, reported by planetf1.com. 
Christian Horner: 'The ambiance between you guys has been fantastic'
At one point in the video, Verstappen and Red Bull Racing team principal Christian Horner walked around the garage area. In the background, a series of photographs highlighted top organizational moments during F1's '21 season.
Horner also pointed to Perez for his contribution when Hamilton threatened to pull away from the field. He easily could have. He probably would have if not for Perez, Horner said.
"He's been a great team-mate this year, I think," Horner said. "The ambiance between you guys has been fantastic – he says you owe him a beer for Abu Dhabi …"
On cue, Verstappen replies with a grin: "Oh, I'll pay a lot of beers. It's going to be good."
Race-winner Verstappen: 'I was also super-happy to see Checo on the podium for his home grand prix'
In 214 GP events, Perez has recorded two wins and 15 podiums.
Verstappen had his moment for the ages during the Abu Dhabi GP. Perez enjoyed his moment, as well. Perez earned a podium during his native Mexico City GP. The celebration of Perez's father remains a top team memory.
Verstappen and Horner spoke of the weekend in Mexico City and how its people adopted Red Bull Racing as its hometown team. Verstappen claimed the checkered flag, but in the team garage, the news of his finish was secondary to Perez.
"Really happy I won the race, but I was also super-happy to see Checo on the podium for his home grand prix," Verstappen said. "Checo's dad was celebrating – I think he's still celebrating!"
Like Sportscasting on Facebook. Follow us on Twitter @sportscasting19.