Max Verstappen Joins an Elite Fraternity of Young Formula 1 Champions
Max Verstappen cast a spell on the Mercedes magic. The 2021 Formula 1 world champion executed a final-lap pass of the ages, slaying the championship dragon of then four-time defending champion Lewis Hamilton.
Verstappen captured the Abu Dhabi Grand Prix on Dec. 12 with a history-making Turn 5 maneuver. The move propelled him past the seven-time champ and to the checkered flag. At 24 years and 66 days, he became the fourth-youngest F1 titleholder.
Here's a look at the elite fraternity's youngest three brothers and how they passed their initiations:
Fernando Alonso, 24 years and 57 days
Imagine going for your first F1 drivers' championship, and your chief rival is Michael Schumacher, who closed out his hall-of-fame career with seven titles? That daunting task fell upon Alonso. Despite his age, he handled the pressure and secured the 2005 pennant.
Alonso's season-long effort can be encapsulated in his final-stage performance during the San Marino GP, the fourth event on the F1 calendar. Alonso and Schumacher dueled brilliantly to close out that April afternoon.
Over the final eight laps, Schumacher trailed front-runner Alonso. He continued to weave back and forth, probing for an opening. Alonso blocked all of Schumacher's moves, including one more Variante Alta lunge on the final rotation. The victory marked Alonso's third in a row. He cruised to his first drivers' title.
Their duel continued the following season as Alonso and Schumacher each collected seven wins. But Alonso kept his composure, ran consistently, and claimed back-to-back titles.
Lewis Hamilton, 23 years and 300 days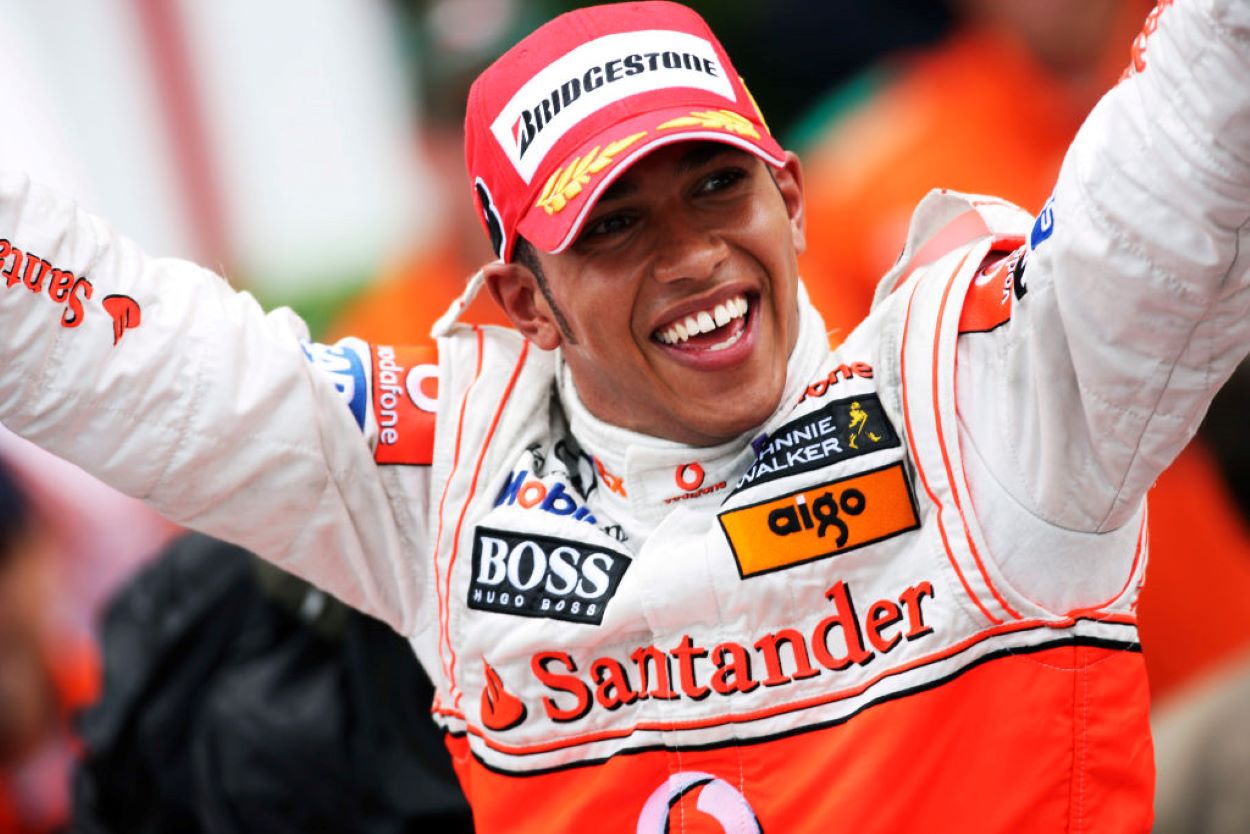 Hamilton's first of seven championship seasons were highlighted by a series of public run-ins with Alonso, his McLaren teammate, in 2008. His title-clinching, final-lap pass also continues to be scrutinized.
During the closing moments of the Brazilian GP, Hamilton passed a slowing Timo Glock to clinch the race and the F1 title. But early in rainy conditions, it appeared Felipe Massa had the dominant machine.
When the rain increased its intensity on Lap 63, a majority of teams chose to pit. Glock remained on track with old tires. On the final lap, Hamilton was out of the points race, until he conveniently passed Glock.
It was enough for Hamilton to claim the 2008 title by one point over a shocked and dismayed Massa (244-243).
Sebastian Vettel, 23 years and 133 days
Beginning a string of four consecutive F1 world championships, Vettel fought off challenges by Alonso, Hamilton, and Mark Webber to become F1's youngest champ.
Entering the 2010 Abu Dhabi GP, a circuit-high four drivers were in play for the title. Vettel started on the pole and maintained his lead on Hamilton with a strong start. Alonso, however, faltered and fell to P4.
The top four pulled ahead of the pack early, but Webber fell back. After pitting, Hamilton rejoined the field in traffic. He knew he had to win the race to earn the title. He started his charge to fourth place, aided by McLaren teammate Jenson Button.
Vettel withstood the pressure, and when Button was forced to pit, he reclaimed the lead and calmly directed the Red Bull Racing machine to the checkered flag.
Vettel remains F1's youngest double, triple, and quadruple titleholder.