Max Verstappen, Like 1984 Formula 1 Champion Niki Lauda, Needs to Run the 'Race of My Life' to Steal Crown From Lewis Hamilton
Lewis Hamilton and Max Verstappen enter the season-ending Abu Dhabi Grand Prix on Dec. 12, tied at the top of the Formula 1 drivers' standings.
The four-time defending champion, Hamilton is gunning for his eighth world championship.
Verstappen, who has been clinging to the points lead for the past month, is racing for his first title.
For Verstappen to steal the throne from the hard-charging Hamilton, it likely will take the race of his life.
McLaren teammates Niki Lauda, Alain Prost battle for the 1984 F1 title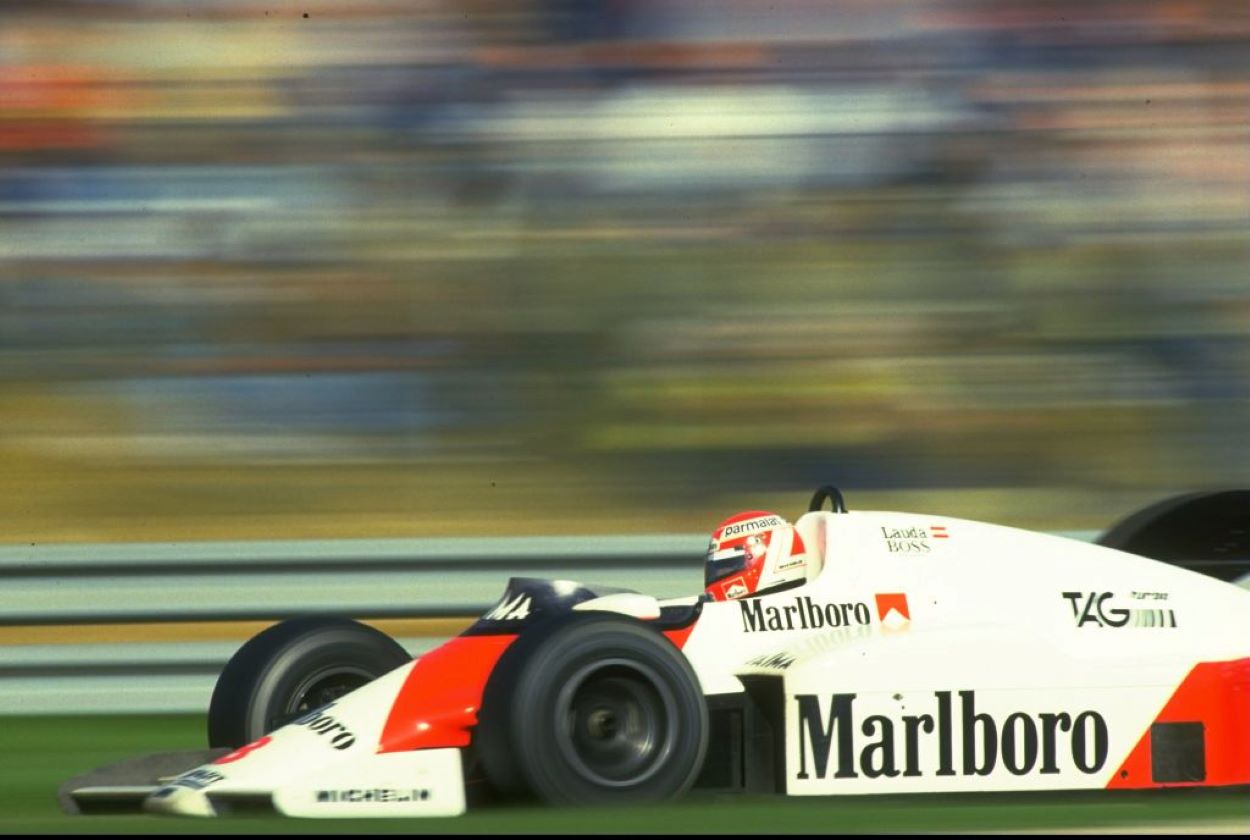 Much like Niki Lauda's "Race of My Life," reported by autosport.com. That came in the 1984 Portuguese Grand Prix.
It may have been memorable, but it also was the "… most difficult race for me."
The first-year McLaren teammates, Lauda and Alain Prost, engaged in a two-driver battle for the championship, much like Verstappen and Hamilton this season. Lauda needed to finish no further than one spot behind Prost to clinch the title in the season finale.
But Lauda's qualifying was "awful."
Prost started P2; Lauda P11.
The challenge appeared daunting. For Lauda, there were a lot of cars and ground to make up at the challenging Estoril circuit.
Stuck in traffic, Lauda's power returns and 'soon I was passing one after the other'
Lauda remained confident, but "everybody else was thinking Prost would win the championship." Posters were already printed, declaring Prost as F1's premier pilot.
Through the opening half of the Portuguese GP, it appeared Prost would run away with the title. Lauda was "… stuck in traffic … I couldn't pass anybody because right at the beginning my turbo broke … so I couldn't pass anybody."
Then, suddenly, the extra boost returned to Lauda's machine, and "soon I was passing one after the other."
Lauda, who came back from a near-fatal crash, came after his teammate, but he also realized he was burning too much fuel.
"For the last five or six laps, I was really worried that my car might stop, but thank God it didn't," Lauda said.
Prost won the race; Lauda placed second, "… which was enough," he said, to earn his third world championship.
"It was a very close and difficult race," Lauda said. "It was special because it was so close."
Lauda: 'He thought he had it all in his hands'
On the championship stage, Prost nearly came to tears. Lauda attempted to comfort his teammate.
"He was certainly disappointed because he thought he had it all in his hands," he said. "… But I told him, 'this is motor racing. You've done a good job, but I just made it. Don't worry about it; you will next year!'
"And I was right – next year Prost won the championship."
Considering all the shenanigans Verstappen and Hamilton have pulled against each other this season; it's doubtful either one will proclaim sincere congratulations to the winner on the Abu Dhabi GP championship podium.