Is Maxx Crosby the Real Star of the Raiders' Stellar 2019 NFL Draft?
This season, the Oakland Raiders had a lot of draft picks to work with. While they had a stellar draft overall, the best of the bunch may have been a little known defensive lineman out of the Mid-American Conference: Maxx Crosby. Could Crosby be the real star of the Raiders 2019 NFL draft?

Maxx Crosby's path to the NFL
Crosby played collegiately at Eastern Michigan of the Mid-American Conference. Here's what he accomplished during his three seasons:
162 total tackles
41 tackles for a loss
20 sacks
One interception returned for a touchdown
Four passes defended
Four fumble recoveries
One fumble returned for a touchdown
Eight forced fumbles
Eastern Michigan may not be a hotbed of college football, but Crosby was able to garner decent national attention for his stellar play there. NFL.com prepared a draft profile for Crosby, giving him a grade of 5.44 (potential to be an NFL backup or special teamer). Here was their scouting report on him:

"Developmental, long-limbed defensive end who needs a year or two of bulking up before he's ready to see the field. He's long and flexible and will flash on tape as both a rusher and run defender, and those traits could outweigh his poor contact balance and play strength for some teams. If he grows into his gangly frame, Crosby offers a higher ceiling than some Day 3 prospects he could be lumped in with."

Here were Crosby's combine totals:
4.66 seconds in the 40-yard dash
36 inches in the vertical jump
122 inches in the broad jump
6.89 seconds on the three-cone drill
4.13 seconds in the 20-yard shuttle
11.35 seconds in the 60-yard shuttle
The book on Maxx Crosby was that he possessed some talent, but would represent something of a project for teams. The Raiders threw the book out the window.

The Oakland Raiders 2019 NFL Draft results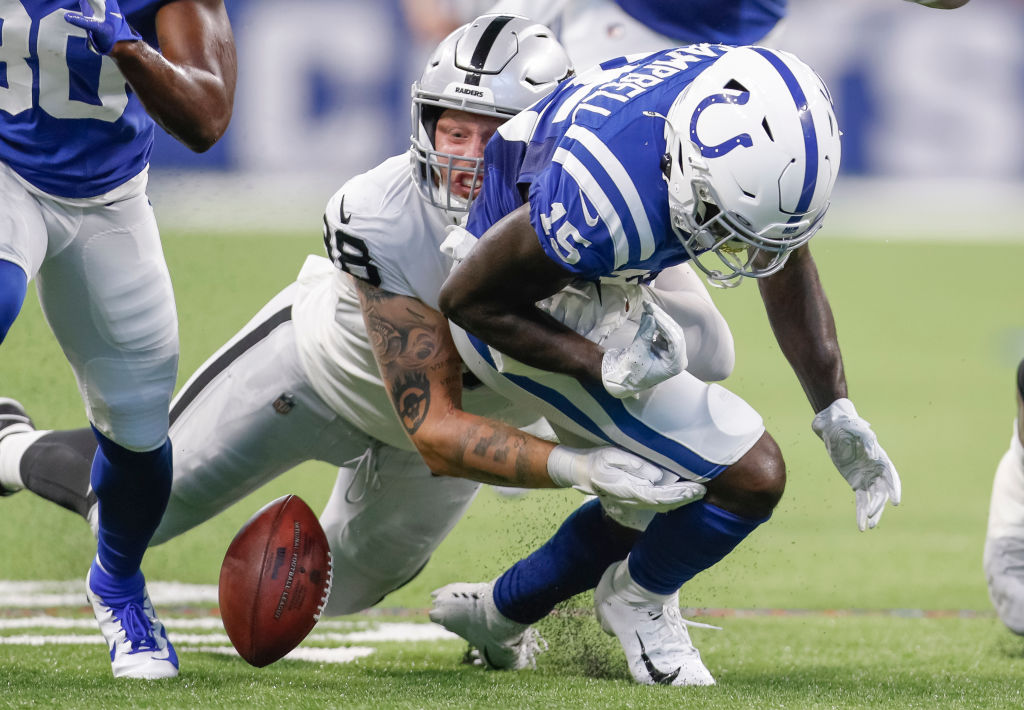 The Raiders underachieved last year, and with a relatively new head coach and GM in Jon Gruden and Mike Mayock, the team knew it had to rebuild through the draft before their move to Las Vegas in 2020. They attempted to do that with nine draft picks. The team selected Crosby with the 106th pick overall in the fourth round. Here's a recap from OaklandRaiders.com of the team's entire 2019 draft class:
First round, (No. 4 overall): Clelin Ferrell, DE, Clemson
First round (No. 24): Josh Jacobs, RB, Alabama
First round (No. 27): Johnathan Abram, S, Mississippi State
Second round (No. 40): Trayvon Mullen, CB, Clemson
Fourth round (No. 106): Maxx Crosby, DE, Eastern Michigan
Fourth round (No. 129): Isaiah Johnson, CB, Houston
Fourth round (No. 137): Foster Moreau, TE, LSU
Fifth round (No. 149): Hunter Renfrow, WR, Clemson
Seventh round (No. 230): Quinton Bell, DE, Prairie View A&M
The Raiders' site had this to say about the selection of Crosby:
"Crosby filled up the record book during his time as an Eagle, and he finished his career with 20 sacks and 41 tackles for loss. He'll be another fun toy for defensive coordinator Paul Guenther to employ to get after the quarterback."

Maxx Crosby's 2019 season so far
It turns out the experts who predicted Crosby as a backup or special teams contributor were just a bit off in their diagnosis. Crosby has been an absolutely dominant force for the Raiders. His breakout game came against an AFC opponent according to NBC Sports Bay Area:

"In the Raiders' Week 11 win over the Cincinnati Bengals, Crosby had his best game to date. He terrorized Bengals quarterback Ryan Finley all day long, totaling five tackles, four sacks, three tackles for loss, and a forced fumble in Oakland's 17-10 win at the Coliseum. Crosby was named AFC Defensive Player of the Week for his effort."

If Crosby can keep this up, the Raiders may have gotten a fourth-round steal and a force on their defensive line for years to come.