Maybe the New York Giants Have Their Guy in Daniel Jones After All?
Coming into Week 3's matchup against the Tampa Bay Buccaneers, New York Giants fans haven't had much to cheer about over the last few seasons. One of the only bright spots to come out of going 3-13 in 2017 was the chance to draft Saquon Barkley with the second overall pick in the 2018 NFL Draft. Barkley's night was cut short with an ankle injury on Sunday, and the Bucs took a 25-10 lead shortly after New York's star running back left the game.
With Barkley out, the Giants appeared to be on their way to another loss and more heartbreak. But Daniel Jones had other plans.
Daniel Jones was not a popular draft-day selection
With the sixth overall pick in the 2019 NFL Draft, the New York Giants selected quarterback Daniel Jones out of Duke. To say that this was not a popular pick would be an understatement.
Jones has the prototypical quarterback stature at 6'5", 220 pounds. He had an unspectacular career with the Duke Blue Devils, completing 59.9% of his passes while passing for 8,201 yards and 52 touchdowns with 29 interceptions in three years as the team's starter. The Blue Devils went 19-19 with him under center.
Most pre-draft rankings had Daniel Jones rated as the fourth-best quarterback available below Kyler Murray, Dwayne Haskins, and Drew Lock. He wasn't projected to be taken in the first round by most league experts. So it came as a big surprise when his name was called at No. 6 overall.
Giants fans booed the pick relentlessly. Even if New York had pegged Daniel Jones as their guy over Haskins and Lock, why didn't they trade down, or select him with the No. 17 pick that they also owned? It was a head-scratching decision, but general manager Dave Gettleman didn't want to risk letting Jones potentially get away. So the Giants took him at No. 6.
He sure looked the part in his NFL debut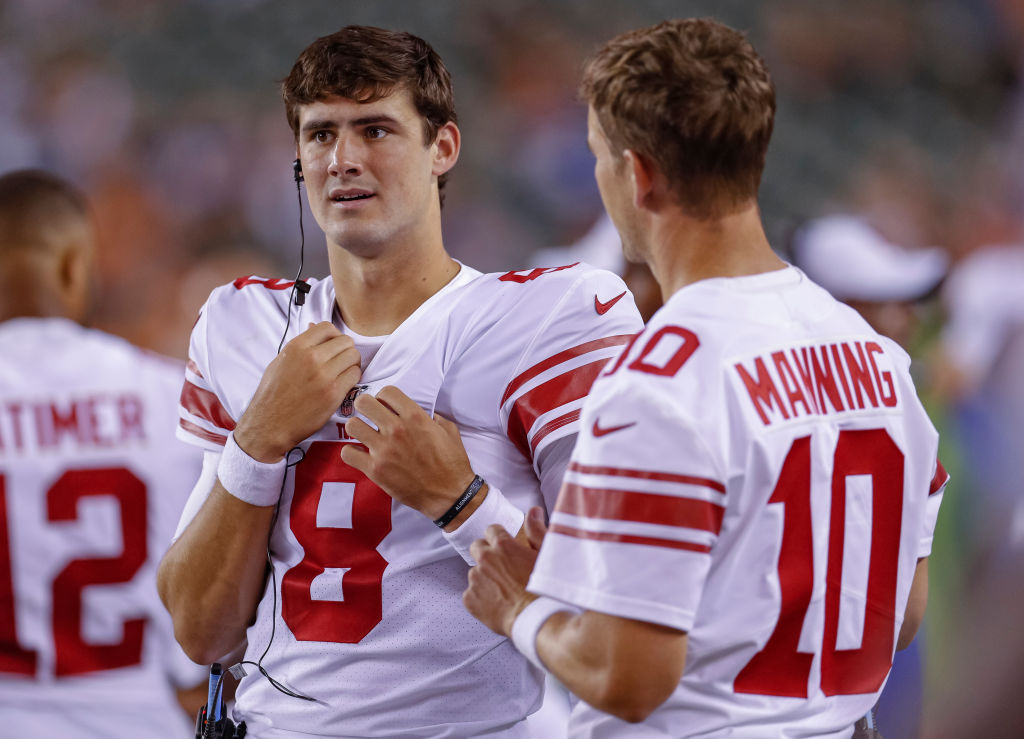 When asked in a press conference after the draft what he had to say to the fans that had booed the selection of Daniel Jones, he responded that "in time, you'll be very pleased."
If the first game of his NFL career is any indication, maybe Gettleman is right.
With Saquon Barkley out of the game, the Giants had no choice to turn the offense over to Daniel Jones in his first career start. And Jones delivered, erasing an 18-point deficit to lead the New York Giants to a 32-31 road win over the Tampa Bay Buccaneers.
Jones finished the afternoon going 23-for-36 with 336 passing yards and two passing touchdowns. He didn't throw any interceptions and also scored twice on the ground, rushing four times for 28 yards and two touchdowns. His last rushing touchdown came on a seven-yard dash that came at the end of a 75-yard scoring drive.
No turning back this time
The New York Giants inexplicably ended Eli Manning's streak of 210 consecutive starts in 2017 to turn starting duties over to Geno Smith, only to give the starting role back to Manning the following week. It was an embarrassing 180-degree turn for a team that desperately needed a youth movement.
That youth movement is finally here. And with all due respect to Geno Smith, Daniel Jones has a much better chance at succeeding in the starting role in New York.
Only time will tell if Daniel Jones will succeed as an NFL starter and where he will rank among the other quarterbacks taken in his draft class. But the Giants are officially his team now, and the Jones era is off to one hell of a start.