Mayweather vs. Pacquiao: Your Cheat Sheet to a Potential $400M-Fight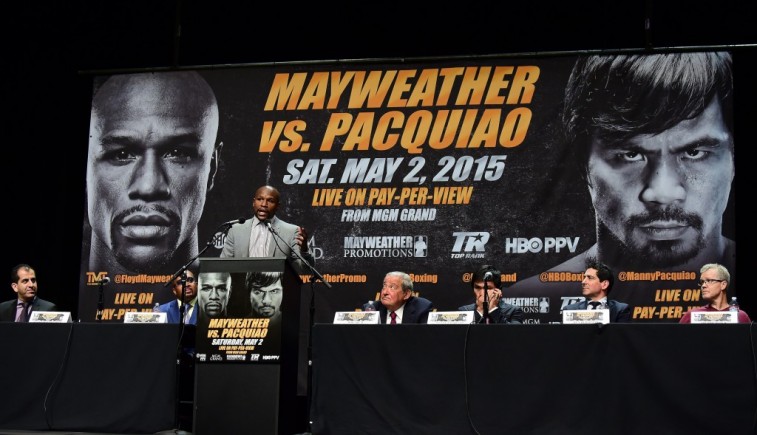 They don't call him "Money" Mayweather for nothing.
Boxing pundits and fans of the sport were well aware that the May 2 welterweight title unification fight between Floyd Mayweather Jr. and Manny Pacquiao was going to bring in big bucks. How could it not? This is not just the fight that the people wanted; it's the fight that the sport needed. It was sure to shatter every revenue record in the book (for combat sports, that is). The real question was, by how much? Well, we're now starting to see what kind of money this fight may actually generate and the numbers are big — upwards of $400 million big.
According to Pacquiao's promoter Bob Arum, the chairman of Top Rank, with more than 15,000 tickets on sale, this fight is set to make $74 million at the gate alone. That would absolutely shatter the current record for money generated from ticket sales. A number which now sits at $20,003,150 from Mayweather's junior middleweight unification fight against Canelo Alvarez back in 2013. It's crazy to think that this bout could make so much more money at the gate, considering that both fights will have been at the MGM Grand Garden Arena in Las Vegas. But it begins to make sense once you learn how much tickets for this heavily anticipated fight are going for.
Top Rank and Mayweather Promotions originally set ticket prices to range from $1,000 to $5,000. But with increased demand, they bumped prices from $1,500 to $7,500. This would have netted them $50 million from the gate. Now, however, the price for the top ticket is set at $10,000, and they're looking at a $74 million pay day. Unfortunately, most of the tickets will not be on sale to the general public. So if they intend to watch the fight, they'll have to do it via pay-per-view. And that's where the real money will come from.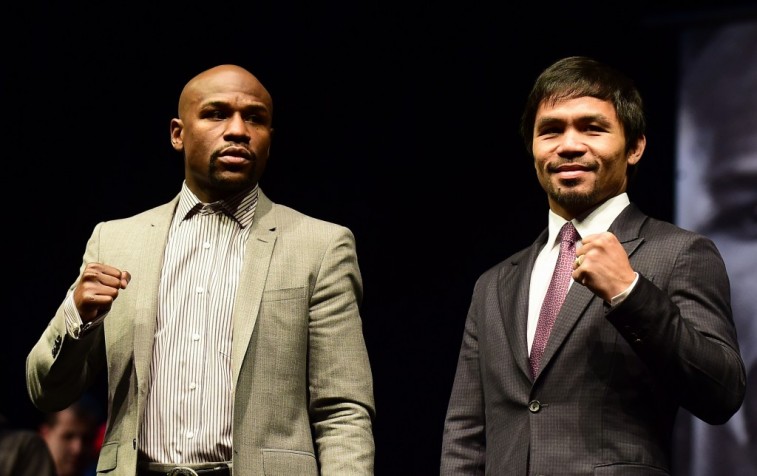 When Mayweather took on Oscar De La Hoya in 2007, a pay-per-view record was set with 2.4 million buys. Promoters are convinced that this fight will break that mark. Showtime and HBO, who are presenting the match together, have confirmed that the price for this fight will cost $89.95 — with an additional $10 if you're looking to watch it in high definition. That is another record for the sport. The previous high was the $64.95 ($74.95 in HD) charged to watch the Mayweather versus Canelo Alvarez fight from 2013. If all goes as planned, this bout will bring in way more than the record-$152 million pay-per-view revenue garnered from that fight — potentially a total of $300 million in domestic pay-per-view buys. And then of course, there is the money from foreign rights and other sponsors.
The fight will be broadcast in the Philippines by Solar, which paid $10 million for the rights. In Mexico, both Azteca and Televisa will broadcast the fight simultaneously, after agreeing to pay a combined $2.3 million. With the fight being broadcast in over 170 countries, the revenue from foreign rights could reach $35 million. This bout has become so monumental that even Tecate and Corona waged a war to see which one of the two beer giants could become a title sponsor. In the end, Tecate outbid Corona $5.6 million to $5.2 million. It seems like timing is everything. Said Arum, "We wouldn't have gotten a fraction of these numbers if we made the fight five years ago." This fight has actually been closer to six years in the making, and no one wants to miss out on it.
This fight in and of itself has always felt bigger than the sport of boxing as a whole. Perhaps it's because these are two of the biggest names in the sport. Perhaps it's because the winner can truly call themselves the best pound-for-pound boxer on the planet. Perhaps it's because we always want what we can't have. But that's no longer the case. On May 2, Mayweather and Pacquiao will face off in the ring and the world will finally get the fight it's been desperately craving. Hopefully it lives up to its $400 million billing.