'Maze-spin' Prank Spins Out of Control for Haas Rookie Nikita Mazepin, Develops into F1 Drinking Game
Many Formula 1 rookies experienced inauspicious debuts. Then there's Nikita Mazepin. The first-year Haas pilot crashed on the maiden lap of the season-opening Bahrain Grand Prix.
Several mistakes followed during the opening weeks.
Soon, F1 fans tagged him with the unflattering "Maze-spin" moniker.
Nikita Mazepin drove fans to drink with his early season mishaps
While Mazepin struggled to keep his machines from spinning out, he turned to social media and connected with younger fans.
During a practice session in preparation for the Hungarian GP, Mazepin spotted a spectator's sign. It read: "Nikita if you do a Mazespin = We drink."
He replied digitally: "Just don't drink and spin," accompanied by a laughing emoji.
Haas brass even got in on the fun, but the then-22-year-old rookie didn't initially appreciate the mid-season prank.
Team principal Guenther Steiner plotted to hand his protégé a present, paying homage to his new nickname.
A team video shows Steiner handing over a gift. Mazepin opened the box, revealing a spinning top toy. Steiner called it a "Mazespin."
Mazepin awkwardly laughed and pointed to himself, declaring, "it's here."
The prank may not have gone the way Steiner anticipated, but he hopes the rookie will in time come to appreciate the gesture.
Guenther Steiner on 'Maze-spin' toy: 'I think he will keep it because it will be a good memory for him when he gets older and wiser'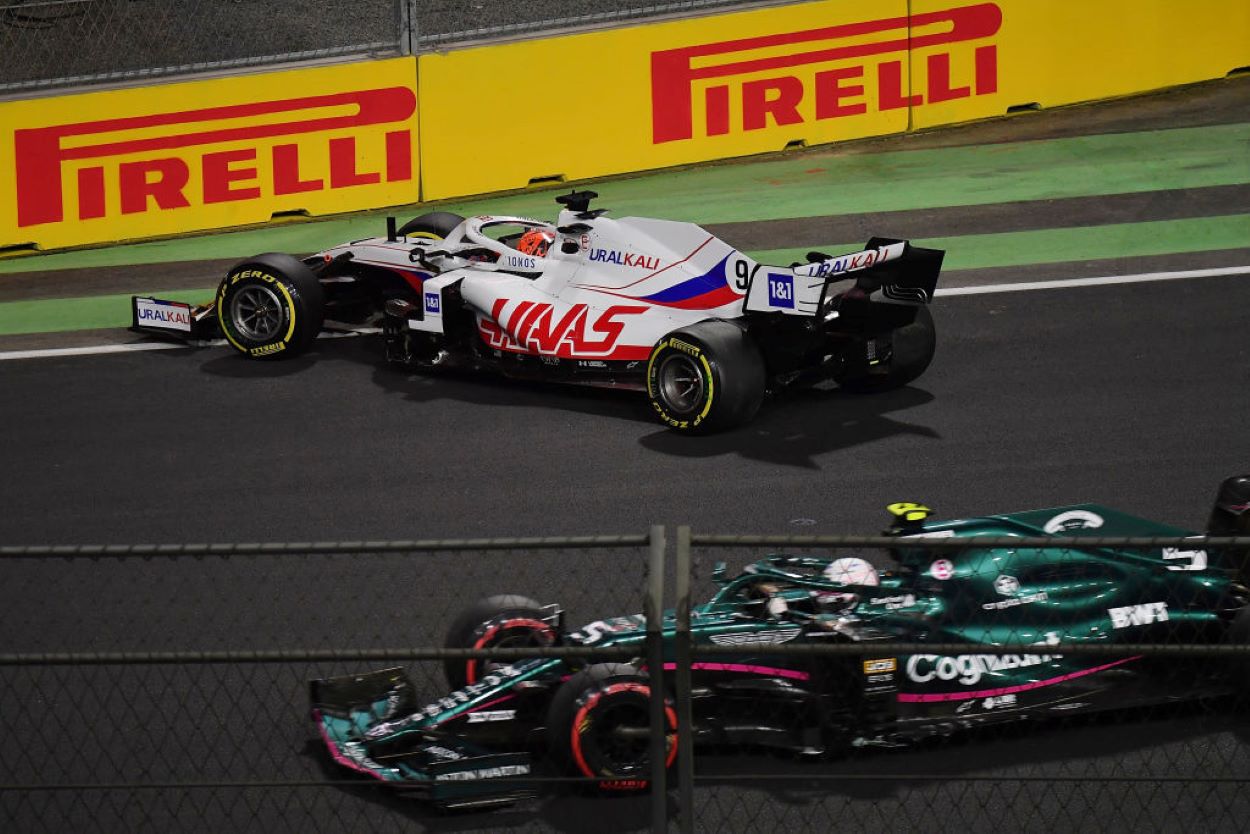 When recently asked if he suspected Mazepin still had the spinning top, planetf1.com reported Steiner said: "I mean, how could you give something like this away when you got it from me?
"No, without joking, I don't know … but I think he will keep it because it will be a good memory for him when he gets older and wiser."
Mazepin's best 2021 finish was P14. He was blanked in the drivers' standings.
In a recent interview with autosport.com, Mazepin admitted his early-season struggles, like the crash into Williams driver George Russell during a reckless restart at the Saudi Arabian GP, tested his confidence. But he never lost it.
Traditionally, Russian students earn marks of 2 to 5. On that grading scale, Mazepin awarded himself a "… four for sticking through it because the times were really tough this year at certain points."
He thought about the grade for an instant and added an addendum.
"Probably a three for adaptation," he said, "because that's hasn't been my strong point, and I keep improving on it."
Mazepin returning with rival teammate Mick Schumacher next season
Mazepin's team fielded the slowest F1 machines all last season, and he often battled rival rookie teammate Mick Schumacher in the rear grid. It didn't make for a conducive locker room.
The fourth Russian to compete at the F1 level, Mazepin earned his way into the top circuit by placing second in the 2018 F3 drivers' race with four wins and fifth in the F2 2020 standings with two checkered flags and six podiums.
Many F1 insiders criticized the offseason move by Haas to promote Mazepin. He had a solid but unspectacular juniors career. Not to mention the organization would depend on two rookies to compete with rebuilding engine setups. Tensions manifested.
The two were involved in several near on-track misses and, despite their apparent chemistry problems, they will return to helm Haas' machines in 2022.
Fans could make a new sign next season: "Nikita if teammates tangle = We drink."
Like Sportscasting on Facebook. Follow us on Twitter @sportscasting19.