Mecole Hardman Could Be Patrick Mahomes' Secret Weapon This Year
As fantasy football players know, the Chiefs aren't hurting for offense — and their big plays start at the quarterback position with Patrick Mahomes. He is surrounded by several high-profile running backs and receivers who are all capable of making big plays, most notably WR Tyreek Hill and TE Travis Kelce.
The defending Super Bowl champions have a second-year receiver who may be poised to have a breakout season in 2020 — and if he does, he could become a secret weapon for Mahomes as he tries to lead the Chiefs to back-to-back titles.
Mecole Hardman's rookie season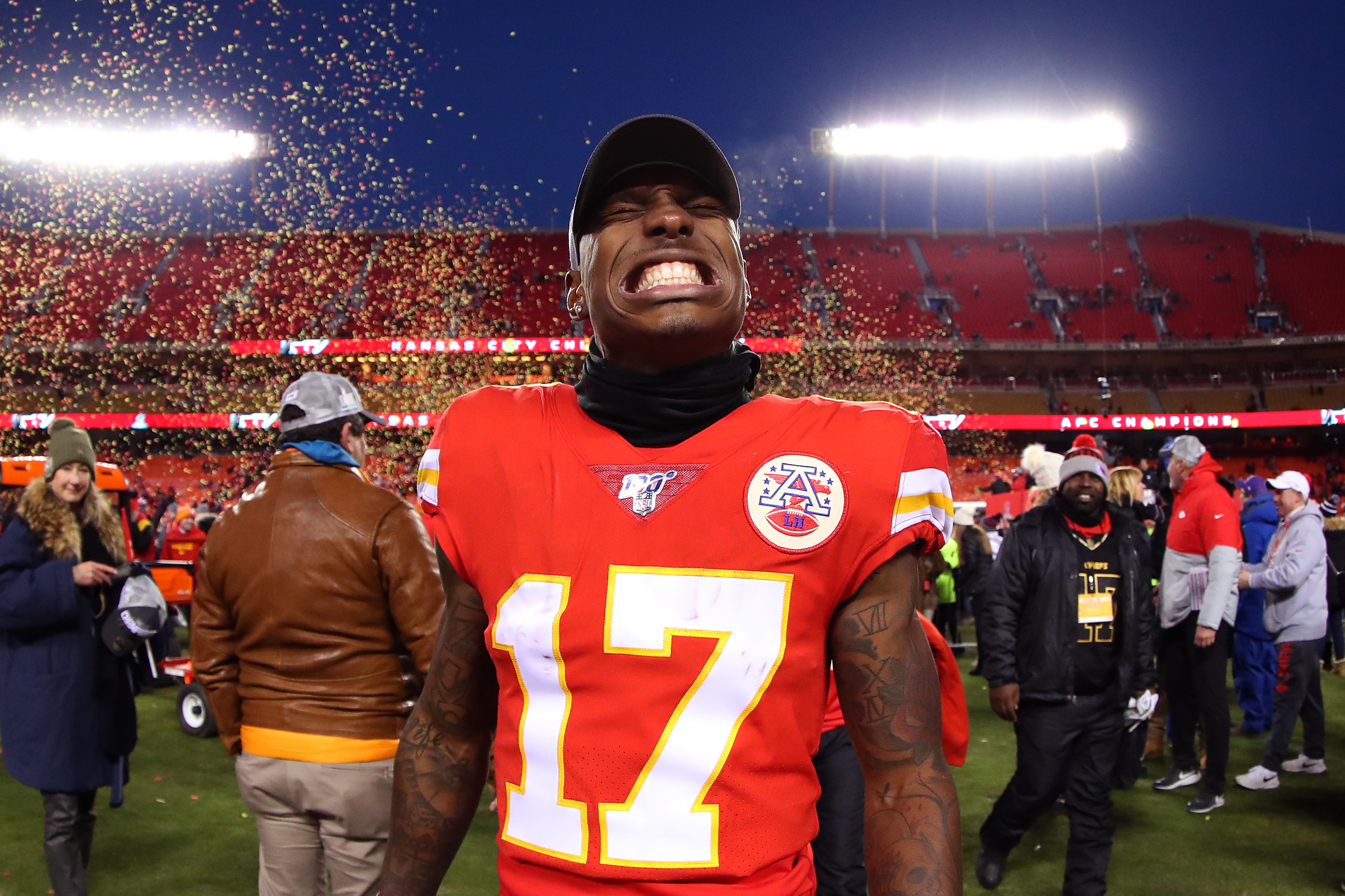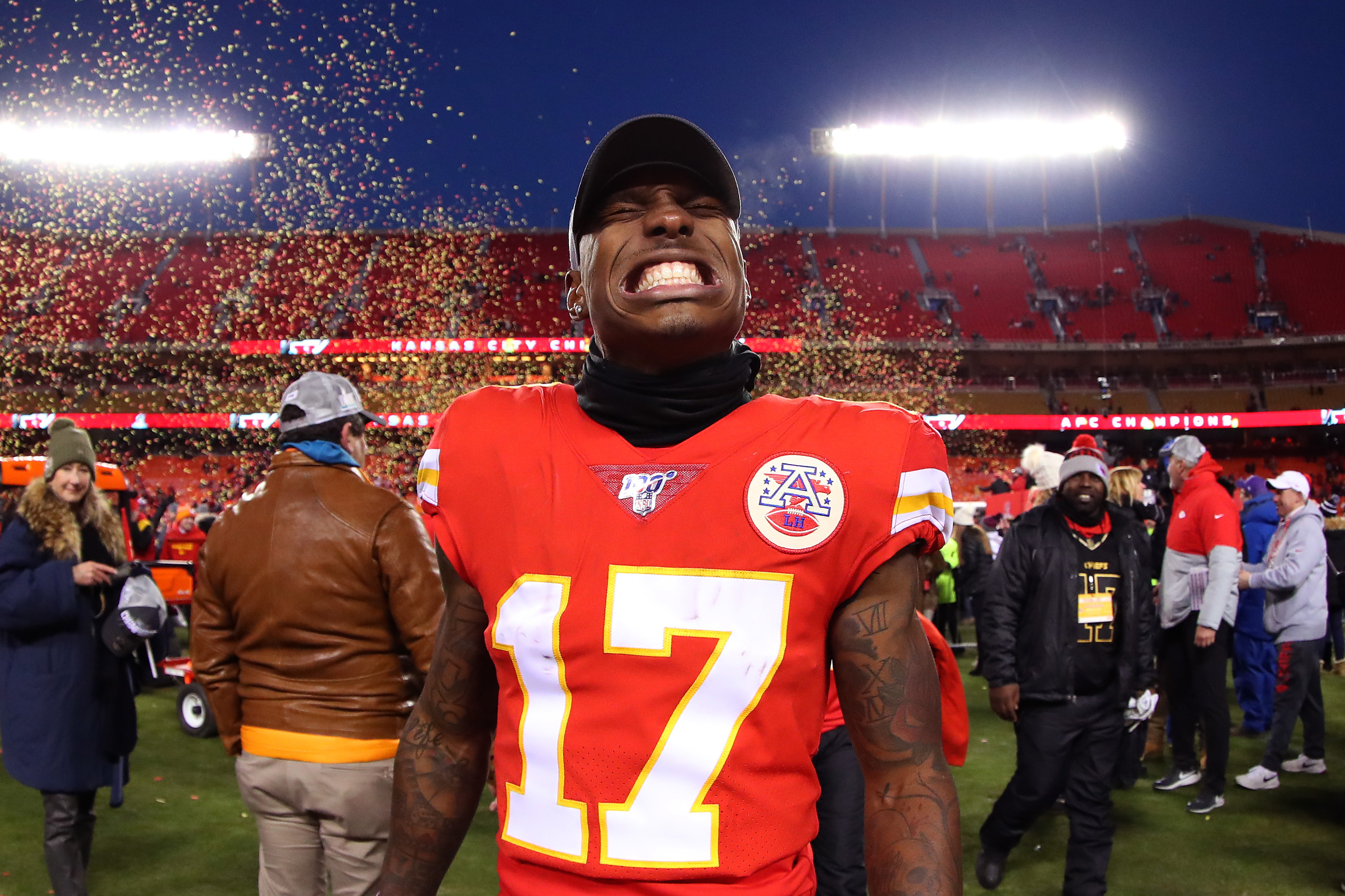 The Chiefs drafted WR Mecole Hardman in the second round of last year's draft, and the Georgia alum showed some promising signs in limited playing time.
He played in all 16 games but started just five of them, grabbing 26 receptions out of his 41 targets. He turned those catches into 538 yards and six touchdowns, adding another touchdown on the ground with one of his four carries. The Chiefs also used Hardman as a kick returner, and he took one kickoff 104 yards for a touchdown. 
An explosive player in a strong offense
Hardman is an explosive player who is able to make big plays, as evident by that 104-yard return, and he should get even better as he gains experience and becomes a bigger part of the Chiefs' offense.
According to Bleacher Report, Hardman is quick, and he can start and stop on a dime, which helps him create separation — and that becomes even more prominent when he turns on the burners and starts showing off his raw speed once he gets into the open field. With that combination, Hardman is a threat to reach the end zone anytime he gets the ball in his hands.
He's also a smart player who can run routes well, especially excelling at vertical routes because defensive backs have a hard time keeping up with his speed. Hardman is adept at head fakes that keep defenders guessing which way he is going.
The 22-year-old has good body control and a shiftiness that helps him elude defenders before he gets away from them with his speed. He has good hands and is able to catch the ball from virtually any angle, and he can easily transition into a runner when he catches the ball in stride — giving him the opportunity to get big yardage whenever he catches a pass from Mahomes.
Patrick Mahomes is a good QB for Mecole Hardman
When you have a playmaker like Hardman downfield, Mahomes is an ideal quarterback for a receiver like him. Mahomes can get the ball to his intended receiver. Mahomes can help ease a young, inexperienced player like Hardman into the offense even though Mahomes isn't a longtime veteran of the league himself.
But when you have a passer who is just a season removed from throwing 50 touchdowns, that gives you a tremendous advantage as a receiver. Mahomes has completed roughly 66% of his passes each of the last two seasons, and he is accurate and can adjust when needed. That allows a player like Hardman to be able to catch the ball even if he happens to make a slight error in his route.
Mahomes was able to turn Sammy Watkins into a 52-reception receiver last season, helping Watkins achieve his best season since 2015. The former MVP makes the players around him better with his ability. He's done it for the likes of an aging Watkins, and he can do it for Hardman. Playing with Mahomes should give Hardman a chance to break out and become a star in 2020.
All stats courtesy of Pro Football Reference