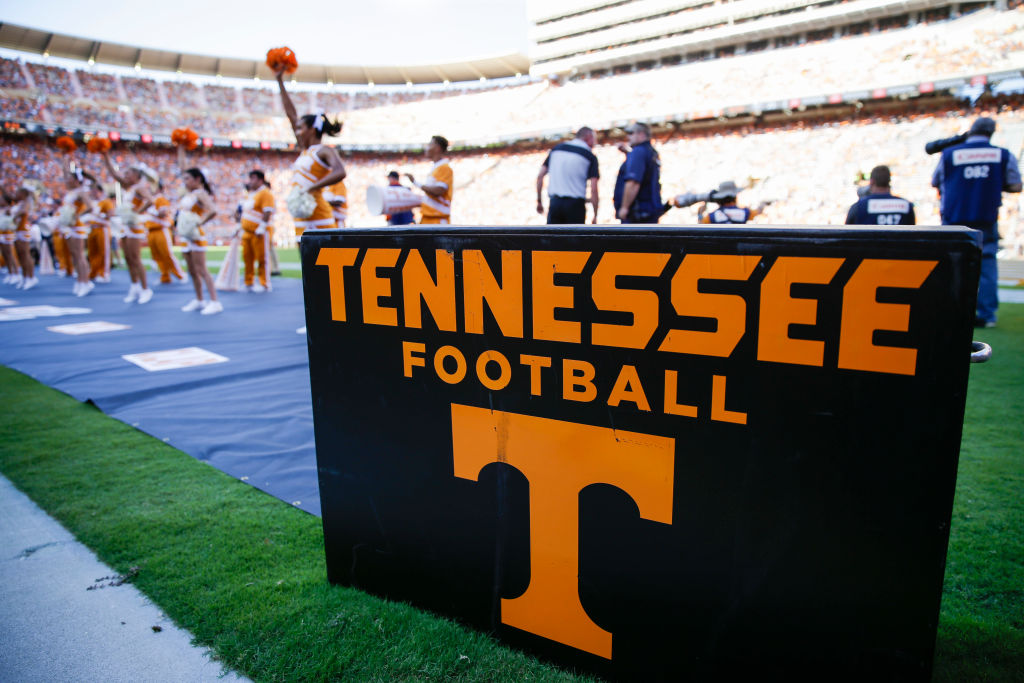 Meet Gus Duggerton: The Video Game Football Coach Who's Taking Over the Sports World
With professional sports on hold, a fictional college football coach has taken the Internet by storm, but who is the mysterious Coach Duggs?
In this bleak time with American sports on hold and the entire country shacked up in quarantine, sports fans are desperate for a competitive thrill. Enter Gus Duggerton. The fictional college football coach has taken the Internet by storm over the past few weeks, and he's only gaining steam. "Coach Duggs" might just be a series of pixels in an old video game, but he's taken on a larger-than-life persona that real college coaches are even acknowledging. So, who is the infamous Coach Duggs and how did he captivate an entire country?
Who is coach Gus Duggerton?
Coach Gus Duggerton started as a way for a simple man to pass the time during the COVID-19 pandemic. Barstool Sports personality and 'Pardon My Take' host Dan Katz, otherwise known as Barstool Big Cat, bought an Xbox 360 and a copy of NCAA Football '14 and started his own dynasty league.
Katz created his own coach and named him Gus Duggerton. Soon enough, Katz was streaming on Twitch, and his fans started to grow by the tens of thousands.
Coach Duggs started his career at Toledo as the offensive coordinator. After one season, he moved on to Florida State to fill the same role. The Seminoles just missed their shot at a national title game, but they fell short in the ACC Championship a week prior.
Duggerton left FSU after one season for the USC offensive coordinator job. A year later, Duggs scored his first head coaching gig with Texas Tech. He went on to win the Cotton Bowl and finished the season inside the AP top-20, but he again bailed on his team to join Tennessee.
Duggerton has no allegiances, and he refuses to take knees at the end of games. His coaching mantra and journeyman style of leadership rub some people the wrong way, but he's ascended to become one of the most famous and polarizing sports figures in the world.
Coach Duggs is receiving attention from popular coaches and reporters
For a while, Gus Duggerton was an amusing storyline to follow on Twitch every night, but along the way, he started to attract the attention of some of the biggest names in college football.
Brett McMurphy, a Stadium reporter and college football insider, even started to tweet about Duggs rumors. McMurphy tweeted out Duggerton took interviews with Georgia and Tennessee before his season with Texas Tech was even over.
Sure enough, Georgia and Tennessee came calling shortly after the Cotton Bowl. Duggerton decided to join Rocky Top, and McMurphy was again all over the report.
Duggerton is also getting college coaches and college team Twitter accounts to shout him out. Somewhere along his journey, Coach Duggs became real. He even has his own Twitter account run by a man who looks exactly like the video game version of Duggs.
Gus Duggerton is giving fans something to cheer for while sports can't
In this depressing time for sports fans, coach Gus Duggerton has given them a fun story to follow. That's what sports are all about: the stories. "The Last Dance" captivated America with the story of Michael Jordan and the 1997-98 Chicago Bulls. Now, it's coach Duggs' turn.
Katz garners as many as 60,000 viewers at a time on Twitch. He streams a game almost every night, and you can follow along at Pardon My Take's account.
Gus Duggerton has filled a need for every sports fan who misses watching their favorite teams compete. For the time being, at least we can all be Tennessee Volunteers and Coach Duggs fans.