Meet the Man Who Discovered Joel Embiid and Pascal Siakam
International basketball has evolved over the past 30 years. From the Dream Team at the 1992 Olympic Games to the foreign-born talent prevalent in today's game, more international players impact the NBA than ever before. Pascal Siakam and Joel Embiid — two players born in Cameroon, Africa — have taken the NBA by storm in recent seasons.
Neither would be here without the efforts of one man who helped bring them from Africa to the NBA. Let's take a closer look at their stories. 
Joel Embiid and Pascal Siakam in the NBA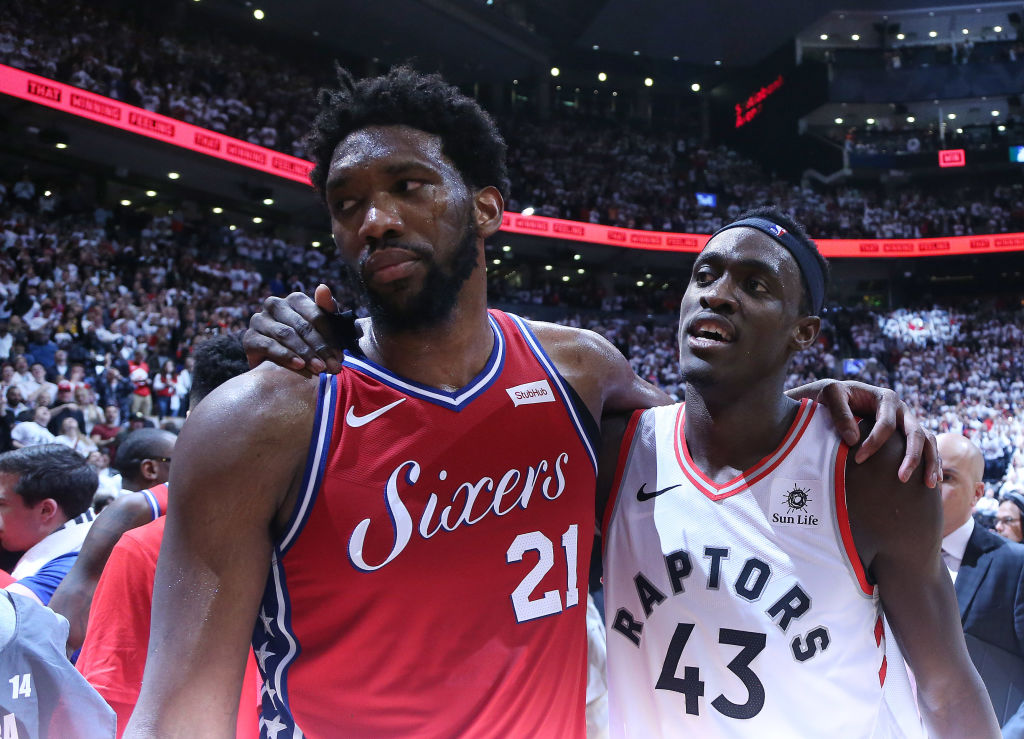 After playing college basketball at Kansas, Embiid went to the 76ers with the third overall pick of the 2014 draft. In his first two seasons, the center didn't play due to an injury. In his third season, he played only 31 games.
Since then, he's become one of the league's best big men. Embiid even averaged a double-double for his career with 24.5 points and 11.5 rebounds per game.
The Raptors drafted Siakam with the 27th pick in 2016. The power forward came to prominence last season, averaging 16.9 points per game while leading Toronto to their first-ever title. He's improved even further this season, averaging 24.7 points per game.
What is Basketball Without Borders?
Beginning in 2001, Basketball Without Borders Africa is "the NBA and FIBA's global basketball development and community outreach program." It allows players in African nations to showcase their skills and develop their talents on a bigger stage. It also helps former participants mentor younger players. 
Embiid participated in the program in 2011 and reflected on the impact it had on his career: "Back in 2011, I was kind of shy. I wasn't as good because that was the year also when I started playing basketball," said Embiid on a conference call from a Basketball Without Borders Africa event.
"By the end of the weekend, I felt comfortable," he explained. "I had a great time. I ended up kind of showing my potential. I got a scholarship to come to the States." 
Embiid still participates in the program, helping younger African players. In fact, one former NBA player similarly mentored both Embiid and Siakam through the program. 
The man who discovered Embiid and Siakam
Luc Mbah a Moute was the second NBA player ever from Cameroon. The Milwaukee Bucks drafted him the 37th overall pick in the 2008 NBA Draft.
Mbah a Moute played 11 seasons with the Bucks, Sacramento Kings, Minnesota Timberwolves, Philadelphia 76ers, Los Angeles Clippers, and Houston Rockets. He averaged 6.4 points per game and 0.9 assists over a 686-game NBA career.
Mbah a Moute's modest statistics betray his impact on the NBA. He served as an ambassador between the league and his native Cameroon, even building courts for developing players. The former forward has strengthened the tie between his country and the NBA through Basketball Without Borders:
"So Mbah a Moute set a goal: to raise the profile of basketball in Cameroon, to build courts so the national team wouldn't have to practice outside, to run coaching clinics so players could be trained at the highest levels.

That summer, Mbah a Moute started a pre-selection camp that would enable players from all over Cameroon to audition for five spots at the annual Basketball Without Borders camp. It was Mbah a Moute's effort to provide Cameroonian kids the opportunity to find success through basketball."
A year after Embiid participated in Mbah a Moute's camp, Siakam competed as well. After a lot of hard work and perseverance, both found themselves in the NBA.