Megan Rapinoe Credits Fiancée Sue Bird With Shaping Up Her Diet: 'I Really Did Transform'
Athletes spend an insane amount of time fine-tuning their bodies by working out. To work properly, every machine needs proper fuel. Soccer superstar Megan Rapinoe recently opened up about how she revolutionized her eating habits. She did it with the help of someone special who happens to be another superstar athlete: her fiancée, basketball legend Sue Bird. 
Megan Rapinoe's diet before Sue Bird
RELATED: Soccer Star Alex Morgan Made Nike Agree to 'Groundbreaking' Maternity Protections
According to the Seattle Times, Rapinoe and Bird knew each other from the Seattle pro sports scene and connected at the 2016 Rio Olympics. According to GQ, that's where their love began to blossom. Bird's Team USA teammate Diana Taurasi spotted it almost immediately: 
"It was on a ship, a big ballroom; there were a lot of people, and Sue would just gravitate right back to [Megan's] table … I've seen Sue in a lot of bars, and I can tell when she's on the prowl. I was just like, 'Yep, there it is.'"
The two began dating by September 2016. Before she met Bird, Rapinoe didn't take her diet or conditioning very seriously. She explained, "I was sort of undereating at the wrong times, and eating the right things at the wrong times … And I was not eating enough, which did not allow me to train as hard as I could have." 
Sue Bird cleaned up her own diet first
While Bird helped Rapinoe clean up her diet, the star guard wasn't always a model of dietary excellence. The Seattle Times reported that Bird enjoyed a career resurgence in her mid-30s thanks to a newfound commitment to her diet and physical fitness. Prior to that, the WNBA player said she "played like crap."
Upon turning 35, an age where most athletes begin to fade, Bird knew something had to change. After undergoing several surgeries to address nagging injuries, she opted for "an anti-inflammatory diet heavy on sweet potatoes and avocados." This promoted better immunity and energy.
It worked, and she began playing at a much higher level despite her advancing age. Bird knew radical changes were what she needed if she wanted to continue playing as she told the Seattle Times: 
"When you go through something like that you have to look in the mirror at some point and either be satisfied with it or see if you can do something about it … I wanted to get as healthy and as strong as possible."
Her commitment to healthy living has clearly rubbed off on her fiancée. 
Megan Rapinoe credits Sue Bird with her diet update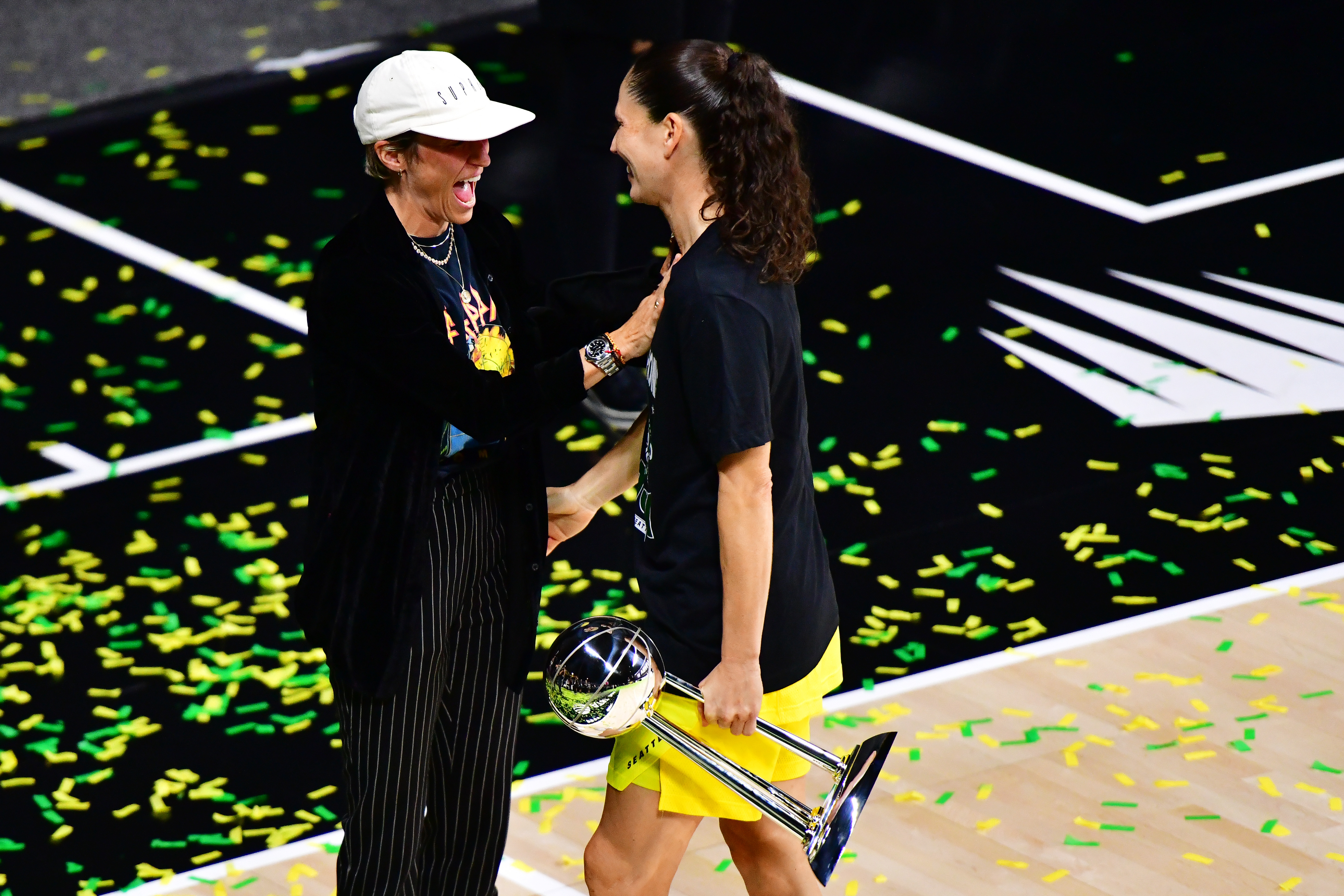 RELATED: Inside Megan Rapinoe and Sue Bird's Humble Seattle Condo
Bird's diet is high on vegetables and low on dairy and sugar. She encouraged Rapinoe to eat the same way, and she has. According to Rapinoe's twin sister, Rachael, Bird helped her change all of that, as the Seattle Times reports: 
"Meg has never really loved working out, and she's never really been that regimented about her eating … Sue completely revamped her eating and nutrition, which — in my opinion — has 100% boosted her game. I think this last year and a half, she's the strongest and fittest she's ever been."
It seems like Rapinoe and Bird's relationship is more than just a love connection. It's also unlocked a gateway to healthier living for both star athletes.