Mel Kiper Had Over 20 Consecutive Incorrect Picks in Thursday's NFL Draft
Mel Kiper put on his best suit, prepared his in-depth notes, and took to the virtual airwaves of the 2020 NFL draft the way he had done for nearly 40 years. Kiper's performance on Thursday night, however, was one of his worst outings since he joined ESPN all the way back in 1984.
Just how bad did Mel Kiper fare in the 2020 NFL draft's opening round, and where does it rank among his worst performances? Let's take a look.
Mel Kiper started the 2020 NFL draft hot
Mel Kiper, like seemingly everyone else, started 2-for-2 when the Bengals drafted LSU quarterback Joe Burrow and Washington selected Ohio State defensive end Chase Young.
Kiper correctly predicted the Detroit Lions wouldn't trade the third overall pick. However, Kiper incorrectly had Detroit drafting Auburn defensive tackle Derrick Brown instead of Ohio State corner Jeff Okudah.
A similar situation happened a pick later. Kiper projected Iowa offensive lineman Tristan Wirfs would join the New York Giants. The Giants took an offensive lineman, though New York instead drafted Georgia's Andrew Thomas.
Mel Kiper also deserves credit for correctly predicting the Dolphins' and Chargers' quarterback picks. For weeks, Kiper had Miami drafting Oregon's Justin Herbert and the Chargers selecting Alabama's Tua Tagovailoa.
Kiper reversed course in his final mock draft, however, and swapped the two. Tagovailoa ended up a Dolphin, while Herbert is, ideally, the Chargers' next franchise quarterback.
Kiper had one of his worst-ever NFL draft streaks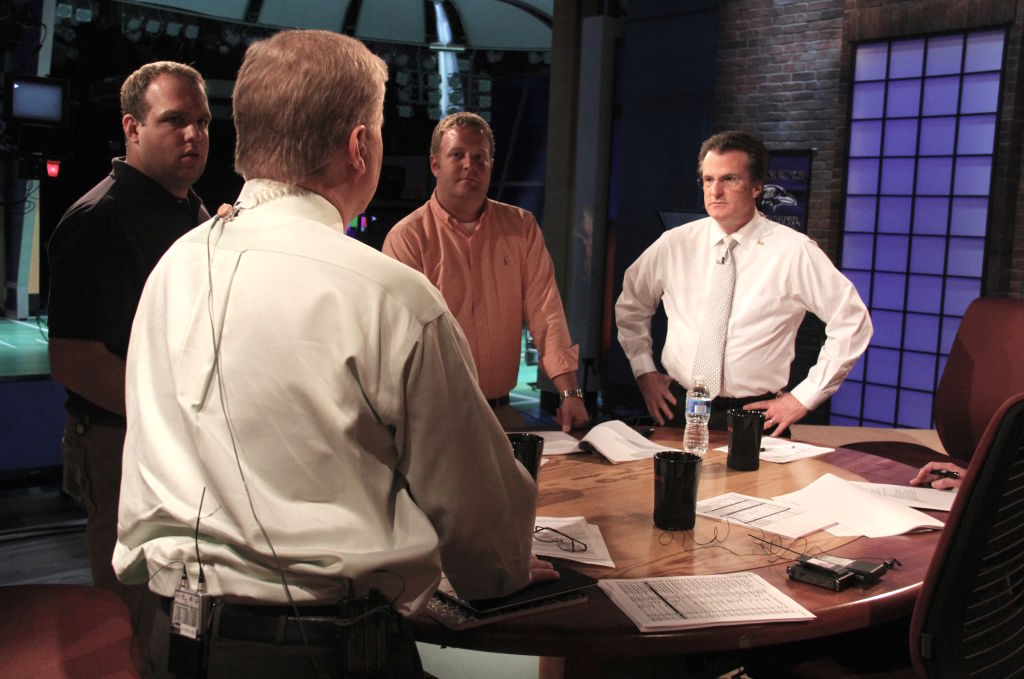 After his 4-for-6 start, Mel Kiper only had one more correct first-round section. Kiper projected the New York Jets would draft Louisville offensive tackle Mechi Becton at No. 11, which is what happened.
For example, Kiper still would have been correct if Washington traded down to No. 3 and drafted Chase Young there. However, the Giants trading up and drafting Chase Young with the 2nd pick would have resulted in an incorrect pick on Kiper's chart.
The 0-for-21 streak is one of the worst in Kiper's long history at ESPN. He had 16 incorrect picks in 2009 with regards to which teams drafted what players. (Kiper had 18 total consecutive, wrong first-round picks in 2009.)
From there, Mel Kiper was in trouble. Kiper ended the first round with 21 consecutive incorrect picks. Sites like Walter Football grade mock drafts and media members based on which players went to what teams, not which players went at what pick.
Most of Kiper's misses, per se, weren't his fault. Few, if any, had the Packers drafting Utah State quarterback Jordan Love. New Raiders cornerback Damon Arnette was universally considered a Day 2 pick, but Las Vegas selected him at No. 19.
Mel Kiper's 2020 draft performance still turned out better than his outing three years ago. Kiper famously went 2-for-32 in 2017 and got the final 25 picks wrong.
Who are Mel Kiper's top remaining players?
Whatever picks Mel Kiper gets right over the draft's final two days won't count toward his final score. But several players from his final mock draft, including one he thought would go in the top-20, remain available going into the draft's second night.
Right after Thursday's opening round ended, Mel Kiper told ESPN colleague Scott Van Pelt that his highest-rated player left is Alabama safety Xavier McKinney. Kiper projected the Cowboys would draft McKinney, the "best pure safety in this draft," with the 17th overall pick.
Dallas instead drafted Oklahoma receiver CeeDee Lamb.
Mel Kiper also wrote the Dolphins would draft Houston offensive tackle Josh Jones at 26th overall. Jones and Kiper's projected 27th overall pick, Clemson receiver Tee Higgins, weren't selected Thursday night.
Minnesota defensive back Antoine Winfield Jr., Notre Dame tight end Cole Kmet, and Wisconsin running back Jonathan Taylor should each be among the first players selected Friday night.