Mel Kiper's Correct 2019 NFL Draft Picks Were Surprisingly Low
Mel Kiper has long been regarded as one of the NFL's premier draft experts. Whether the draft is 12 months away or 12 hours away, NFL fans turn to Kiper for his analysis on that year's top prospects, players who could surprise, and the ones who are almost certain to become busts for one reason or another.
There is no disputing that Mel Kiper knows his stuff. But the NFL Draft is a wild ride that even the smartest analysts can't fully predict. Although Mel Kiper correctly guessed several picks last year, NFL fans may be surprised at just how low that total was.
Mel Kiper finished tied for 10th place among correct 2019 first-round picks
Walter Football, a popular draft site, regularly tracks how media members fared in their final mock drafts. The site includes its two lead analysts, Charlie Campbell and Walter Cherepinsky, in the scoring. Walter Football scores prospects to the correct teams, not the overall pick.
Mel Kiper was one of seven media members who had seven correct predictions. That tied him for 10th place and behind ESPN co-worker Todd McShay, who correctly predicted nine players. Walter Football's Charlie Campbell led all media members with 11 correct selections.
The seven correct selections were more than Kiper had in 2017 and 2018 combined. Kiper only correctly guessed two picks in 2017 — LSU running back Leonard Fournette to Jacksonville and Stanford running back Christian McCaffrey to Carolina — and four in 2018.
Which picks did Mel Kiper get right?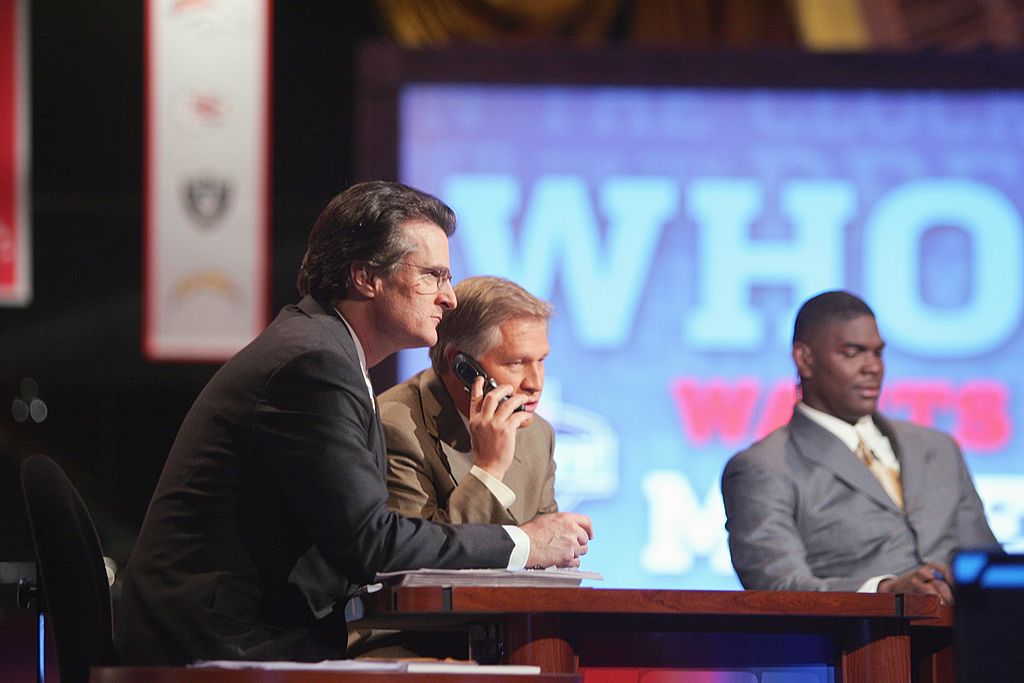 Mel Kipper successfully nailed the 2019 NFL Draft's first three picks: Oklahoma quarterback Kyler Murray to Arizona, Ohio State defensive end Nick Bosa to San Francisco, and Alabama defensive tackle Quinnen Williams to the New York Jets. Murray and Bosa were almost universally viewed to be the top-two selections last year.
Although Oakland took Clemson's Clelin Ferrell instead of Kentucky's Josh Allen at No. 4 overall, Kiper sat at 4-of-5 when the Buccaneers drafted LSU linebacker Devin White at No. 5. Kiper accurately predicted the Miami Dolphins drafted Clemson defensive tackle Christian Wilkins with the 13th overall pick.
Kiper correctly wrote the New York Giants would draft Duke quarterback Daniel Jones, though Kiper had Jones going to Big Blue with the No. 17 overall pick. New York selected Jones sixth overall and used the No. 17 pick on Clemson defensive tackle Dexter Lawrence.
Later in the draft, Kiper's seventh and final correct pick was the Oakland Raiders drafting Alabama running back Josh Jacobs at No. 4 overall.
How did other notable media members fare in the 2019 NFL Draft?
NFL Network's Peter Schrager and Trevor Sikkema of The Draft Network tied with McShay and Cherepinsky in second place. The Athletic's Dane Brugler and NFL Media's Daniel Jeremiah were two of the four who correctly guessed eight selections.
Mel Kiper had some familiar faces joining him in the tie for 10th place. Bleacher Report's Matt Miller, NFL Media's Bucky Brooks and Lance Zierlein, and NBC's Peter King all had seven correct picks. NBC Sports' Mike Florio led a group of analysts who had six correct selections.
CBS Sports' Pete Prisco finished last among those media members with two correct picks: Nick Bosa to San Francisco and Devin White to Tampa Bay. Prisco had the Cardinals drafting Quinnen Williams and Kyler Murray falling to the Raiders at No. 4.