Melvin Gordon Is Still Hoping the Denver Broncos Snag Aaron Rodgers
If the Green Bay Packers have their way, Aaron Rodgers will be back in 2022 and for the foreseeable future. If Melvin Gordon has his way, Rodgers will be slinging footballs for the Denver Broncos shortly.
Gordon has his own future in Denver to worry about, but that didn't stop the former Wisconsin Badger great from giving his thoughts on the Rodgers to Denver rumors.
He, for one, wants to see it happen.
Melvin Gordon says the Denver Broncos need to do whatever they can to get Aaron Rodgers
Rodgers is coming off his second-straight MVP and he now boasts four league MVPs in his personal trophy case. He's a no-doubt Hall of Famer when he does hang up his cleats, but he's proven over the past two seasons that he can still play at an elite level, even at 38.
That doesn't mean Rodgers is on a Tom Brady-esque trajectory of balling out until he's 44, but if he wants to continue playing, he can no doubt be a top-five quarterback in the league for the foreseeable future.
Talking to radio personality Colin Cowherd, Gordon related that Rodgers is the type of guy you sell the farm for. He did admit you have to be careful, though.
"For that type of guy, I guess you got to do whatever to get him," Gordon said on The Herd with Colin Cowherd (Transcribed by 247Sports). "I don't think you can break the bank. I think if we were to get him, we would have to trade some players, I'm assuming, but you don't want to trade too much because this whole thing is you don't want to rebuild. You don't want to trade him and then be stuck with a team that don't have the players needed to get to the (Super) Bowl."
The Broncos would be an intriguing trade partner for the Green Bay Packers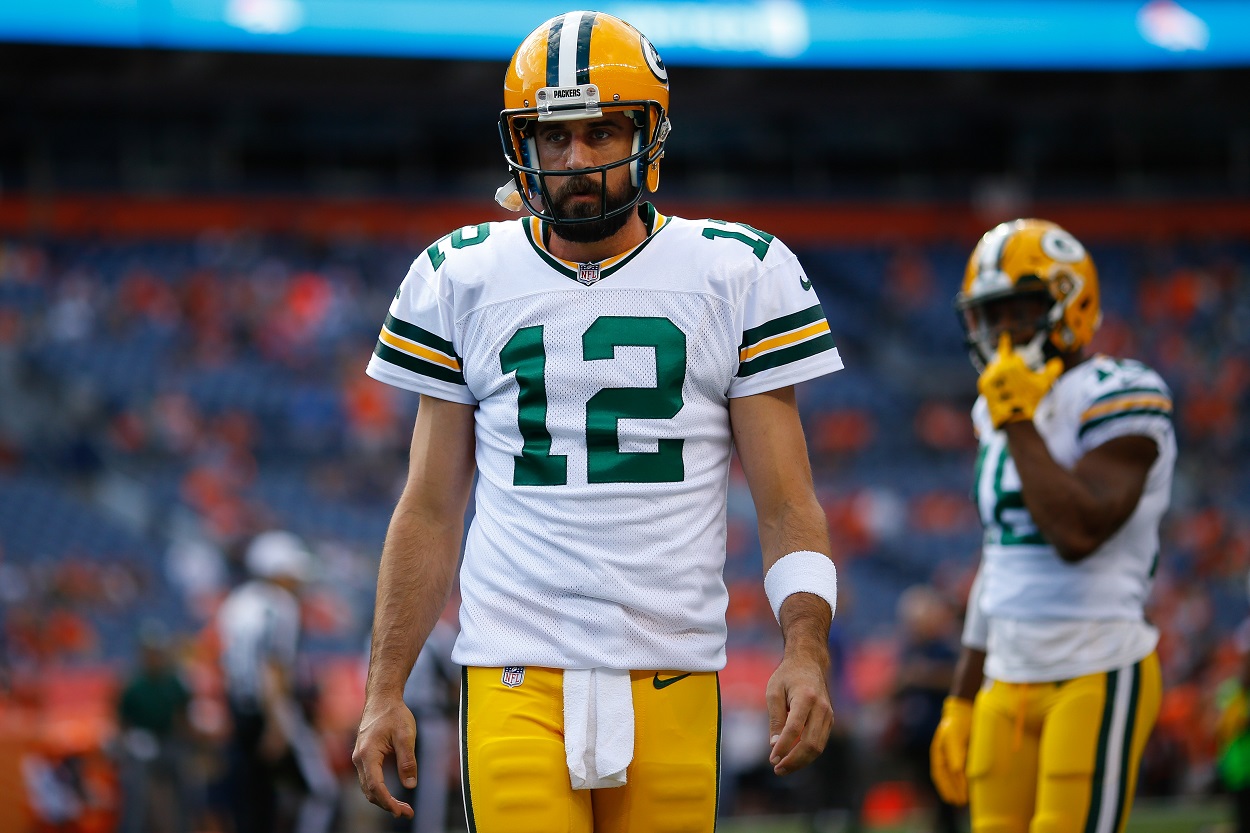 All indications coming out of Green Bay are that the Packers are determined to bring Rodgers back into the fold. With that said, general manager Brian Gutekunst would be silly not to listen to a "godfather" type trade offer for Rodgers. If he can part ways with an aging quarterback who has flirted with retirement in the past while getting back a ton of valuable assets in return, he could hypothetically avoid a rebuild in the post-Rodgers era and instead re-tool.
To that point, Denver would be an intriguing option. The Broncos have one of the better salary cap situations league-wide heading into 2022 (they're $39.1 million under the cap), and they have some intriguing assets to send back to Green Bay. The Packers would surely be interested in the No. 9 pick in this upcoming draft, and young, talented players like wide receiver Jerry Jeudy or cornerback Patrick Surtain III could sweeten the pot.
To Gordon's point, though, Denver would have to be careful not to give too much away. The Packers would undoubtedly demand much in return for Rodgers, but if the Broncos feel they're just an elite quarterback away from a Super Bowl run, they can't give away too many of the pieces that would be around Rodgers in that scenario.
Ultimatly, though Gordon would like to see it happen, he's not sure the Broncos would be able to successfully pull the trade off.
"I don't know how they're gonna do it, man. I don't know how it's gonna work. Honestly, personally, I don't think he's gonna leave Green Bay," he said. "But you know, if we were to get him, man, it'll change a lot of things over there in Denver."
Gordon has his own future in Denver to worry about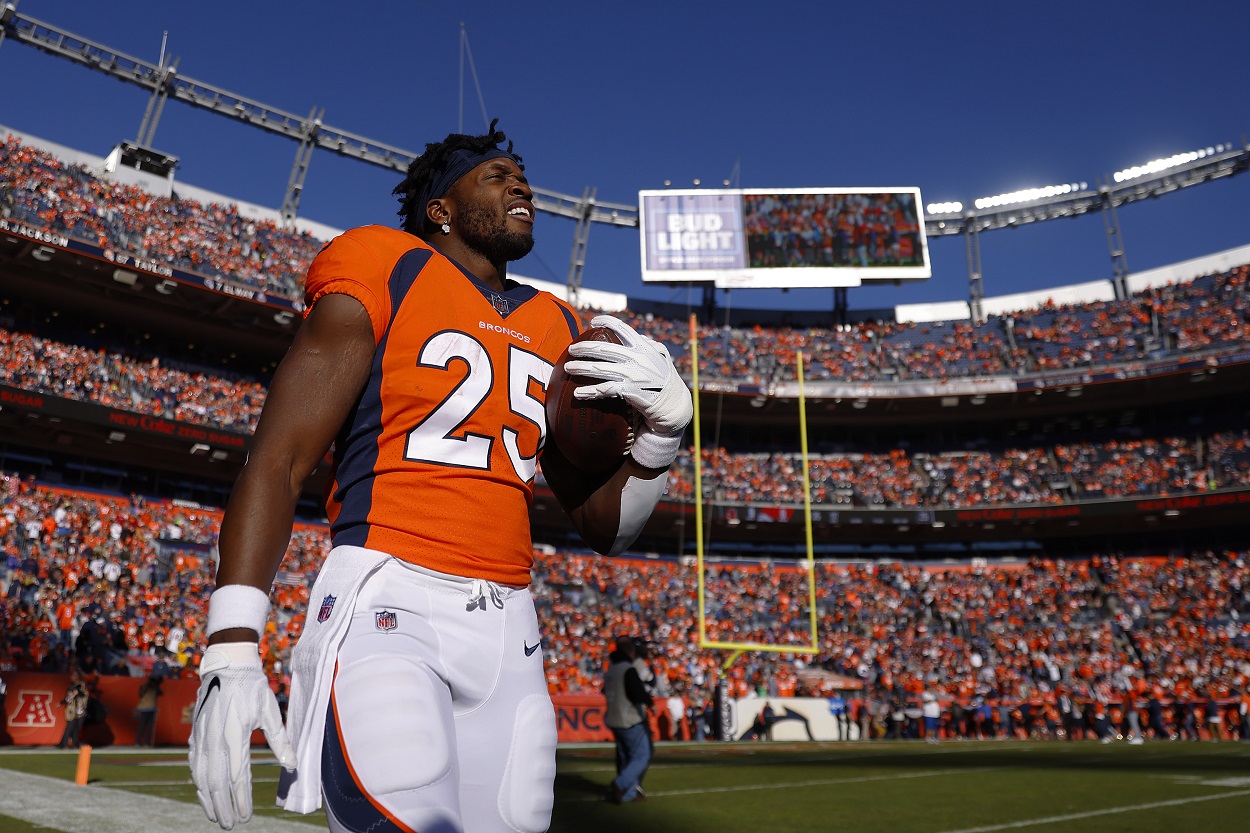 Gordon is talking like he wants to be a part of the Broncos moving forward, but it's worth noting that he's not guaranteed a future in Denver. He'll be a free agent at the start of the new league year and he's entering a precarious spot for an aging running back.
This will be his third contract, which is a milestone many running backs don't see. He'll be 29 by the time the next season starts, which means he's at the age where running backs typically start falling off.
For what it's worth, he hasn't shown signs of slowing down in Denver. He's rushed for 1,904 yards and 17 touchdowns in the past two seasons. Rookie Javonte Williams was right on his heels, though, with 903 yards and four touchdowns in his inaugural NFL season.
The Broncos could decide to roll with Williams moving forward while looking for Gordon's replacement in the draft or with a cheaper free agent. New Denver head coach Nathaniel Hackett has a zone running scheme that should be rather plug-and-play in terms of running backs. Notably, Hackett was Rodgers' offensive coordinator with the Packers for the past three years.
For what it's worth, Gordon does hope he'll be back in Denver next season.
"I hope I'm with the Broncos next year. Me and 33 [are gonna] run [through] teams, I promise," he tweeted, referencing a two-headed attack with Williams.
Gordon is also hoping Rodgers will be part of that offensive attack as well.
Sometimes it's nice to dream
Stats courtesy of ESPN and Pro Football Reference. Contract information via Spotrac
RELATED: Former All-Pro LB Shawne Merriman Thinks John Elway or Peyton Manning Could Lure Aaron Rodgers to the Denver Broncos