Memphis Grizzlies Make a Bold Move for a Top-10 Pick in the NBA Draft, but They Aren't Done Dealing
The Memphis Grizzlies made a surprising run into a play-in game during the 2020 bubble. In 2020–21, the Grizzlies took that a step further, winning a play-in game on the road to grab the No. 8 seed in the Western Conference Playoffs. They then made an aggressive move, agreeing to a trade with the New Orleans Pelicans that netted them a top-10 pick in the July 29 draft.
Memphis gave up center Jonas Valančiūnas in the deal, a classic case of selling high. Valančiūnas had a career year in 2020–21, averaging career highs in both scoring and rebounding. However, at age 29 and on an expiring contract, his value will never be higher than it is right now. The Grizzlies also gave up the 17th and 51st overall picks in this year's draft.
But the trade adds draft capital for the Memphis Grizzlies and provides them with a replacement big man. All it will cost them is a bit of cap room.
The Memphis Grizzlies move into the top 10 of the draft
According to ESPN, the New Orleans Pelicans gave up center Steven Adams, guard Eric Bledsoe, and three draft picks. In addition to the Pelicans' pick at No. 10 overall this year, the Memphis Grizzlies also got the Los Angeles Lakers' 2022 first-round pick. A swap of second-round picks netted Memphis the No. 40 selection.
The Pelicans made the move in advance of the opening of free agency on Aug. 2. New Orleans gained the ability to match an offer sheet for restricted free agent point guard Lonzo Ball by moving the salaries of Adams and Bledsoe.
Adams is a year younger than Valančiūnas and is coming off his worst scoring numbers since he was a rookie. In his first season with the Pelicans, Adams averaged 7.6 points and 8.9 rebounds in 27.7 minutes per game. He shot 61.4% from the floor but only got 5.3 shots per game. With Zion Williamson and Brandon Ingram leading the offense, there aren't many extra shots to go around.
But for the Memphis Grizzlies, this trade is about later as much as it is about right now.
The Memphis Grizzlies add future assets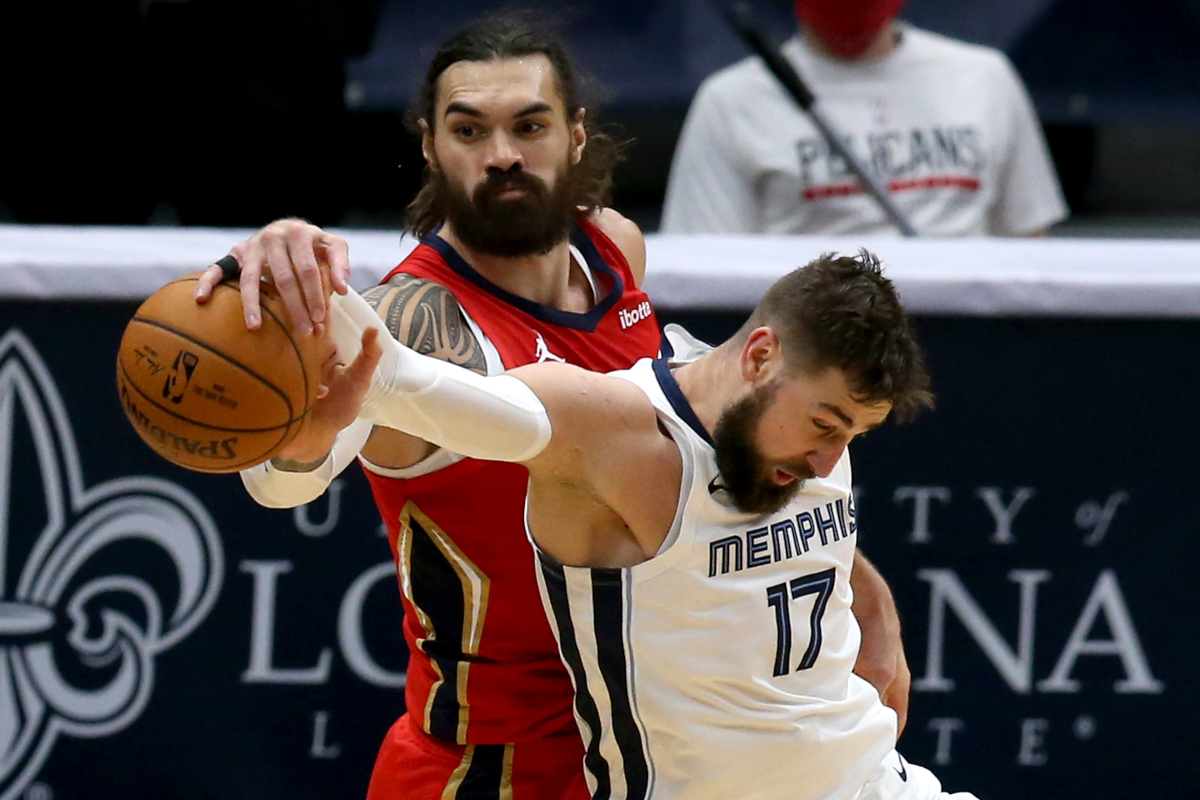 Once the deal becomes official on Aug. 6, the Memphis Grizzlies will own three first-round picks in the 2022 NBA Draft. Besides their selection, they will have a top-six protected choice from the Utah Jazz and the Lakers' pick. The trade can't be finalized until Aug. 6 because of the salaries being moved.
To get those extra draft assets, Memphis surrendered some cap space. Chris Haynes of Yahoo Sports tweeted that Bledsoe isn't staying with Memphis. Meanwhile, Brandon Robinson of Bally Sports said via Twitter there is interest from the Philadelphia 76ers and Dallas Mavericks. But the interest hinges on the Grizzlies buying out the remaining two years and $37.5 million left on Bledsoe's contract.
If Memphis can get a buyout agreement done before Sept. 1, per CBA FAQ, the remaining salary can be stretched in equal salary-cap hits over five years. A buyout after that date only allows for three years.
However, it would be a mistake to think there aren't immediate benefits for the Grizzlies.
A top-10 pick in the deep 2021 NBA Draft is a big add for Memphis
The Memphis Grizzlies have tasted the playoffs. The team's star, young point guard Ja Morant, will be just 22 when his birthday rolls around in August. Morant was dynamic in the five-game first-round loss to the Jazz, averaging 30.2 points and 8.2 assists a game.
Big man Jaren Jackson Jr., who turns 22 in September, returned from a torn meniscus in late April. He played in 11 games before starting all five of Memphis' postseason tilts. He's a 6-foot-11 stretch big who has hit 37.4% from deep in his three seasons. A top-10 pick allows the Grizzlies to add another young piece to that core. The Grizzlies have valuable rotation pieces in Brandon Clarke and Grayson Allen, as well.
Adams gives Memphis a way to replace Valančiūnas' rebounding. That's an area where Jackson still needs a lot of improvement. But the Grizzlies are positioned to be a serious threat in the Western Conference for several years by building smartly around Morant.
Statistics courtesy of Basketball Reference.