Mets Coach Tony Tarasco Would've Remained On the California Streets if Not for the Crips Gang's Persuasive Efforts
Former MLB outfielder Tony Tarasco has returned home to the New York Mets.
Tarasco, who played alongside Hall of Fame talents like Cal Ripken Jr. and Mike Piazza, is currently the Mets' first base coach. The former outfielder is also a long way removed from his days on the California streets.
The Crips gang persuaded Tony Tarasco to play baseball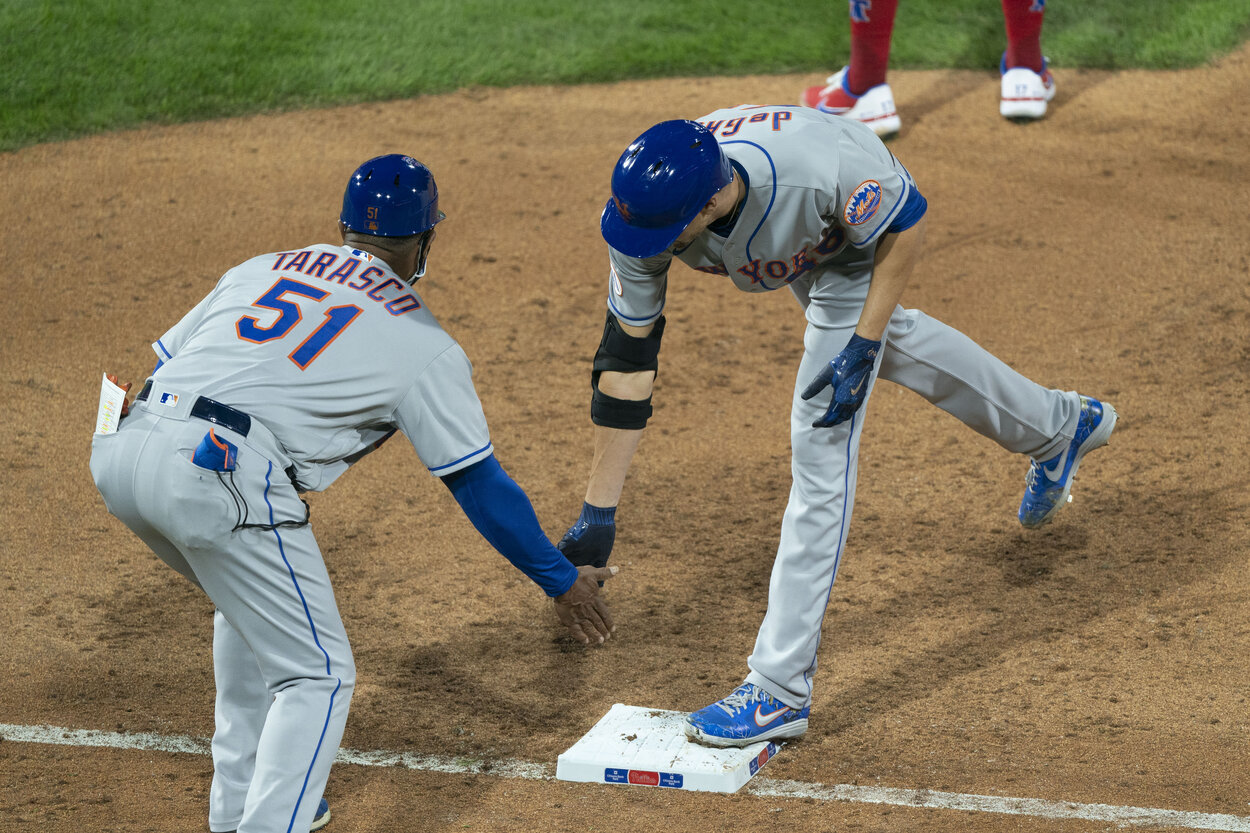 RELATED: Former Lakers Top Pick Javaris Crittenton Joined LA Gang, Killed Woman, and Now in Prison
Although Tony Tarasco was born in New York City, he and his family moved to California in his youth.
At 13 years old, Tarasco joined the Crips street gang, specifically the Santa Monica Graveyard Crips. Tarasco later honored one of his friends, who was also a gang member, with two tattoos on his body.
In a 1999 interview with The New York Times, Tarasco said that he never committed a crime while with the Crips.
"I was never a soldier in the gang. Soldiers do everything. I was into the hustle so I could make a few bucks and dress nice for the girls. I was never into the raw dog, dirty stuff."

Tony Tarasco
Tarasco attended school and played baseball on the side. Eventually, his fellow gang members encouraged Tarasco, then 16, to focus on a possible baseball career and a chance to escape the streets.
The Crips proved correct, and the Atlanta Braves drafted Tarasco in the 15th round of the 1988 MLB draft.
Tarasco is best known for an incident involving Derek Jeter
RELATED: Derek Jeter Was Once Blasted by Chad Curtis and Told He Didn't Know How to Play the Game of Baseball
Tony Tarasco reached the major leagues in 1993 and stayed for eight seasons, hitting .240 with 34 home runs and 118 RBIs in 457 games.
Tarasco impressed as a 24-year-old outfielder for the Montreal Expos in 1995. He hit .249 with 14 home runs, 40 RBIs, 24 stolen bases, and only 78 strikeouts to 51 walks in 126 games that year.
However, the most important moment of Tarasco's career came a year later when he played for the Baltimore Orioles. Yankees shortstop Derek Jeter hit a fly ball to right field in Game 1 of the 1996 ALCS, and Tarasco went to grab it.
Yankees fan Jeffrey Maier reached over the right-field wall, though, and the umpires ruled the play a game-tying home run instead of fan interference. Tarasco screamed at Rich Garcia, the right field umpire, while Jeter rounded the bases.
The Yankees won Game 1 en route to eventually defeating John Smoltz and the Atlanta Braves in the World Series. Maier and Tarasco indirectly started a five-year stretch where the Yankees won four championships.
Tony Tarasco now coaches for the New York Mets
RELATED: What Happened to Mets Pitching Sensation Sidd Finch?
The 2021 season marks 25 years since Tony Tarasco and Jeffrey Maier became intertwined. Now, Tarasco is back in New York, but he's with the city's other professional baseball team.
Mets manager Luis Rojas hired Tarasco as his first-base coach following the 2020 season. Tarasco hit .250 with six home runs in 60 games for the Mets in 2002.
Long removed from his own career, Tarasco is tasked with working with a talented Mets group. Among those players is Francisco Lindor, the star shortstop who recently signed a franchise-record 10-year, $341 million contract extension.
Like Sportscasting on Facebook. Follow us on Twitter @sportscasting19.