Meyer vs. Saban: Who is the Better College Football Coach?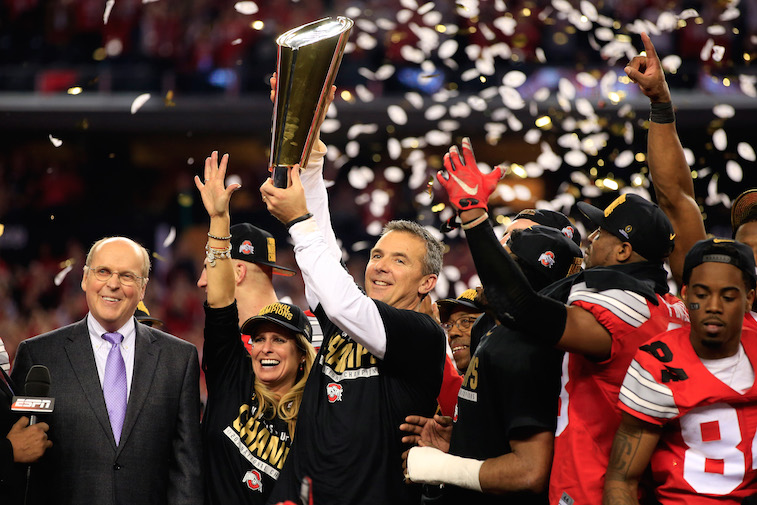 In the cutthroat world of big-time college football coaching, very few coaches last long enough to put together resumes worthy of inclusion in the College Football Hall of Fame in Atlanta, Georgia. Part of this phenomenon is due to the natural causes, i.e. coaches losing their jobs for failing to meet the expectations of their athletic department. In reality, the biggest cause for this may actually be the fact that the NFL has a knack for plucking the industry's top talent out of the college ranks while they are still in the prime of their careers or just about to enter it. Recent coaches that fit this mold would be guys like Chip Kelly, Jim Harbaugh, and Bill O'Brien. Harbaugh has since returned to the college ranks as the new head coach at his alma mater, the University of Michigan, but not before trying his luck as a head coach at the game's highest level.
Two current college coaches who have already sewn up their places in the College Football Hall of Fame are Nick Saban of Alabama and Urban Meyer of Ohio State. Saban actually gave the professional level a shot at one point during his career, but quickly returned to the college game after two seasons as the Miami Dolphins' head coach. In total, Saban has been a head coach at the college level for 20 seasons. Meyer, on the other hand, has never ventured into the professional football ranks, but has had massive amounts of success at every school he has been at during his 13 seasons as a head coach.
As it currently stands, Saban and Meyer are hands down the top two head coaches in college football. That could all change if Harbaugh rebuilds the program at Michigans and re-gains his place as one of the premier coaches in the country. With that being said, Saban and Meyer are the top dogs in the college football coaching world. Knowing this, it should come as no surprise that Meyer's Ohio State Buckeyes are the favorites in Las Vegas to win the 2015 College Football Playoff national championship, with Saban's Alabama Crimson Tide squad not far behind as the team that Vegas feels has the next best chance at celebrating a national title this January.
With the 2015 college football season rapidly approaching, we thought it would be interesting to compare the two legendary coaches and let you decide which one you would rather have coaching your favorite team. Here is a breakdown on each guy to help you make your decision.
Urban Meyer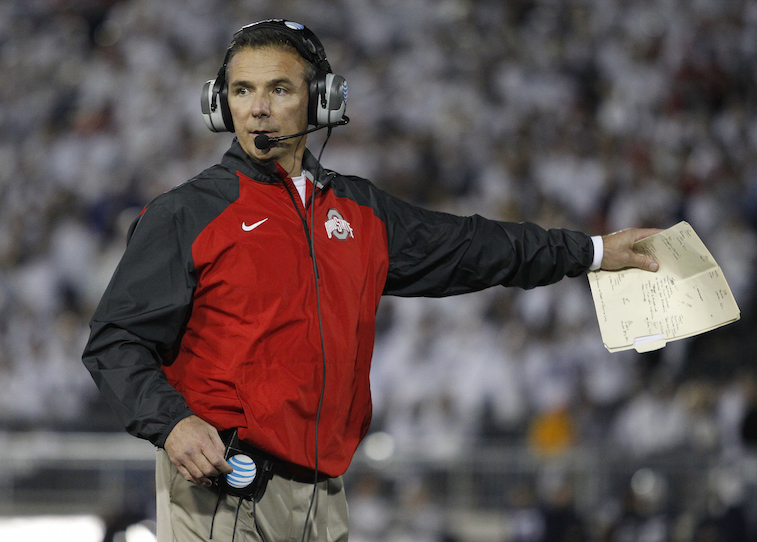 142-26 overall record
.845 career winning percentage
10 bowl game appearances
8-2 bowl game record
84-18 record in conference games
5 conference championships
3 national championships
7 consensus All-Americans
1 Heisman Trophy Winner
45 total players selected in the NFL Draft
11 first round NFL Draft picks
$4.54 million salary in 2014
Meyer has won big at every school he has been at during his head-coaching career. It all started at Bowling Green where he went 17-6 in two seasons. It continued at Utah, where he went 22-2 in two seasons and led the Utes to a berth in the Fiesta Bowl. It got even better at Florida where he went 65-15 with two national championships in six seasons on the job. And now at Ohio State, Meyer has gone 38-3 with one national title in three seasons.
Meyer currently has the third-highest regular season winning percentage in college and the highest bowl game winning percentage in college football history. He has also now joined the exclusive club of coaches who have won national championships at two different schools, and at just 51-years-old, he could very well end up with more national titles than any coach in the history of college football. Meyer is no slouch at developing future professional football players, as 45 of his former players have gone on to be selected in the NFL Draft, with 11 of them being first rounders.
More importantly, Meyer's teams excel in big games. In addition to being one of the best postseason coaches the industry has ever seen, his teams have compiled a 23-3 record in rivalry games. The near instant success he has had at every stop throughout his career makes Meyer arguably the best college football coach in the country.
Nick Saban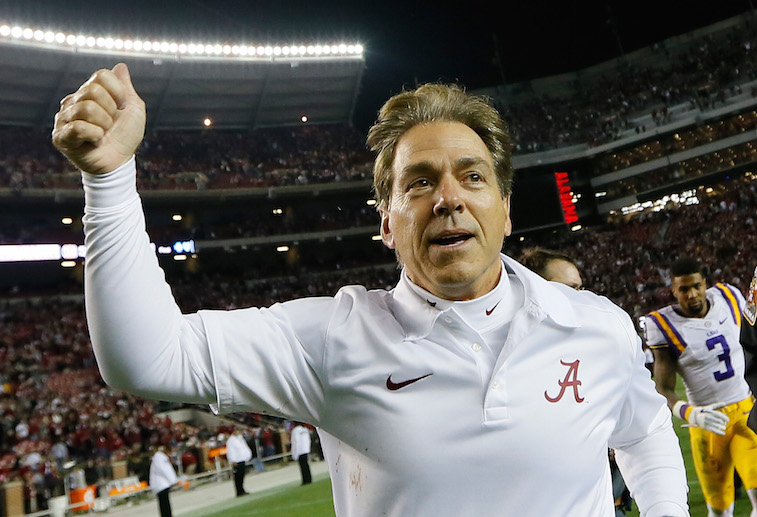 182-59-1 overall record
.754 career winning percentage
16 bowl game appearances
8-8 bowl game record
107-36-1 record in conference games
9-1 record in conference or national title games
6 conference championships
4 national championships
20 consensus All-Americans
1 Heisman Trophy winner
89 players selected in the NFL Draft
22 first round NFL Draft picks
$7.16 million salary in 2014
Saban is currently the highest-paid coach in college football after bringing home $7.16 million in 2014. He has led the Crimson Tide to three national titles in eight seasons, and won another with LSU back in 2003. What is arguably the most impressive about Saban's run in Tuscaloosa is the fact that he rebuilt the once proud Alabama program back into a national power in only one year while playing in the SEC, the most competitive conference in the country.
If getting players ready for the NFL is your thing, then Saban may be the coach for you. During his career as a head coach, he has seen 89 of his former players selected in the NFL Draft. When it comes to first round draft picks, Saban has had 22 in total, and 17 during his eight seasons at Alabama.
If his national title record and history of producing NFL Draft picks isn't enough for you, consider the fact that he has a 9-1 overall record in conference and national title games. At 63-years-old, Saban could easily coach for at least one more decade, if not more. When it's all said and done, we believe Saban will go down as one of the top three coaches in college football history.
All statistics courtesy of Sports-Reference.