The Miami Dolphins' Abrupt Firing of Brian Flores 'Smells Fishy,' According to NFL Analyst Chris Simms
The Miami Dolphins shockingly fired head coach Brian Flores the day after they closed out their 2021 NFL season with a victory against the New England Patriots. The third-year head coach appeared to be making strides, but the front office had other plans. NBC Sports analyst and former NFL quarterback Chris Simms doesn't think this was a smart move for the franchise.
Chris Simms believes Dolphins made a mistake firing Brian Flores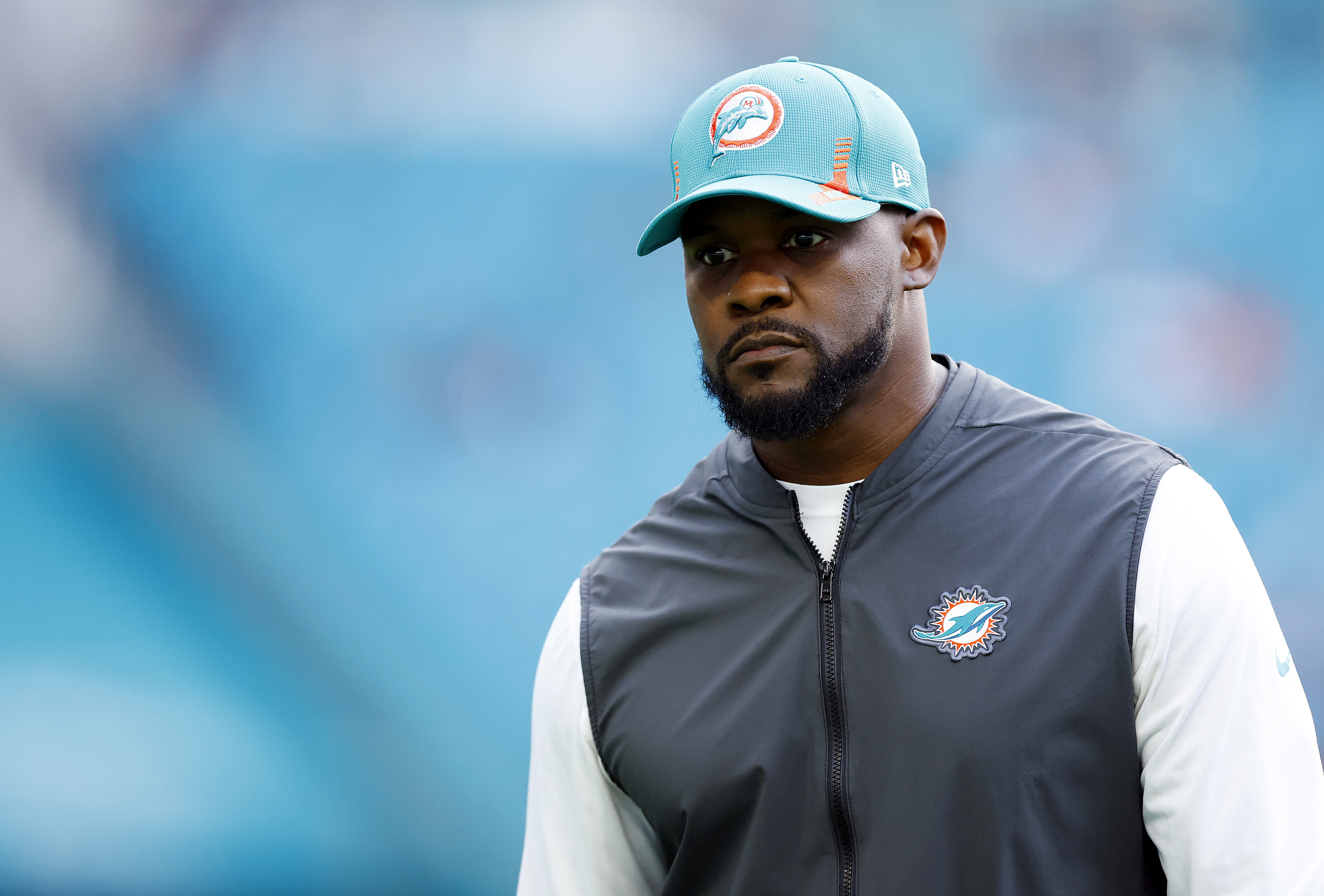 Brian Flores' firing came as a surprise to many people in and around the NFL. He was in the process of turning around a Dolphins franchise that hadn't seen a winning season since 2016.
NBC Sports analyst Chris Simms couldn't wrap his head around Miami parting ways with Flores right now.
"Out of nowhere, in my opinion," said Simms via Pro Football Talk. "I couldn't believe it. I still don't understand it. What they've done, where they've come from in such a short period of time. Did anybody expect the 2020 Dolphins to be 10-6? Absolutely not. This year, to deal with some issues and then right the ship after being 1-7."
Simms argued that Flores had this franchise heading in the right direction on the football field.
"Everything looking on the up and up," he added. "Everything on the team going in the right direction. You look at just about any position on the team, and things are going well for Brian Flores."
The former quarterback suggested that parting ways with Flores made no sense from a football perspective.
"It doesn't look good," Simms said. "It doesn't look right, and it smells fishy to me. There's no doubt about that. None of the issues lead back to the guy that got fired. And that's where it's ridiculous. I think the Miami Dolphins made an unbelievably huge mistake."
Miami didn't give the third-year head coach a fair shake
The Miami Dolphins appeared excited about bringing in Brian Flores as head coach in 2019, especially since he came from the Bill Belichick coaching tree.
Flores spent 15 seasons with the New England Patriots as a scout, special teams coach, and safeties/linebackers coach. He was part of four Super Bowl runs during his tenure. That championship pedigree certainly helped him land the job in Miami.
Before Flores arrived, the Dolphins posted back-to-back losing seasons under Adam Gase. So, he inherited a damaged franchise but got right to work.
The Dolphins finished with a 5-11 record in the first season under Flores. The team would it in last place in the AFC East, but nobody expected a massive turnaround in year one.
Miami seemed to turn a corner in 2020, though. The franchise enjoyed its best season since 2016, with a 10-6 finish. The Dolphins narrowly missed the playoffs, but Flores' squad overachieved. It was surprising to see the team playing so well, but a culture change was evident.
The momentum stalled a bit at the beginning of the 2021 season. Miami got off to a rough 1-7 start. However, it proved to be a resilient bunch, reeling off an impressive seven-game winning streak from Weeks 9 through 16. The Dolphins finished with a 9-8 record, but it's unclear what owner Stephen Ross expected.
Miami hasn't constructed a team that can compete for a Super Bowl. Questions still surround Tua Tagovailoa, who the front office drafted to be the franchise quarterback. That shouldn't fall on Brian Flores. He seems more like the scapegoat than anything else.
Best landing spots for Flores' next gig
Chris Simms believes the Miami Dolphins will regret letting Brian Flores go, and he's probably right. The team has posted three winning seasons since 2009, and the former head coach is responsible for two of them. That's in just three years on the job.
One team's loss could be another's treasure, though. Flores will likely be a highly sought-after candidate for other NFL teams with coaching vacancies.
Several teams have also parted ways with their head coaches, including the Chicago Bears, Minnesota Vikings, Denver Broncos, Jacksonville Jaguars, New York Giants, and Houston Texans.
All are in need of a culture change, but which would be the best landing spots for Flores?
Brian Flores appears to be an excellent replacement for David Culley in Houston. He worked with Texans general manager Nick Caserio for years in New England, so that relationship could go a long way. The franchise is in a complete rebuild and will need a strong leader.
The Broncos could also be a great fit. The New York native was a finalist for the job in 2019 before Denver ultimately hired Vic Fangio. Flores is another defensive-minded option, but he's a younger coach and would resonate better with the players.
With the New York Giants firing Joe Judge, they should desperately look for a coach like Flores. Judge was all talk, no action in 2021. Flores has proved he can win with the proper pieces in place. Giants fans need a coach they can get behind.
Flores won't be on the market long, as he's one of the top candidates available.
All stats courtesy of Pro Football Reference
RELATED: Mike Florio Compares Miami Dolphins Owner Stephen Ross to the 'Seinfeld' Version of George Steinbrenner After Shocking Brian Flores Firing