The Miami Dolphins Are Back to Square 1 With Tua Tagovailoa and the Future of Their Offense
Heading into their Week 17 showdown with the Tennessee Titans, Tua Tagovailoa and the Miami Dolphins were on an absolute roll. They had won seven straight — on the brink of inserting themselves into the AFC playoff picture.
Week 17 was a big game for Miami. Not only did it desperately need a win to keep up with its wild-card counterparts, but it was also facing off against former starting quarterback Ryan Tannehill. With so much drama and controversy attached to Tagovailoa this season, a win over the guy he succeeded would mean a lot to the Dolphins.
The Titans crushed the Dolphins
Unfortunately for the Dolphins, all good things must come to an end, and that's exactly what happened to them down in Tennessee. The Titans steamrolled Miami 34-3, putting a firm end to the seven-game win streak.
All losses are big losses this late in the season. However, this one particularly stings for the Dolphins. Their dreams of sneaking into the postseason essentially evaporated, and they had to watch their former starting quarterback pick up his 11th win of the season.
To make matters worse, Tagovailoa did not have a good game under center. He went 18-of-38 (47%) for 205 yards and one interception. He failed to lead his team to any offensive touchdowns, getting firmly outplayed by Tannehill on the other sideline.
Talk about adding insult to injury.
Can Tua Tagovailoa win games with his arm?
It's been an ongoing discussion in Miami all season long. Can Tua Tagovailoa actually win games with his arm?
After his lackluster rookie season, the Miami front office appeared to conclude that he can't. They aggressively looked into trading for disgruntled Houston Texans QB Deshaun Watson at this year's trade deadline, only failing to do so because of his legal issues.
Tagovailoa has been extremely efficient since the trade deadline. However, he's yet to have a true coming-out performance. While draftmates Joe Burrow and Justin Herbert light up the stat sheet with frequent 300-plus-yard performances and mind-boggling touchdown throws, Tagovailoa has more so hung around the game-manager area.
The second-year starter can be found throwing a lot of check-downs, relying on Jaylen Waddle's speed around the line of scrimmage and a strong defense behind him.
Week 17 in Tennesee was a day Tagovailoa needed to make some big-time throws and score a lot of points. He couldn't do it, to put it rather bluntly.
What next for Tua Tagovailoa and the Dolphins?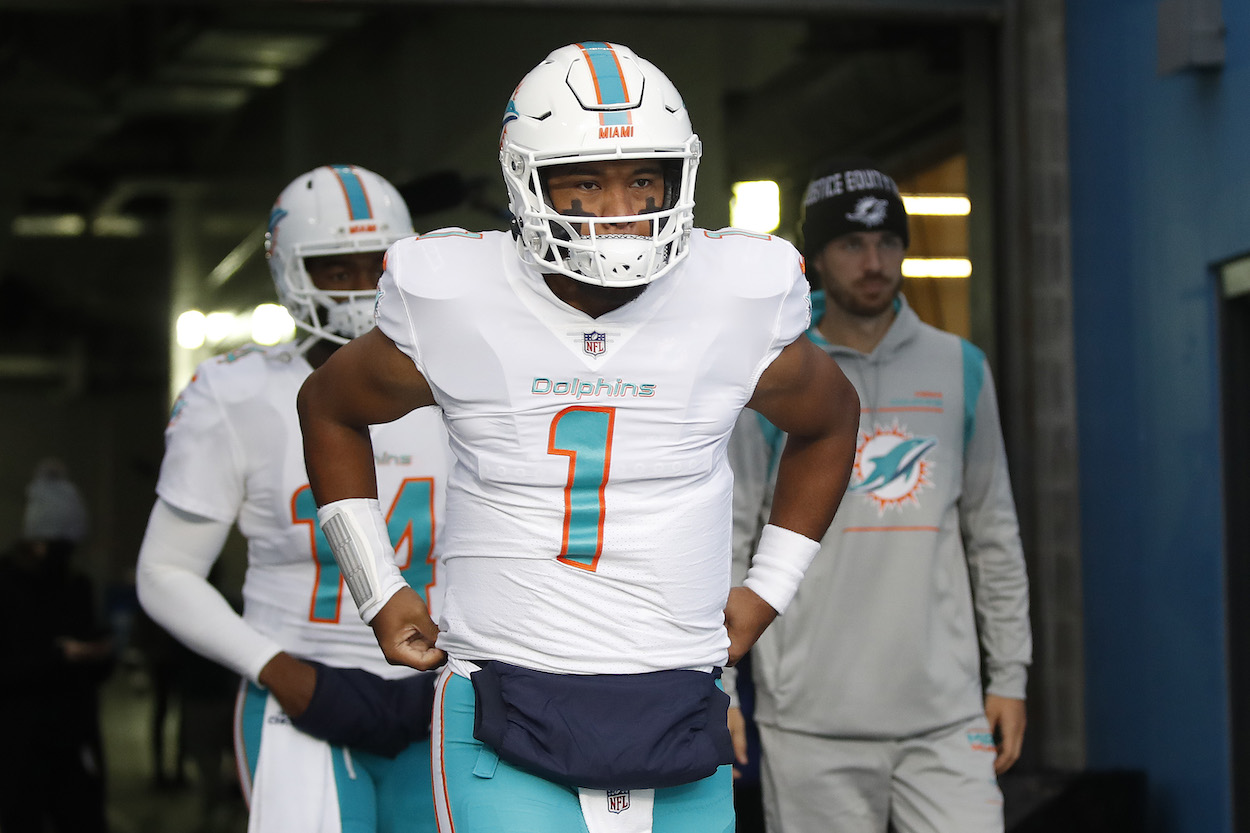 It's a tough position for a young QB to be in. However, this doesn't negate the pressing desire to win that the Dolphins' owner currently possesses.
Steve Ross has flirted with the idea of bailing on Tagovailoa once before. Who's to say he won't explore it again this offseason?
Seven-game winning streak aside, the Dolphins are back to square one with their starting quarterback. They're about to enter year three with Tagovailoa, and they still don't know if his arm talent is good enough to compete with the rest of the AFC.
Does this mean he will be traded come springtime? Only time will tell. However, the conversation will almost certainly be had in Miami … again.
All stats courtesy of Pro Football Reference.