The Miami Dolphins Confirmed Their Biggest Fear by Brutally Snubbing Tua Tagovailoa From a Crucial Offseason Honor
2021 is a massive year for Tua Tagovailoa.
Not only is it his first full year as the Miami Dolphins starting quarterback, but it's likely his one-and-only chance at proving he's the man for the job. The Dolphins have been not-so-subtly linked to Deshaun Watson all offseason long, proving that they're already pondering a change at the QB position.
While there's still a full 17 games for Tagovailoa to prove he's worthy of being "the guy" in Miami, things are already getting off to a shaky start.
Tua Tagovailoa's teammates did not vote him a Miami Dolphins captain
With Week 1 just around the corner, NFL teams are beginning to announce their captains. Some teams like to limit their captain list to three players, while others prefer expanding it to five-plus.
The Dolphins announced their captains on Wednesday (September 8), and Tagovailoa was nowhere to be found.
It is widespread for a team's starting quarterback to be named a captain, even if it's their first year in said role. For example, Carson Wentz was named one of the Indianapolis Colts' captains. It's his first year in Indy, and he's missed most of training camp due to a foot injury.
Additionally, Jalen Hurts was named a captain for the Philadelphia Eagles. It's his first full year as a starter in Philly, and he only played a few games during his rookie season — a similar position to Tagovailoa.
Needless to say, Tagovailoa failing to earn captain honors is both unprecedented and alarming.
The Miami Dolphins should be concerened
In theory, being a captain or not being a captain should have no major impact on Tagovailoa's play in 2021. It's his job to go out there, and complete passes regardless of if he has a "C" on his jersey or not. However, it's reflective of a much larger issue currently taking place in Miami.
If Tagovailoa's teammates aren't confident enough in their starting QB to name him a captain over *checks note* Jesse Davis or Mack Hollins, what exactly does that say about his future with the Dolphins?
Tagovailoa's teammates have been around him all offseason and training camp. Them expressing a hint of doubt in his ability to lead and command the Dolphins' offense in 2021 should be enough to cause concern with the team's higher-ups.
Remember, they were already interested in trading for Watson.
What next for Tua Tagovailoa?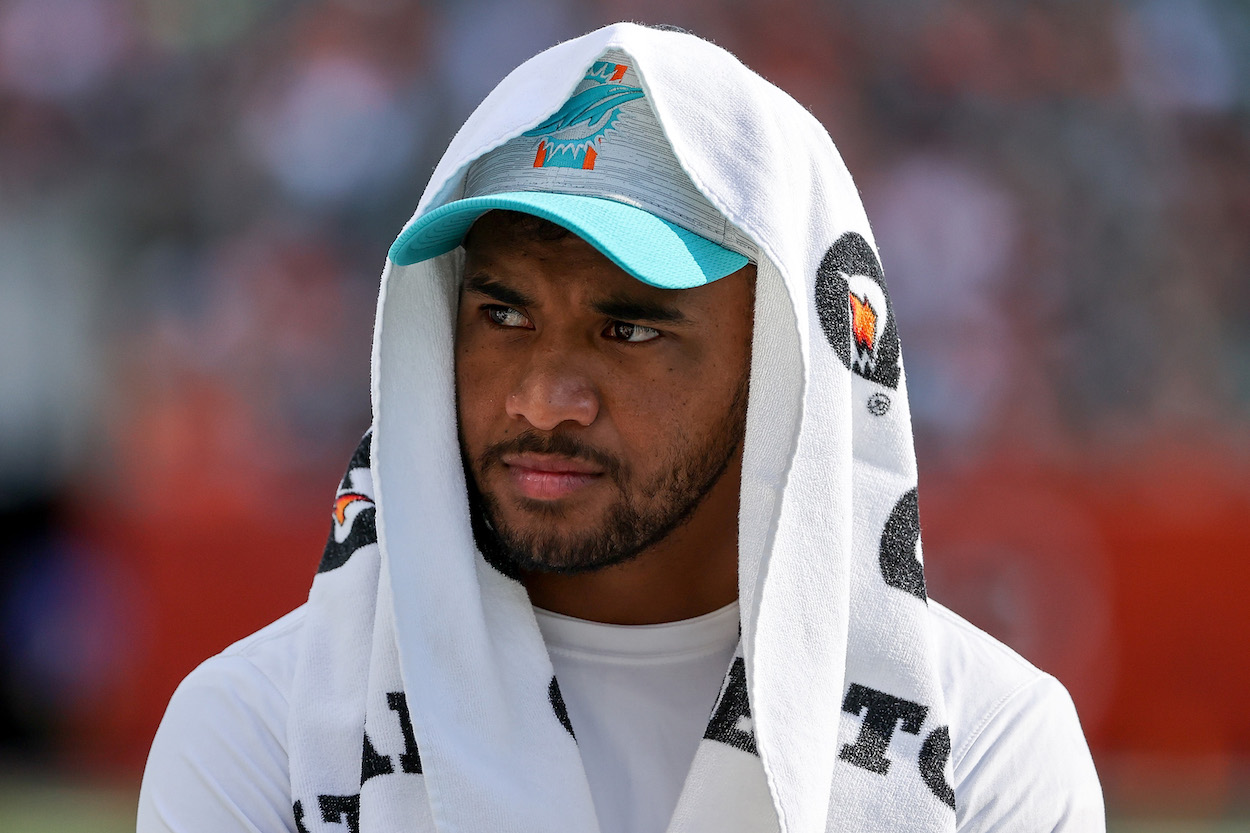 This is likely a major blow to Tagovailoa's ego. He's a former college superstar and a top-ten pick — he's always been considered "the guy" wherever he plays.
His rookie season was challenging enough as is. Tagovailoa was constantly fighting with former Dolphins QB Ryan Fitzpatrick for command of the offense. It's not unreasonable to assume that a portion of the Dolphins roster still favors Fitzpatrick.
In conclusion, the pressure on Tagovailoa has doubled following this captaincy snub. Not only does he have to impress the front office to avoid being traded, but he now has to work his way back into the locker room's favor. It's an ugly spot to be in for a second-year quarterback. Unfortunately, it's the situation Tagovailoa, and the Dolphins find themselves in.
2021 just got that much more crucial for the second-year QB.
Like Sportscasting on Facebook. Follow us on Twitter @sportscasting19.