The Miami Dolphins' Constant Blunders are Bringing the Tua Tagovailoa Era to a Swift End
The Miami Dolphins' 2021 season is off to a disastrous start. They're 1-5, sit dead last in the lowly AFC East, and just gifted Urban Meyer and the Jacksonville Jaguars their first win of the year.
What makes matters even worse is that the Dolphins entered this past offseason under the impression they were going to be competitive. Most of their offseason moves reflected an organization trying to win now — they even traded away their first-round pick just to move up a handful of spots in the draft.
With so much going wrong so soon for the Dolphins, blame needs to be handed out.
Who deserves blame for the Miami Dolphins' failures?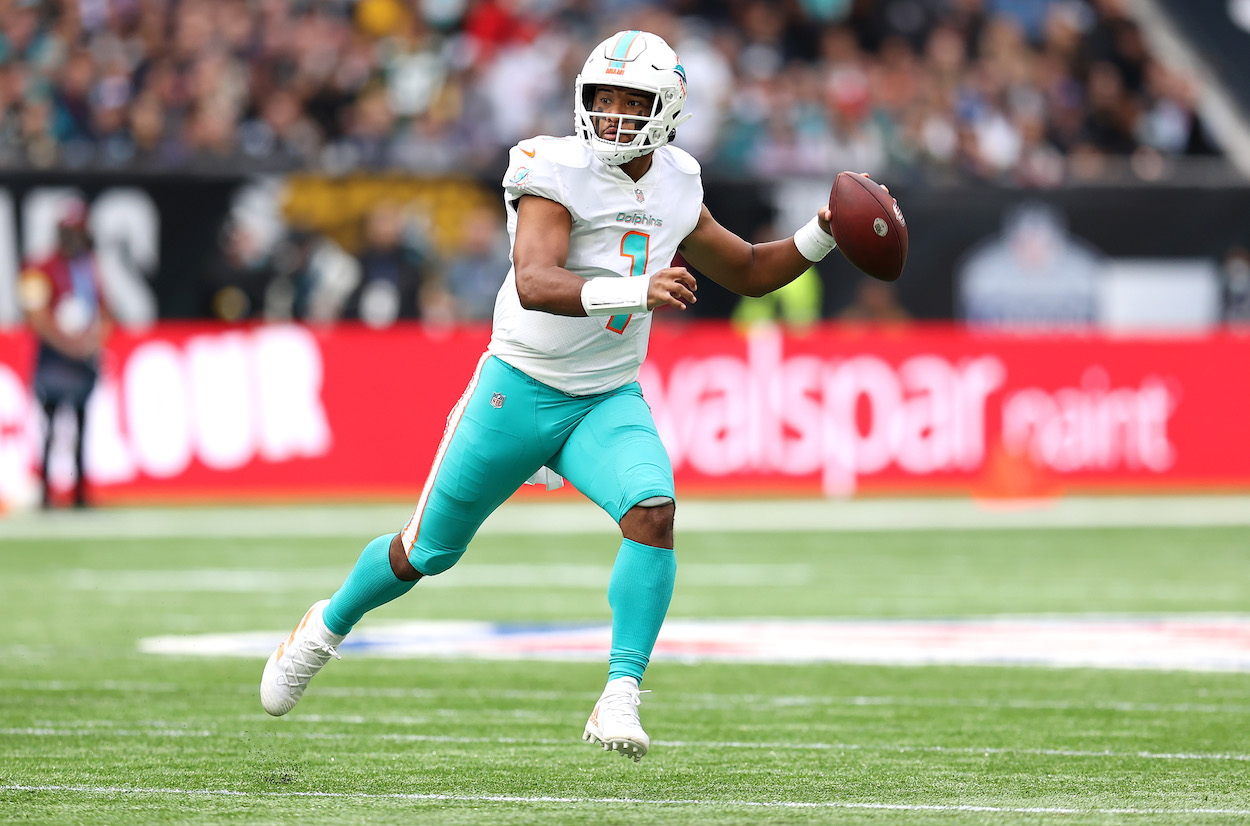 Anytime a team begins a season with a 1-5 record, more than one person is at fault. However, a few individuals deserve more blame than others regarding the Dolphins' specific and systemic failures.
Right off the bat, the team's front office does not appear sound. Chris Grier, the Dolphins' general manager since 2016, continues to make bad decisions.
Grier was the leading man during the Dolphins' tear-it-down-style rebuild, which began in 2019. He traded away talented veterans (left tackle Laremy Tunsil, for example) for draft picks. On paper, the Dolphins were in the perfect position to draft multiple difference-makers during the 2020 and 2021 NFL drafts.
However, early results on said high picks are less than promising. First-round selections Austin Jackson (No. 18 in 2020) and Noah Igbinoghene (No. 30 in 2020) are struggling to stay on the field. Selecting Tua Tagovailoa over Justin Herbert was a mistake. The decision to trade up for Jaylen Waddle instead of staying put and likely grabbing DeVonta Smith already deserves criticism.
The role the coaching staff plays
Grier is the man who deserves the most blame for the Dolphins' current failures. A number of his free-agent moves and trades are just as bad as his drafting. Imagine how much more competitive this Miami squad could be if he hadn't signed the oft-injured Will Fuller V to a one-year, $10 million contract, traded for Benardrick McKinney, who didn't make it out of camp, and signed Ereck Flowers before trading him back to the Washington Football Team.
However, that doesn't mean the team's coaching staff is immune from criticism either.
Head coach Brian Flores, a former Bill Belichick assistant, is beginning to show signs of major regression. He had a promising first two years in the league as a defensive specialist. However, he's proven incapable of helping the team's young offense grow, and his defense is now beginning to slow down. After the Dolphins ranked Nos. 15 and 6 in scoring offense and defense in 2020, they've fallen to 29th in both categories in 2021.
During the Dolphins' Week 6 loss at the hands of Jacksonville, Urban Meyer got the better of Flores on more than one occasion.
Getting outcoached by a then-winless Meyer is not something Flores needed on his resume.
What does this mean for Tua Tagovailoa?
At the center of all this Miami drama is second-year quarterback Tua Tagovailoa. The No. 5 overall pick during the 2020 NFL Draft, Tagovailoa is yet to display any elite traits.
To make matters even more challenging, Justin Herbert, the player drafted directly after the former Alabama QB, looks like a legitimate MVP candidate for the Los Angeles Chargers. At this point, it's already reasonable to conclude that not selecting Herbert over Tagovailoa helped doom the Dolphins.
With all of that said, Tagovailoa isn't as bad of a QB as he's being made out to be. He's 7-5 as a starter in the NFL, and he's proven relatively consistent as a passer. By no means is he elite or even above-average for that matter, but he's definitely serviceable.
However, with so much dysfunction behind the scenes due to Grier and Flores, no one can evaluate Tagovailoa properly. The Dolphins' owner, Stephen Ross, is also reportedly in love with the idea of trading for Deshaun Watson, adding further drama to the situation.
The Dolphins are struggling, and the organization is going to make changes sooner than later. Maybe the owner decides to fire everyone else and continue building around Tagovailoa. However, common sense suggests the Tua Tagovailoa era may be coming to an end before properly beginning due to his organization's incompetence.
All stats courtesy of Pro Football Reference.
RELATED: The Jaguars Finally Achieved a Regular-Season Goal That Not Even Urban Meyer Was Able to Screw Up