The Miami Dolphins' Do-or-Die 2020 Draft Class Is Slowly Transforming Into a Catastrophic Failure That Could Ruin Their Multi-Year Rebuild
The Miami Dolphins entered the 2020 NFL offseason under an immense amount of pressure.
The franchise was coming off three straight losing seasons, including a five-win campaign in 2019, and was entering year two under recently hired head coach Brian Flores. However, the expectation was that 2020 would be a competitive year for the Dolphins. They spent the year prior establishing a culture and figuring out which young players were worthy of keeping around, and they were entering the NFL draft with three first-round picks.
First-round picks are precious in the NFL. However, thus far, it appears the Dolphins may have grossly misused their three selections in 2020.
Austin Jackson, Noah Igbinoghene off to poor starts to their Dolphins careers
Before we even mention Tua Tagovailoa, the Dolphins' starting QB, we must first assess and grade how the front office used their other two first-rounders in 2020.
Miami selected offensive tackle Austin Jackson at No. 18 overall and cornerback Noah Igbinoghene at No. 30 overall. So far, neither player has proven worthy of such lofty draft status.
Jackson is still a member of the Dolphins' starting offensive line, for what it's worth. However, it's not been without immense struggle. Jackson has largely proven incapable of holding down a starting tackle job, leaving many Dolphins fans wishing they never traded franchise LT Laremy Tunsil to the Houston Texans in the first place.
Offensive tackle isn't a position you can skimp on in the NFL. Jackson still struggling in year two is alarming.
On the other hand, Igbinoghene is on the outside looking in when it comes to the Dolphins' secondary. During his rookie season, he struggled to find a role and was inactive for both of the team's games in 2021. His situation is undoubtedly trending in the wrong direction. It wouldn't be surprising in the slightest to see Miami explore trading him shortly. Flores has essentially proven he has zero interest in coaching Igbinoghene up at this stage of his NFL career.
Tua Tagovailoa has experienced setback after setback
Missing on late first-round picks is one thing, but failing to land a superstar-type talent at No. 5 overall is a disaster. It's still very early into Tagovailoa's NFL career, but thus far, he's done nothing to warrant being the Dolphins' long-term starting QB.
He dealt with nagging injuries and inconsistencies during his rookie season and is currently set to miss more time here in 2021 with fractured ribs. His current rib injury can largely be attributed to shockingly bad offensive line play in front of him. However, it doesn't take away from the fact that patience is running thin in Miami.
The Dolphins have been connected to disgruntled Texans QB Deshaun Watson for months now. Tagovailoa missing more time could be the straw that breaks the camel's back.
Can the Miami Dolphins' rebuild be salvaged?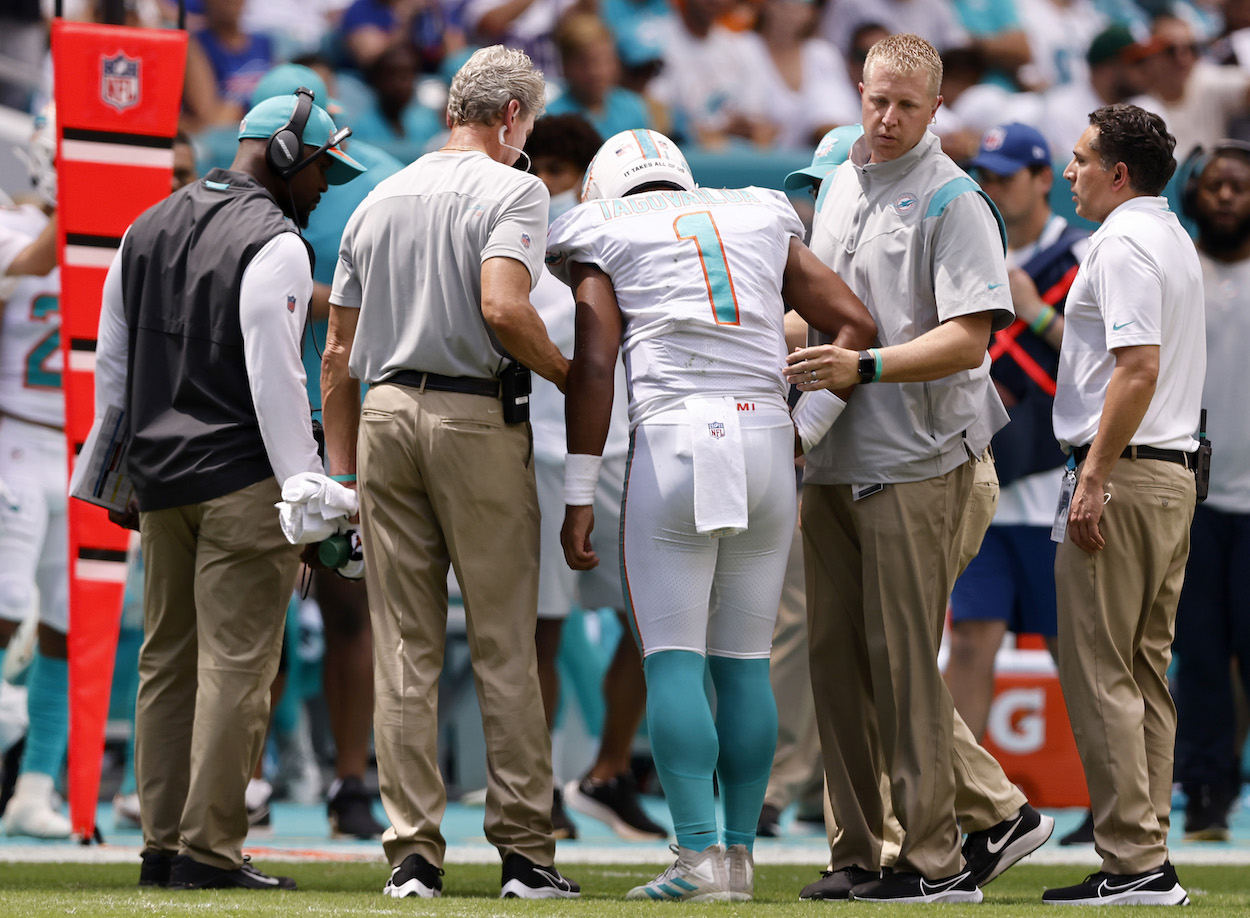 We're only two weeks into the 2021 season, but it definitely feels like the Dolphins will not be contenders this year. They barely scraped by a Mac Jones-led New England Patriots team during Week 1 and were ruthlessly blown out by the Buffalo Bills in Week 2.
With Tagovailoa set to miss a few games moving forward, time is definitely ticking in Miami.
For the Dolphins to salvage their rebuilding efforts, they will have to get more out of their younger players. They've made many draft picks over the past two seasons with little results to show for them thus far.
"Tanking" for a million draft picks is a sound strategy on paper in the NFL. However, it only works if the front office actually makes good decisions on draft night. So far, it appears the Dolphins did not.
Like Sportscasting on Facebook. Follow us on Twitter @sportscasting19.
RELATED: The Buffalo Bills Added Insult to Injury With a Ruthless Post-Game Jab Directed at Tua Tagovailoa and the Miami Dolphins