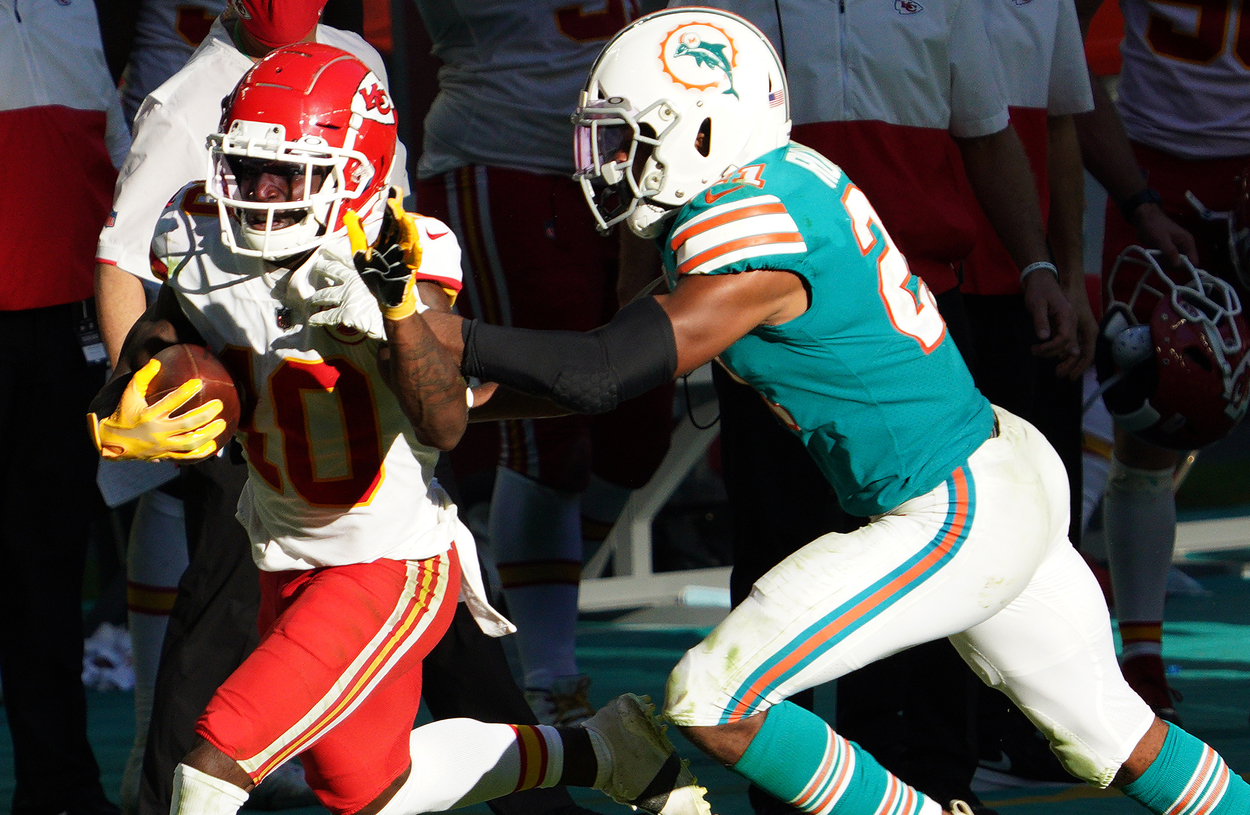 What Are the Miami Dolphins' Draft Needs After Trading for Tyreek Hill?
Although the Miami Dolphins have added star receiver Tyreek Hill to the mix, the team still has plenty of work to do in the 2022 NFL Draft.
If you thought the 2022 NFL offseason couldn't get any wilder, the joke is on you. Welcome to a world where Kansas City Chiefs star receiver Tyreek Hill now plays for the Miami Dolphins.
After years of waiting for a legitimate No. 1 receiver to emerge, the Dolphins decided to give up five draft picks, including their top two selections in the upcoming NFL draft, for HIll, a six-time Pro Bowl selection. The good news is that Hill's arrival, at least on paper, gives the Dolphins an elite receiver who should help quarterback Tua Tagovailoa take massive strides in his third season. The better news is that Miami had already addressed most of its needs in free agency.
Is there bad news? Well, it's really not so bad, but the Dolphins still have several positions to address entering the 2022 NFL Draft. As of publication, the two-time Super Bowl champions had five draft picks left after acquiring Hill. Which positions must the Dolphins still address in April?
Running back
Although the Dolphins signed Chase Edmonds and Raheem Mostert in free agency, neither is likely to emerge as a franchise running back. Edmonds split duties with James Conner on the Arizona Cardinals last season, and his ceiling might be as one of two running backs in a two-back system. Although Mostert impressed during the San Francisco 49ers' Super Bowl run in 2019, he turns 30 in April and has played only nine of 36 (counting the postseason) potential games since the start of the 2020 campaign.
If the Dolphins opt to select a running back at 102nd overall, they'd be wise to focus on Arizona State's Rachaad White, Florida's Dameon Pierce, or Notre Dame's Kyren Williams if any of the three are still available. Williams, the 2020 ACC Rookie of the Year, would be an interesting all-purpose option after he totaled 2,799 yards (2,127 rushing, 672 receiving) and 31 touchdowns from scrimmage (27 rushing, four receiving) over the last two seasons.
Former UTSA standout Sincere McCormick, a two-time Conference USA Offensive Player of the Year, is an intriguing Day 3 option. Although he only stands 5-foot-8 and 205 pounds, he's an explosive runner and a projected sixth-round pick. McCormick rushed for 3,929 yards and 34 touchdowns on 5.4 yards per carry in three seasons with the Roadrunners.
Interior offensive line
Dolphins head coach Mike McDaniel has insisted he intends on giving the team's current offensive linemen, including 2020 first-round offensive tackle Austin Jackson, opportunities to continue proving themselves. In other words, McDaniel never intended to entirely rehaul the Dolphins' offensive line during the 2022 draft.
However, that doesn't mean the Dolphins can't use at least one of their five picks on an interior lineman. Oklahoma left guard Marquis Hayes would bring impressive size with a 6-foot-5, 318-pound frame, and he's not afraid to use his build to his advantage. Boston College center Alec Lindstrom left school as a three-year starter and should benefit from a year to develop in the NFL. Ohio State's Thayer Munford Jr., a projected fourth-round pick, has experience at guard and tackle.
Teams can never have enough offensive linemen, trust us.
EDGE
Teams can never use enough offensive linemen, and they can also never use enough pass-rushers. Miami should consider using at least one of the five leftover picks on a pass-rusher who can come off the bench as a rookie before potentially competing for starter reps in 2023.
Western Kentucky's DeAngelo Malone would be an intriguing addition if only because of the questions about how a player who dominated Conference USA, arguably the weakest FBS conference in recent years, would translate to the NFL. The two-time CUSA Defensive Player of the Year tallied 59 tackles for a loss and 32.5 sacks across five seasons in Bowling Green. As of publication, Malone was a projected fifth-round pick.
Dolphins fans should also keep an eye on Texas A&M pass-rusher Michael Clemons, who recorded 12.5 sacks and 20.5 tackles for a loss in four years with the Aggies. However, there are concerns about the 6-foot-5, 270-pound defender's character after he was arrested in August 2021 on charges that included marijuana possession and unlawful carrying of a weapon. Texas A&M suspended Clemons for the season opener as a result.
Linebacker
By trading out of the first round, the Dolphins all but guaranteed they wouldn't draft Alabama's Christian Harris or Utah's Devin Lloyd, each of whom would have been an ideal fit at middle linebacker. Instead, Miami could target Iowa State's Mike Rose (a projected fifth-round pick who earned Big 12 Defensive Player of the Year honors in 2020) or Appalachian State's D'Marco Jackson (a projected sixth-rounder whose stock has climbed considerably in recent months).
As for outside linebackers, Auburn's Zakoby McClain has earned rave reviews for his ability to fight through blockers and make plays at the line of scrimmage. Although he's only 5-foot-11, his intensity and special teams experience make him worth pursuing in the draft.
Punter
Yes, punters are people too, but there is rarely ever a time where a team should devote a draft pick to a specialist. Plenty of kickers and punters will be available following the draft. The same applies to long snappers. Why would any team draft a long snapper?
If the Dolphins decide to ignore us and target a punter in the draft, the only option worth defending is San Diego State's Matt Araiza — or, as he's known on Twitter, the Punt God. Araiza ended his college career averaging 51.1 yards per punt and also doubled as the Aztecs' placekicker, hitting 50-of-68 field goals and 96-of-97 extra-point attempts from 2019-21.
Would Araiza make sense for the Dolphins in the seventh round? Maybe. Unfortunately for Miami, a team will likely have drafted Araiza in the third round because of his strong leg and history of 70-yard punts.
Way to go, Houston Texans.
Like Sportscasting on Facebook. Follow us on Twitter @sportscasting19.