The Miami Dolphins Set a Low Bar for Tua Tagovailoa's Return to Action: 'Don't Try To Force Anything'
The Miami Dolphins (1-4) are once again ready to put their hopes on quarterback Tua Tagovailoa as they take on the Jacksonville Jaguars (0-5) in London in Week 6.
It will be an early wake-up call for many watching. Since the game is "across the pond" it will actually start at 9:30 AM EST. Maybe that's to spare the general American public the pain of watching two bad teams, but those following along know there's actually much on the line this Sunday at Tottenham Hotspur Stadium.
The Jaguars need a win in the worst way after starting 0-5 in Urban Meyer's inaugural season. The Dolphins, on the other hand, are trying to recapture some of the potential they came into the season with, and getting Tua back on the field and healthy is a big part of that.
Jacoby Brissett is just not going to cut it much longer for head coach Brian Flores. Even so, the head coach doesn't appear to have that high of expectations for the quarterback his franchise took with the fifth pick in the 2020 NFL draft.
Tua Tagovailoa has not lived up to the expecations so far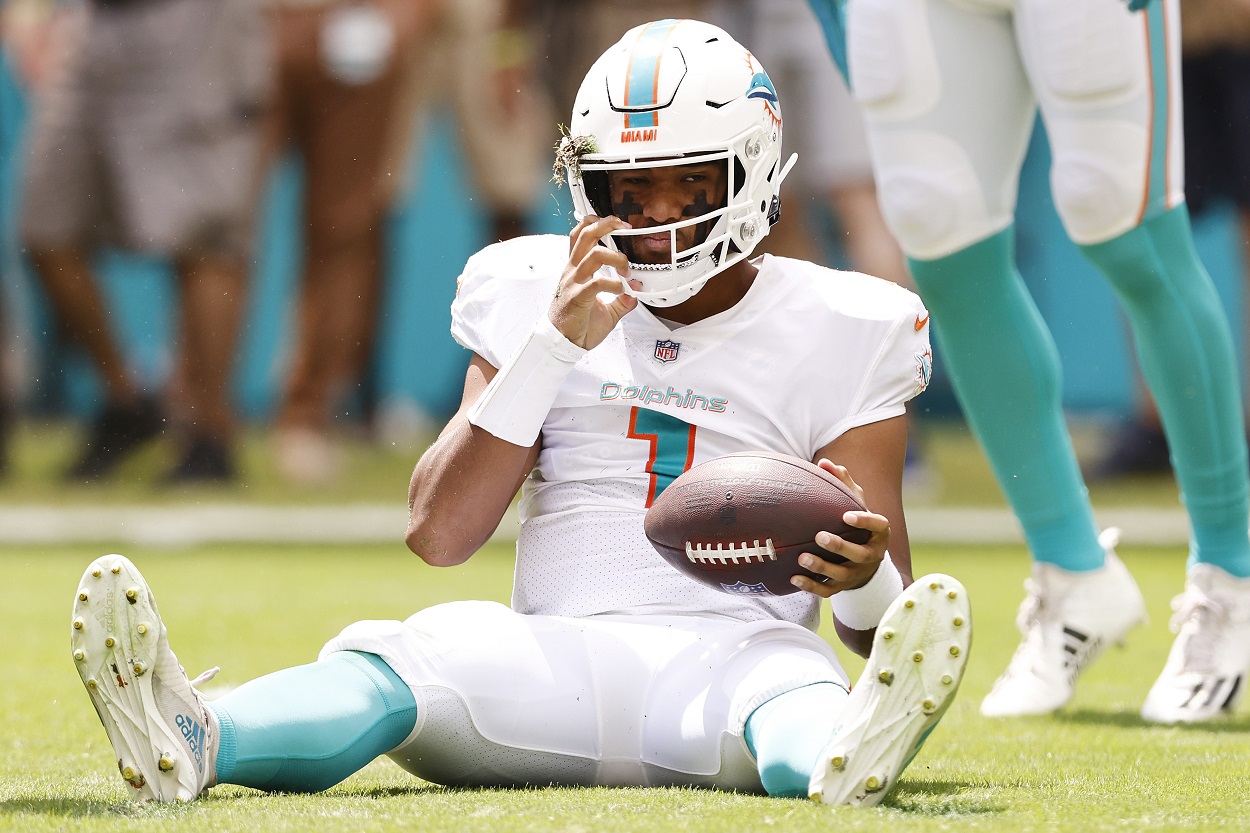 The hope when Miami drafted Tagovailoa was that he would be able to use his other-worldly athleticism as a quarterback much in the same way Lamar Jackson has with the Baltimore Ravens (4-1). Jackson won an MVP with the Ravens because of his dual-threat abilities.
It's a small sample size, but in only 12 games (11 as a starter), Tagovailoa has had a mixed bag of results.
The good: Tua is a fast, shifty athlete who can make some incredible plays with the football in his hands.
The bad: Tua doesn't have great accuracy and he's prone to turning the ball over.
He was the seventh-worst quarterback in the league in 2020 in terms of completion percentage. He completed just 186-of-290 passes for a completion percentage of 64.1%. In his only full game of the 2021 season before getting injured, he completed just 16-of-27 passes for a completion percentage of 59.3%. He did have a touchdown through the air and one on the ground, but he also threw an interception. The Dolphins lost to New England Patriots (2-3) in that matchup, 17-16.
While it's never fully surprising to see a young quarterback struggle in the NFL, Tua has had to live in the shadow of Joe Burrow, who went No. 1 overall in the 2020 draft to the Cincinnati Bengals (3-2). Perhaps even worse for Tua, Justin Herbert went just one pick after him to the Los Angeles Chargers (4-1).
Burrow looks like a well-above-average NFL starter for the Bengals. Herbert has looked like a superstar in Los Angeles.
Tua, in the meantime, is just now getting back on the field.
Miami Dolphins' head coach Brian Flores just wants Tua to play within himself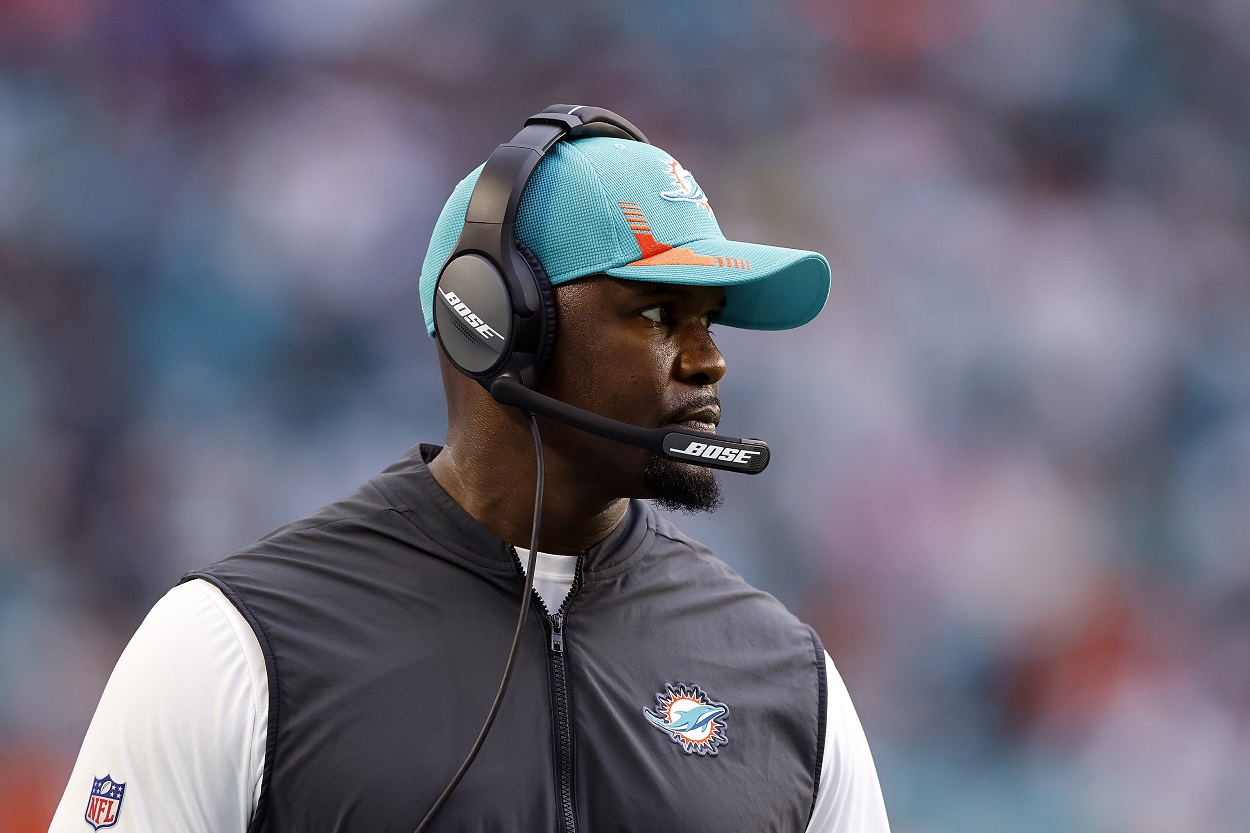 Barring any injury setbacks over the weekend, Tua will start for the Dolphins this Sunday.
While getting a first-round quarterback back in the lineup is usually exciting news for a head coach searching for an important win, it's worth noting that Flores has seemed to temper his expectations for Tagovailoa in this game.
"I think my message is always the same to him: clean operation, in and out of the huddle, be clear with the play call and then go through his progression one play at a time. And he has a specific progression that he goes through. Take the plays that are there," Flores explained, according to NFL.com. "If there's an opportunity for a big play, try to make it, don't try to force anything. It's not a one-man game, we got 53 guys on the team. We're there to support and help him and he's there to support and help the rest of his teammates."
The Bengals ask Burrow to win them games. The Chargers certainly expect Herbert to push the football and make big plays, and he delivers.
In that context, Flores didn't offer a ringing endorsement for Tua heading into this ballgame.
Expect the Jacksonville Jaguars to prioritize putting pressure on Tagovailoa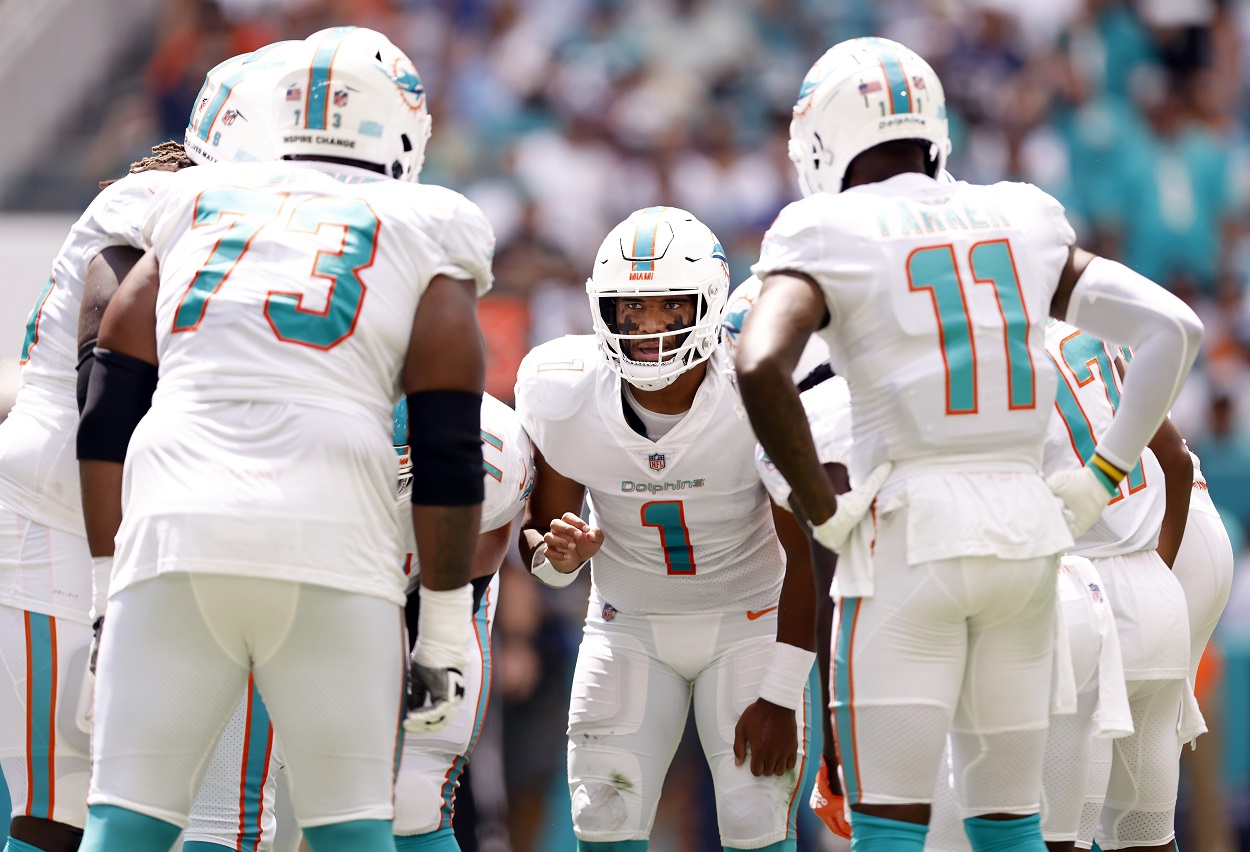 If Jacksonville has any sort of competent NFL head coach in Meyer, and the jury is still out on that, the Jaguars should do everything they can to get pressure on Tagovailoa early and often.
Tua has missed the Dolphins' last three games because of fractured ribs, and anybody who has ever dealt with broken ribs knows that even though Tagovailoa is cleared to play, that doesn't necessarily mean he'll be clear of pain.
Rib injures are no joke. When sneezing weeks after a rib fracture hurts, imagine the pain of being hit by a blitzing linebacker.
Flores seems to be keenly aware that his quarterback will be facing a live pass rush for the first time since getting injured.
"He's looked pretty good," Flores said, speaking of Tagovailoa's recovery. "He's looked pretty good. I think the one thing that we can't simulate is contact or in-game contact. Really everything else has been, you say pick up where he left off."
The jury is still out on whether or not Tua can pick up where he left off. Where he left off is also not where the Dolphins want him to be, so this Sunday's game in London is going to end up being a very interesting watch.
Stats courtesy of ESPN and Pro Football Reference.
RELATED: Dolphins Coach Brian Flores Is Already Willing to Eventually Consider Forgiving Jon Gruden: 'I Think We All Should Learn Something from It'