Miami Dolphins: Ranking the 6 Best Candidates to Replace Brian Flores
Each NFL offseason features a surprise firing, often from a team that spent much of the final weeks in playoff contention. Miami Dolphins head coach Brian Flores unknowingly played that role this season.
The Dolphins fired Flores, who turns 41 in February, after three years and a 24-25 record. After opening this season at 1-7, Miami embarked on a seven-game winning streak and ended the year at 9-8. However, the team fired him less than a day after a satisfying home victory over Bill Belichick, his longtime mentor, and the New England Patriots.
Whoever replaces Flores will be the 13th head coach in Dolphins history and should inherit a team featuring Pro Bowl cornerback Xavien Howard and standout rookie receiver Jaylen Waddle. Although young quarterback Tua Tagovailoa is currently slated to return in 2022, his position on the team is seemingly always in flux.
Who will the Dolphins hire as Flores' replacement? We have some ideal candidates in mind, several of whom have already been NFL head coaches. For this list, the only prerequisite is that the candidate in question needs to make logistical sense. So, no, Bill Belichick and Urban Meyer are not in this group.
Based on consideration of the aforementioned prerequisites, the best candidates stack up as follows:
Honorable mention: Jim Harbaugh, Michigan Wolverines head coach
When news broke that the Dolphins fired Flores, social media immediately turned its eyes to Harbaugh, who just finished his seventh season as the Michigan Wolverines' head coach. Older Dolphins fans will remember when owner Stephen Ross reportedly pursued Harbaugh, then at Stanford, late in the 2010 campaign before sticking with Tony Sparano.
If Ross, a Michigan alum, is to be believed, there will be no such pursuit this cycle. The 81-year-old owner told reporters that he doesn't plan to hire Harbaugh away from the Wolverines. We'll believe it when we see it, but for now, Harbaugh is here as an honorable mention.
6. Marvin Lewis, Arizona State special advisor (and former Cincinnati Bengals head coach)
Lewis might be a strange choice here, but don't let his 0-7 postseason record fool you into thinking the Idaho State product is a poor head coach. It is easy to forget he turned around a dismal Bengals franchise and went 131-122-3 as the franchise's head coach from 2003-18.
Lewis, who will turn 64 in September, interviewed for three head coaching vacancies last year and is currently a special advisor to Arizona State head coach Herm Edwards. He'd bring stability and credibility to a Dolphins franchise in desperate need of both.
There are better and younger candidates on this list, but Lewis checks the early boxes. He's not a bad backup option if the Dolphins' favored candidates don't work out.
5. Eric Bieniemy, Kansas City Chiefs offensive coordinator
In February 2020, Bieniemy celebrated a Super Bowl victory at Hard Rock Stadium. Less than 24 months later, the 52-year-old might want to start looking for permanent housing in the Miami area.
Bieniemy's resume as the Chiefs' offensive coordinator speaks for itself, and he's had numerous prominent NFL voices — including Pro Football Hall of Fame coach Tony Dungy — call on teams to give him a head coaching opportunity.
The Dolphins have been a progressive organization under Ross' watch and had the league's only active duo featuring a Black head coach (Flores) and a Black general manager (Chris Grier). Don't be surprised if Bieniemy finally hears his name called in the coming weeks.
4. Bill O'Brien, Alabama Crimson Tide offensive coordinator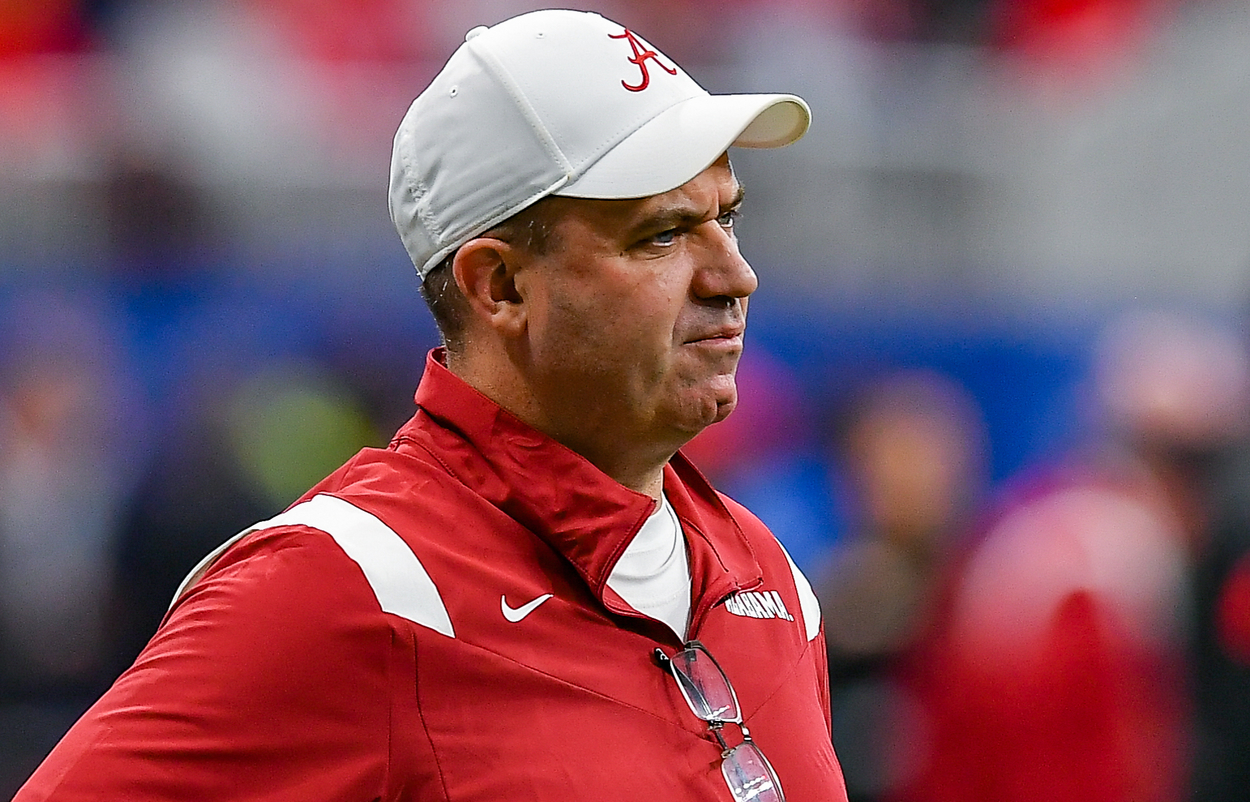 It appears O'Brien, who turns 53 in October, has finally begun getting the stink from the last months of his Houston Texans stint off him. Alabama quarterback Bryce Young won the Heisman Trophy under his watch, and the Crimson Tide are playing for a national championship yet again.
O'Brien went 54-52 in parts of seven seasons with the NFL, a number made far worse by an injury-plagued 4-12 showing in 2017. So long as he's not in charge of trading players, the veteran offensive mind makes sense in Miami. Coaches don't usually win four division titles in five years by accident.
No, Belichick cruising to AFC East championships during the Tom Brady era doesn't count.
3. Nathaniel Hackett, Green Bay Packers offensive coordinator
If the Dolphins are going to prioritize any coordinator who lacks head coaching experience, Hackett makes the most sense. Aaron Rodgers has thrived under his watch, and the Packers have won the NFC North in each of Hackett's three seasons as offensive coordinator.
Do you remember who else put up gaudy passing numbers with Hackett as offensive coordinator? Blake Bortles, that's who. Just imagine, then, what Tagovailoa (or Deshaun Watson) can do with Hackett running the show.
2. Dan Quinn, Dallas Cowboys defensive coordinator
Quinn led the Atlanta Falcons to a Super Bowl in his second year as the Falcons' head coach and reached the NFC Divisional Round a year later. Things fell apart from there, and the Falcons fired him after an 0-5 start in 2020. However, Quinn commanded one of the NFL's top defenses in Dallas this year and helped cornerback Trevon Diggs and linebacker Micah Parsons grow into two of the league's top young players.
The thought of another defensive-minded head coach might scare away some Dolphins fans. However, Quinn is experienced, he's won before, and he once served as the Dolphins' defensive line coach under Nick Saban from 2005-06. Who says you can't come home again?
1. Doug Pederson, former Philadelphia Eagles head coach
Speaking of homecomings, Pederson spent parts of 1991-95 as the Dolphins' backup quarterback. Two decades later, he is the man the franchise must hire if they hope to return to the playoffs anytime soon.
Pederson, who turns 54 on Jan. 31, went 42-37-1 in five seasons with the Philadelphia Eagles and won Super Bowl 52 as the head coach. He's a proven offensive mind who should check every box the Dolphins have right now.
We'll ask once again. Who says you can't come home again?
Like Sportscasting on Facebook. Follow us on Twitter @sportscasting19.