The Miami Heat Are Already Being Overlooked as a Championship Contender
The sexiest move of the Miami Heat's offseason was signing free-agent point guard Kyle Lowry. Miami made a number of other moves, but they were either overlooked or considered wasteful spending. But those moves actually put the organization in a position to be a darkhorse championship contender.
Two seasons ago, the team played in the NBA finals. Last year, Miami lost to the eventual champion Milwaukee Bucks in the first round of the Eastern Conference Playoffs.
But the offseason the Heat had put them right back in the conversation as one of the best teams in the league. Just no one seems to have noticed.
The Miami Heat added Kyle Lowry, P.J. Tucker, and Markieff Morris in free agency
Morris is 31. Lowry is 35. Tucker is 36. Lowry's deal is for three years and $85 million, which is admittedly a long and expensive deal for an aging point guard. However, the former Villanova Wildcat is still playing well when he's on the court. Lowry only played 46 games for Toronto last season and 58 the year before, which is why questions arose about his contract in the first place.
But the 6-foot point guard is still averaging close to 20 points per game over those last two seasons, more than five rebounds per game, and more than seven assists per game. He shot 39.6% from three last year. Most importantly, Lowry is a proven winner. The Raptors reached the playoffs every season during his seven-year run in Toronto and won the 2019 NBA Championship. He averaged 16.2 points, 4.0 rebounds, and 7.2 assists in the finals.
Tucker won the NBA title last season with the Milwaukee Bucks and is on a two-year deal that averages slightly more than $7 million per season. The Heat signed Morris to a one-year, $2.6 million contract. The 6-foot-9 power forward has played in the playoffs the past five seasons, winning the 2019-20 championship with the LA Lakers.
Sensing a theme here?
Miami also re-signed Victor Oladipo and Duncan Robinson and extended Jimmy Butler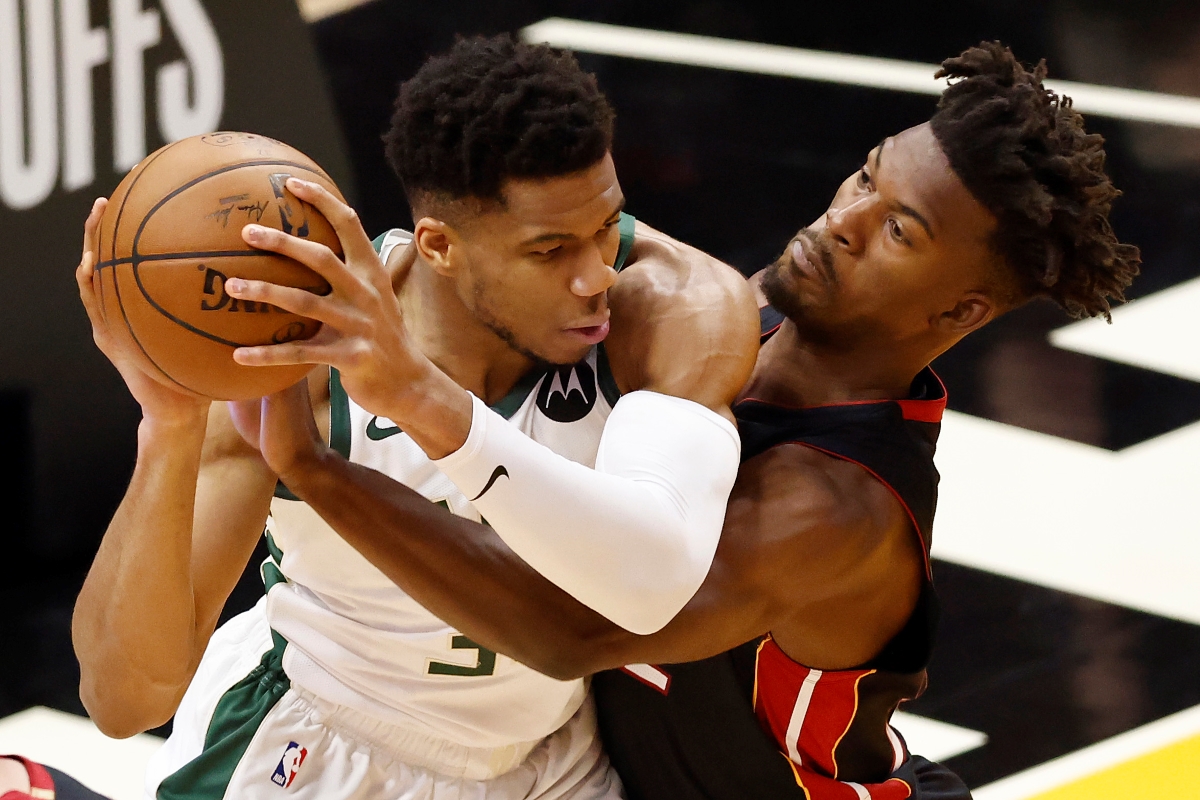 Butler is the Heat's franchise superstar. He certainly has limitations, though. He shot 24.4 and 24.5% from deep the past two seasons, respectively. But he's an excellent defender, has developed into a good playmaker, and is at the top of the list of toughest player's in the NBA. He's also been to the playoffs nine times in his 10-year career and doesn't shy away from big moments. A three-year, $146 million extension that runs through his age 36 season when he'll earn more than $52 million is a huge price to pay, but he's at the center of what Miami is trying to build.
Robinson's contract also seems exorbitant at five years and almost $90 million. But he's a 42.6% career three-point shooter and will only be 31 years old when his contract expires.
Oladipo is a low-risk, high-reward signing. He's been injured the last few seasons, but he's been named to the all-star team twice, was named to the All-NBA team once, and was also first-team all-defense in 2017-18. A one-year, $2.4 million deal is worth a flyer and would be a massive steal if the guard stays healthy.
The Heat have built a roster ready to contend for a title this season
It's obvious what Miami is trying to do. Lowry, Tucker, and Morris are all tough, defensive-minded players with loads of playoff experience. Ditto for Butler. Oladipo, if healthy, is a high-level athlete and defender and an above-average offensive player. Robinson is an excellent shooter who can space the floor. The Heat still have ascending big man Bam Adebayo, also an athletic defender who's developed his offensive game each year he's been in the league. Tyler Herro had a fantastic rookie season but hit a sophomore slump last year. If he bounces back, he gives Miami another source of shooting and playmaking.
Spacing may be an issue for Miami's offense, but the team's high levels of defense, toughness, and athleticism are more than capable of bringing the Heat back toward the top of the East.
All statistics courtesy of Basketball-Reference and contract details courtesy of Spotrac.