The Miami Heat Made the Obvious Choice After Meyers Leonard's Controversial Commentary
The Miami Heat haven't had the best start to the 2020-21 season after reaching the NBA Finals in the bubble. Things just got worse after forward Meyers Leonard made some controversial comments while he was livestreaming. The 29-year-old guard faced immediate backlash for his words from the internet, his team, and the NBA.
Leonard promptly apologized for his comments, but the Heat also stepped in to discipline their big man. He won't be around the team for the foreseeable future, facing the consequences of his actions.
Meyers Leonard uses an anti-Semitic slur during a video game livestream
RELATED: Jimmy Butler Reportedly Refused to Replace Kevin Durant at the NBA All-Star Game Because of Bam Adebayo
Meyers Leonard has only played in three games this season for the Miami Heat, as he injured his shoulder earlier in the year. The nine-year big man often plays video games in his newfound free time. On March 9, Leonard was caught saying an anti-Semitic slur to a player while on a livestream playing Call of Duty: Warzone.
"F—— cowards. Don't f—— snipe at me. You k— b—-," Leonard said to another player during the live stream, according to CNN.
Later that night, the Heat forward posted an apology to his Instagram account. He expressed remorse for saying the slur and admitted he didn't know what it meant when he said it. Leonard acknowledged how his words offended the Jewish community and admitted that he needs to be educated on their history. The forward concluded his post by saying he is committed to bettering himself, and his actions will speak louder than his words.
In addition to trending on Twitter for all of the wrong reasons, the Heat forward has already lost multiple sponsorships from gaming companies following his anti-Semitic slur, according to CNN.
The Miami Heat announced Leonard will be away from the team following his anti-Semitic slur
RELATED: Jimmy Butler Wasn't Very Subtle About Convincing His Friend to Come Back to Miami
Twitter users weren't the only ones to bash Leonard for his controversial comments. The NBA commented on the situation and is in the process of gathering more information about the incident. The nine-year big man could face sanctions from the league if they determine his actions warrant discipline.
"The NBA unequivocally condemns all forms of hate speech," league spokesperson Mike Bass said in an email, according to a March 9 tweet by Shams Charania.
The Miami Heat also released a statement condemning their big man's words. They explained that they will not tolerate any hate speech and cooperate with the league in their investigation. They announced that their $20 million role player won't be on the team for the foreseeable future.
"To hear it from a Miami Heat player is especially disappointing and hurtful to all those who work here, as well as the larger South Florida, Miami Heat, and NBA communities. Meyers Leonard will be away from the team indefinitely," the team said in their statement.
Leonard's future with the Heat is in serious doubt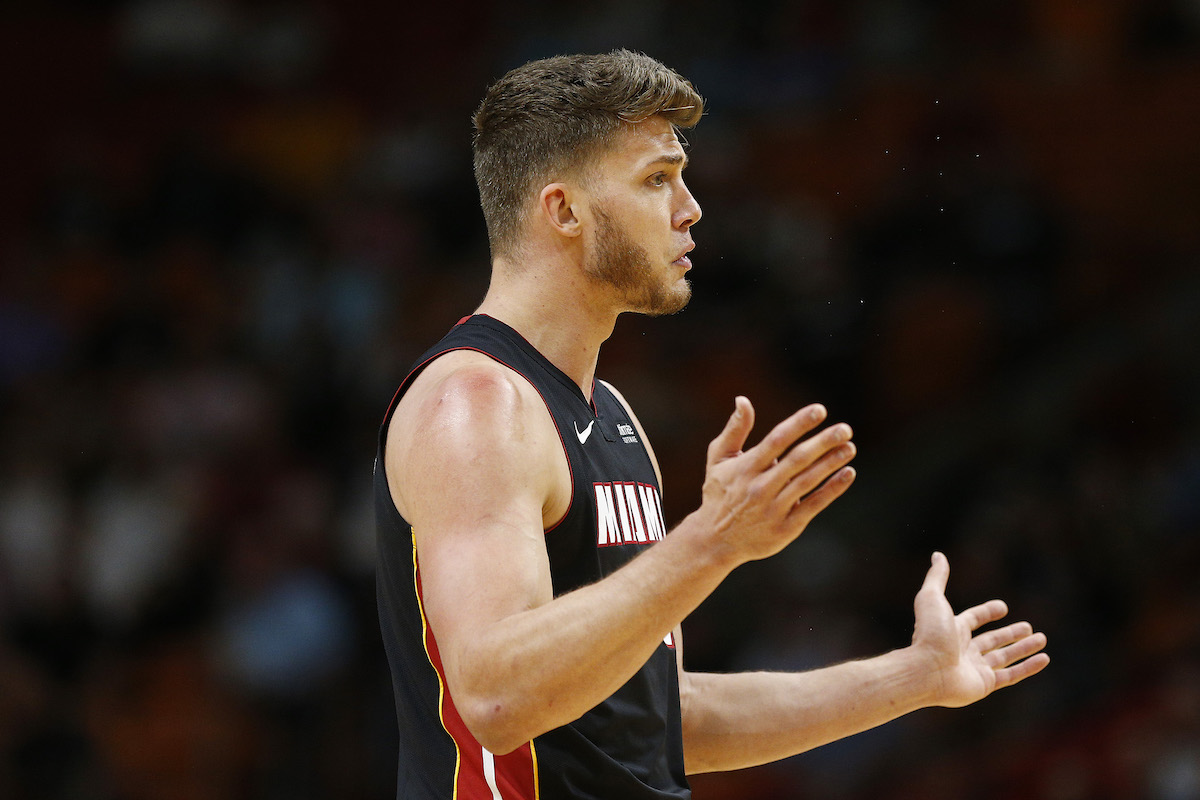 RELATED: Jimmy Butler's History With Taylor Swift Has Come Back to Bite Him
Even though Leonard wasn't going to play again this year, his situation throws another monkey wrench into the Heat's rollercoaster season. He should be worried about his future with Miami and perhaps his NBA career as a whole.
The nine-year forward signed a two-year contract worth close to $20 million last summer. Miami has a team option for the second year, and this situation could make them more willing to decline it. Leonard's averaged 5.6 points per game for his career and has dealt with numerous injuries in recent seasons. If he hits the free-agent market, it's unknown how much interest he'll garner from teams.
Meyers Leonard's comments have put him in hot water with both the Miami Heat and the NBA. The nine-year forward has owned up to his mistakes and won't be with his team for the foreseeable future. At this point, it is unknown when he'll return to the court.
Stats courtesy of Basketball Reference