The Miami Heat's Seemingly Premature Decision to Hand Bam Adebayo a $163 Million Extension Is Paying Massive Dividends
Just over a year ago, the Miami Heat seemed well-positioned to make a run at Giannis Antetokounmpo. Rumors swirled about whether the Greek Freak would accept a supermax extension from the Milwaukee Bucks, and the Heat initially had max cap space for the summer of 2021. However, Miami's decision to sign Bam Adebayo to a five-year, $163 million extension all but eradicated any chance of landing Giannis.
But the investment is paying dividends. Aside from Antetokounmpo ultimately signing the supermax to stay in Milwaukee, Adebayo continues to show why he's one of the best and most versatile bigs in the NBA. He's an enormous piece of a Heat team that looks primed to contend both this season and in years to come.
The Miami Heat look like legitimate contenders in the Eastern Conference
After starting the 2021-22 NBA season at 7-2, the Miami Heat hit a bit of a snag, losing three straight games. But the Heat got right back on track.
Miami won its third straight game against the New Orleans Pelicans on Wednesday night in South Beach despite missing Adebayo and Kyle Lowry. Star swingman Jimmy Butler posted a 31-point triple-double with 10 rebounds and 10 assists, and the Heat got 42 points from their bench unit.
Head coach Erik Spoelstra's team ranks sixth in scoring average and opponent scoring average. The Heat are third in net rating thanks to a stingy defense and a group of players who can score and make plays in various ways.
After his strong start, Tyler Herro is rightfully garnering early consideration for the Most Improved Player Award, and Butler has played at an MVP level. However, Adebayo's progression and presence in the paint are significant reasons for Miami's success thus far.
Bam Adebayo builds on his stellar 2020-21 campaign and validates Miami's $163 million investment
Bam Adebayo told The Athletic the Heat were "broken" during the 2020-21 season, which is curious, considering he ascended to stardom.
Adebayo averaged career-high marks in scoring (18.7) and assists (5.4) to go with 9.0 rebounds, 1.2 steals, and 1.0 blocks. He shot 57% from the field and converted nearly 80% of his free-throw attempts, also averaging a career-high 5.5 attempts from the charity stripe.
The 24-year-old has elevated his play in the first year of his extension with the Heat. Adebayo's assists are down (2.7 per contest), but that's a direct result of Kyle Lowry's presence in the rotation. The same can be said about Bam's block numbers, though again, the defensive work of Lowry and PJ Tucker force opponents to resort to jumpers. Regardless, Adebayo looks like the best version of himself.
Adebayo is averaging 19.7 points and career-highs in rebounds (11.2) and steals (1.4). He has made 84% of his 6.8 free throws per contest. Though his midrange efficiency has dipped, Adebayo benefits from Lowry pushing the pace in transition. His athleticism allows him to exploit matchups against other bigs when he gets the ball on the elbows or in the painted area.
Plus, although the shooting efficiency is down, Adebayo can still make jumpers. He's converting on around 42% of his jump shots, according to NBA.com, and excels when he can face up and keep defenders honest (making 50% of those attempts), rather than being forced to shoot off the dribble.
Butler told The Athletic that Adebayo is "always adding something" and refused to say what his ceiling might be going forward. That's good for the Heat, because he's an established part of Miami's winning future and is an integral part of the "Heat culture" defined by veterans like Udonis Haslem.
Adebayo is a crucial piece to Miami's core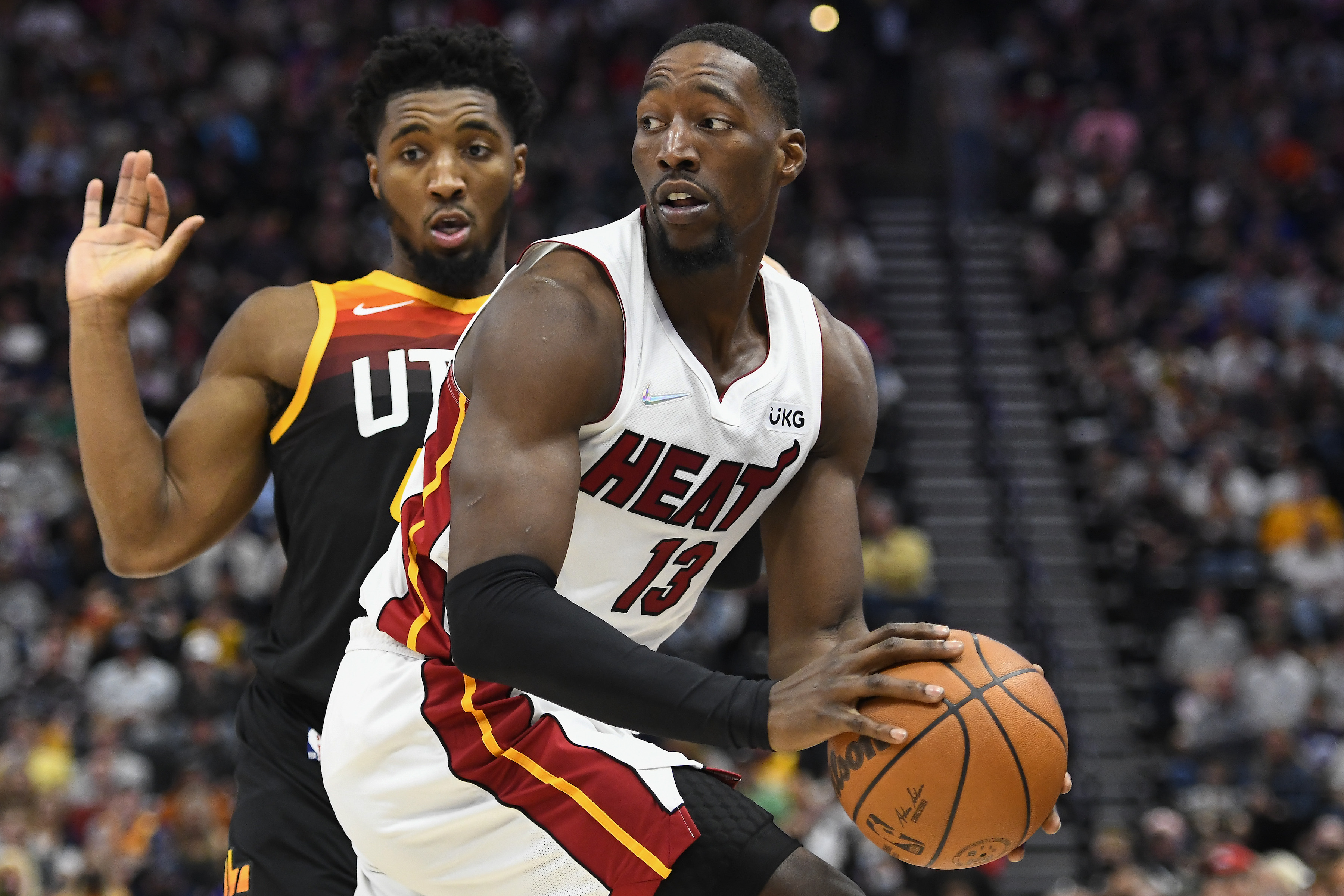 The Heat appear to make moves to solidify their future every single season.
Last fall, they extended Adebayo after he made his first All-Star team and continued his strong run of play in the Orlando "bubble." This summer, Pat Riley really got busy extending Jimmy Butler and Duncan Robinson while bringing Lowry into the fold. Herro's play demands the Heat offer him a new contract if he can sustain this current level, with Shaquille O'Neal among those who believe the hype.
Miami has assembled its core for the next several years. Adebayo has proven himself a massive part of that core, and his year-over-year improvement proves the Heat did not err in jumping at the chance to sign him to a new deal, even if it initially appeared to cost them a run at one of the game's top superstars.
Stats courtesy of Basketball Reference unless otherwise noted.