Micah Parsons and Dallas Cowboys Are Focused on Playoffs and Super Bowl: 'I'm Trying to Do Something Way Bigger Than Anybody Thought We Could Do This Year'
Cliches exist for a reason, and the Dallas Cowboys have a defense that's a walking cliche in the best way possible. Fresh off an impressive 27-17 win over the New Orleans Saints on Thursday Night Football, the Cowboys have proven that they've got a defense that can win them a championship.
They also have a player who looks to be a sure bet to win the NFL's rookie of the year award in Micah Parsons, but he and his teammates are focused on more than just individual honors as the playoffs loom large.
Offense wins games, but defense wins championships. The Cowboys look to be the embodiment of that right now.
The Dallas Cowboys are a turnover machine on defense
Dallas picked off Saints quarterback Taysom Hill four times en route to one of the more impressive defensive performances you'll see. The Saints did put up 405 total yards, and Hill rushed for 101 yards on 11 carries, but those were mostly empty stats due to Dallas' ability to take the football away.
Jayron Kearse, Damontae Kazee, Carlos Watkins, and Trevon Diggs each came away with an interception on Thursday night. Watkins, a 305-pound defensive end, stepped in front of a line-drive throw from Hill, snagging it out of the air like a veteran wide receiver and taking it back 29-yards to the house for a pick-six.
Diggs, who's a literal interception machine, basically ran a route for Hill, reaching up to high-point a deep out to secure his ninth interception of the season.
The four interceptions are the most Dallas has snagged in a single game since 2010, when the Cowboys accomplished the same feat against the Colts.
In terms of Diggs' accomplishments, his interception puts him in rarified air. Not only is he a defensive player of the year candidate, but he's in the running to make franchise history. Everson Walls snagged 11 interceptions for the Cowboys in 1981. Mel Renfro intercepted 10 passes in 1969. With five regular-season games to go, Diggs is threatening to ascend to the top of that list quickly.
Micah Parsons is playing like an All-Pro as a rookie
It's tough to remember that Micah Parsons is playing his first NFL games. The Cowboys drafted him 12th overall out of Penn State in just this past draft, but he's playing like he's been getting after NFL quarterbacks for the better part of the decade.
Parsons secured another sack against the Saints, bringing him to double digits on the season. With 10 sacks, he becomes only the 13th rookie linebacker in NFL history to secure at least that many in year one. He's also the first rookie since Joey Bosa to have five-straight games with a sack, and according to ESPN, he's on pace for over 100 tackles and 14 sacks on the season.
He's playing great football for Dallas, and it's not just all about sacks. The Cowboys play him all over the field, and he makes plays in just about every facet of the defense. His five tackles against the Saints bring his season total to 72, making him the first player with 70 tackles and 10 sacks through his team's first 12 games since James Harrison did it in 2010 with the Pittsburgh Steelers.
That's elite company, and Parsons is proving to be precisely that.
Dallas has a defense that can shut down the best offenses in the NFC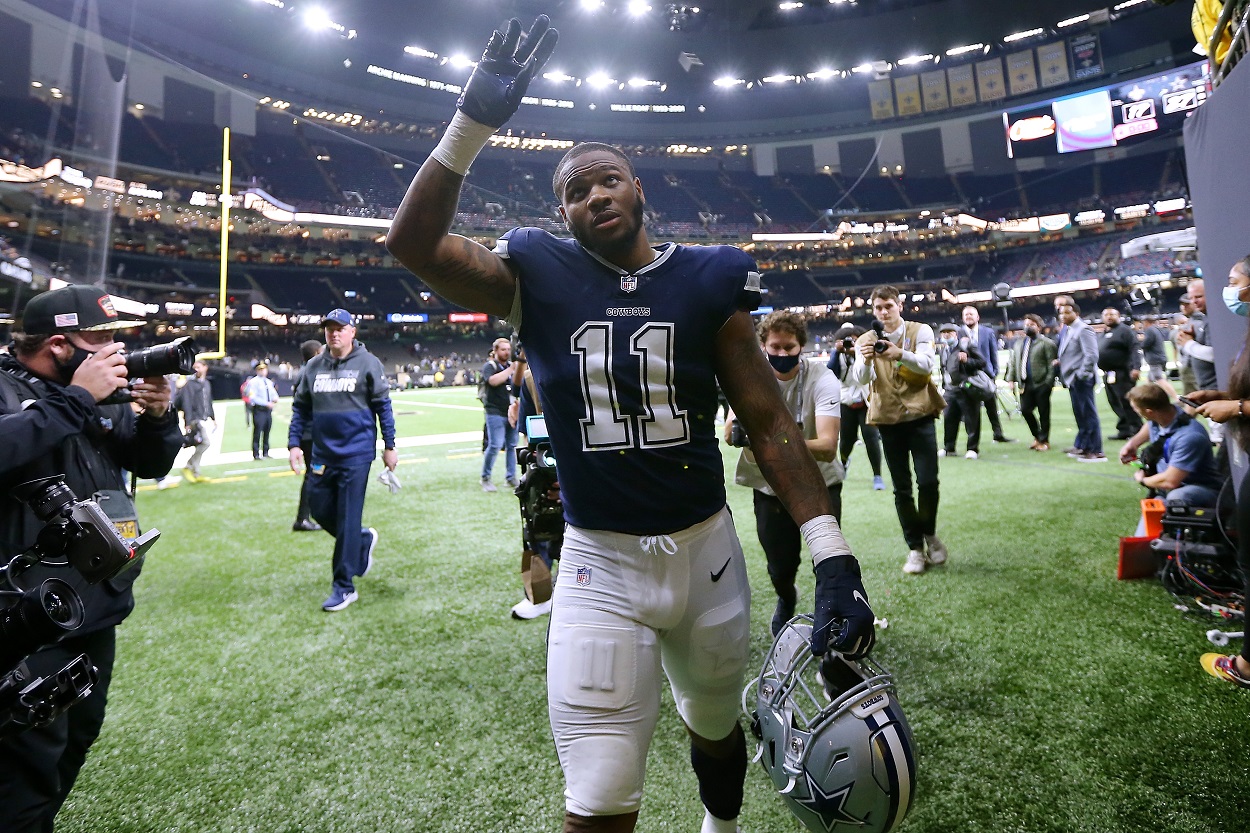 While a 10-point win against a team that's now on a five-game losing streak and missing some of its best players isn't something to necessarily write home about, Dallas will take it.
Not only did the win snap a two-game losing streak for the Cowboys, but it puts the month of November behind them. They lost three of four games in November and left the month looking like anything but a Super Bowl contender.
This one game doesn't fix everything because the offense still has a lot of work to do, but winning off the defenses' strength does prove that Dallas has what it takes to make a push through the playoffs.
The Cowboys will be looking at a playoff field that features quarterbacks like Tom Brady, Aaron Rodgers, Kyler Murray, and Matthew Stafford, with some of the best offensive coaches calling plays on the sidelines as well.
Heading into Thursday night, the Cowboys had the 11th best total defense in the NFL. That number will likely climb well within the Top 10 after this performance. If the Cowboys can continue to take the football away, even quarterbacks like Brady and Rodgers could find themselves neutered in a winner-take-all situation.
One game at a time, but this defense is trending in that direction. The players seem to know it too.
"The Super Bowl. The playoffs," Parsons said when asked about the Cowboys' focus right now. "We have five games left. There's stuff to be done. I don't think it's time for me to sit on my couch, smiling, eating Cheetos. I'm trying to do something way bigger than anybody thought we could do this year."
Stats courtesy of ESPN and Pro Football Reference.