Micah Parsons Has a Unique Message for the Cowboys Coaching Staff
The Dallas Cowboys are coming off an incredibly frustrating 2021 NFL season. Despite entering the year with a loaded roster and lofty expectations, they could not advance past the first round of the playoffs. The San Francisco 49ers knocked them off — in Dallas, to make matters even more embarrassing. However, the saving grace from 2021 for the Cowboys is that they drafted one of the best defensive players in the NFL — Micah Parsons.
Parsons won Defensive Rookie of the Year and proved valuable at several different positions for Dallas. Without his presence on defense, it's hard to imagine the Cowboys would have experienced as much regular-season success as they did.
Micah Parsons is the ultimate Swiss Army Knife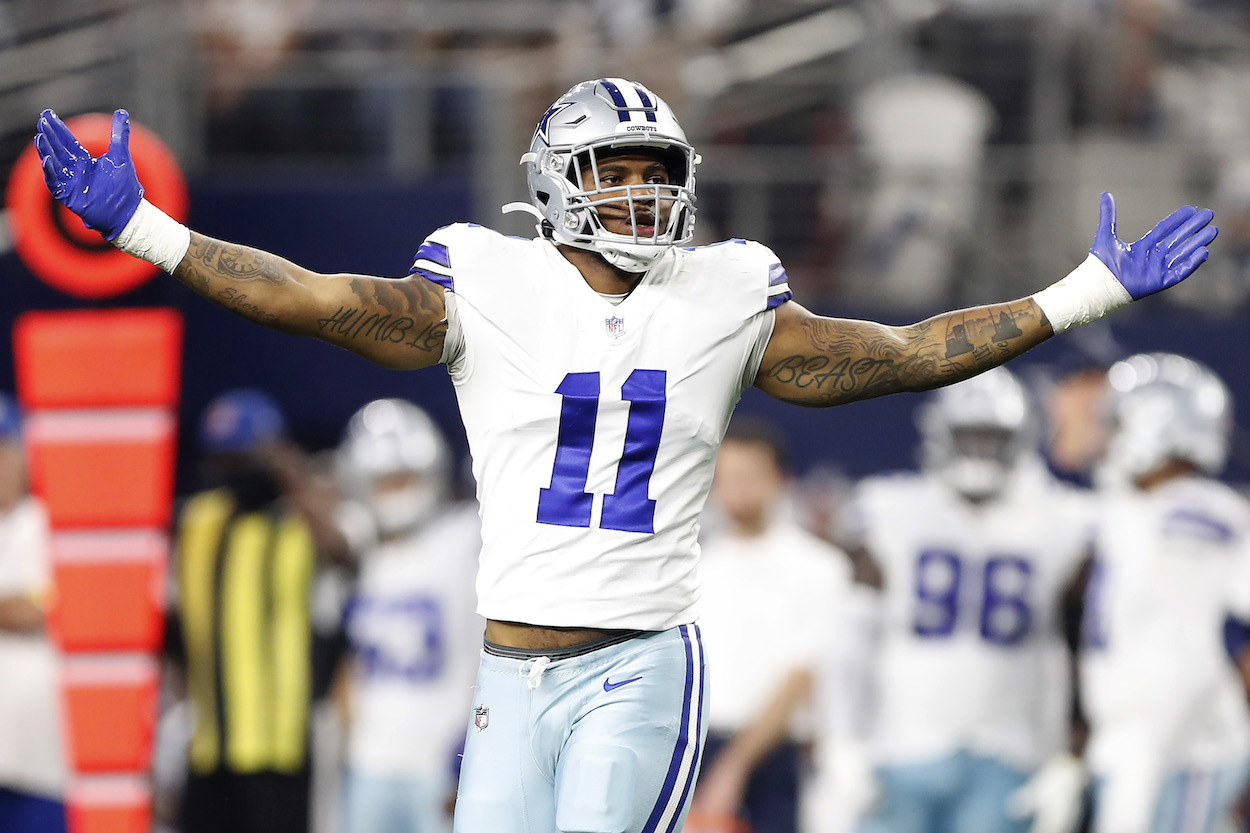 Parsons was drafted as a linebacker. However, it didn't take long for the Cowboys to figure out he can be much more than a stereotypical LB in their defense.
Upon star pass rusher Demarcus Lawrence getting injured, Parsons was asked to slide down to defensive end on several occasions. Typically speaking, asking a rookie to switch positions just a couple of games into his NFL career is a recipe for disaster. However, this wasn't the case for Parsons.
Parsons thrived as a pass rusher. He finished his rookie season with 13.0 sacks, 30 quarterback hits, and 20 tackles for a loss. The former Nittany Lion quickly established himself as the Cowboys' best defensive end and their best middle linebacker, all in the span of a few weeks.
Micah Parsons has a message for the Cowboys coaching staff
The Cowboys have several important questions to answer this offseason. They're currently over the salary cap and have a few tricky cap-saving moves to make.
With that in mind, another question that needs answering is what to do with Parsons. Should he make the full-time switch to DE? Should he stay at LB? Should he continue doing a mix of both?
According to Parsons himself, he wants to play everywhere.
"I really like everywhere," Parsons said on The Rich Eisen Show (via the Dallas Morning News). "I just believe that I need to line up with the best. I want to be best on best. We were going against Deebo [Samuel]; I wanted that matchup with him every time. Wherever Deebo went, that's where I wanted to go. Against Minnesota, I played linebacker, and wherever Dalvin Cook went, that's where I wanted to go. I want it to be best on best."
"When we're going against Patrick Mahomes, and they're not really going to run the ball 18-20 times a game, but they'll pass, so put me against their left tackle. Or right tackle. And I'll pass rush. That's the best way that I can impact the game."
This gives the Cowboys a ton of flexibility
Parsons embracing this hybrid style of role is excellent news for Dallas. Not only does it provide physical game-day flexibility, but it also allows the Cowboys' front office to act aggressively with their cap-saving moves.
Cutting Demarcus Lawrence, for example, becomes more realistic. Dallas can simply have Parsons replace him at DE should it not land a replacement via the draft or free agency.
The Cowboys could also explore moving pricey linebacker Leighton Vander Esch. Either way, Parsons being who he is gives the Cowboys an abundance of options moving forward.
All stats courtesy of Pro Football Reference.
RELATED: Russell Wilson Trade Rumors: Why the Colts Are Foolishly Wasting Their Time