20 Years Before Stephen Curry, a 5-Foot-10 Guard With an Ugly Jump Shot Was the 3-Point King
In the 2020-21 season, there were 74,822 three-point shots taken across the NBA. Despite being a 72-game season, that's the second-most all-time behind only 2018-19. Clearly, threes are more prevalent now than they ever have been. But during the 1987-88 campaign, when the all-time great shooter Stephen Curry was born, a Denver Nuggets guard named Michael Adams was shooting threes like no one had ever seen before.
The run-and-gun Denver Nuggets influenced Michael Adams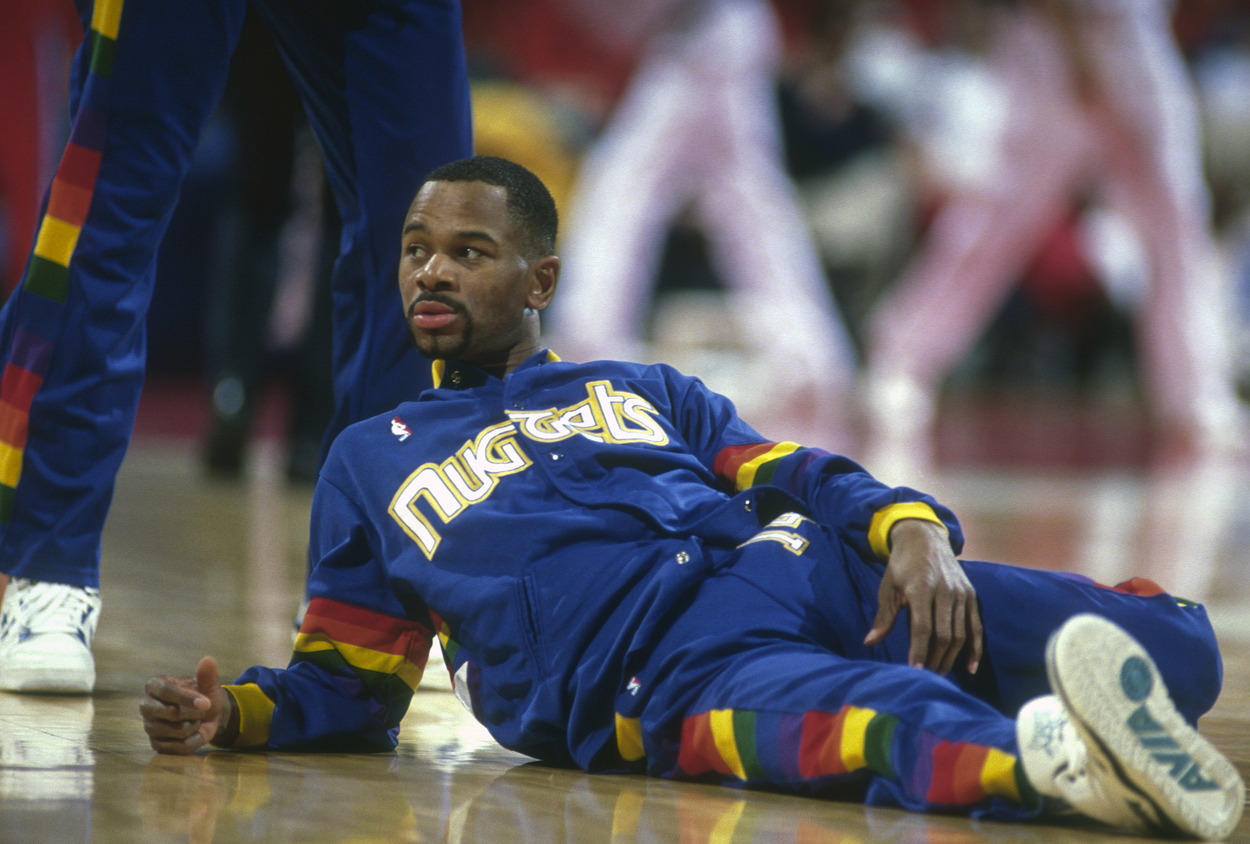 There was hardly any reason for excitement after the Sacramento Kings took Adams 66th overall in the 1985 NBA Draft. There was even less excitement after his first two professional seasons.
The Boston College standout spent his rookie year riding the pine before being waived after the season. He then joined the Washington Bullets, and while he managed to play over 20 minutes a night, Adams was still a minimal point -producer. By his third season, the 5-foot-10 guard was already heading to his third team, as Washington shipped him to the Nuggets after acquiring the Hall of Famer Bernard King.
At the time, Denver's head coach was Doug Moe. The former ABA All-Star was famous for his run-and-gun style that resulted in tons of points off of screens and ball movement. With a young and quick guard like Adams now at his disposal, Moe gave him full permission to let it fly.
Adams became a league-leader in threes
In Adams' second season in the NBA, he took 102 three-pointers for an average of 1.6 per game. He only hit 27.5% of them, as well. But in his first season under Moe, the 5-10 Adams became a completely different player.
Serving as the Nuggets' starting point guard, Adams attempted a league-leading 379 three-pointers, while increasing his percentage to 36.7%. Even on a team that encouraged high-octane offense, Adams took 288 more threes than Mike Evans, the next-highest Nugget. But that was only the beginning, as the Hartford, Connecticut native led the league in threes for the next three seasons, throwing up 466, 432, and a whopping 564 in 1990-91.
During that 1990-91 season, Adams became a household name. Known for his signature and unconventional push shot, the 28-year-old averaged a career-best 26.5 points per game. Only Michael Jordan, Karl Malone, Bernard King, Charles Barkley, and Patrick Ewing averaged more points. That meant the former third-round pick out-scored future Hall of Famers like Dominique Wilkins, Chris Mullin, and David Robinson.
Adams' best performance came on March 23, 1991 against the Milwaukee Bucks. In an overtime thriller, the guard went 7-for-16 from three to score 54 points. He remains tied with Alex English for the second most points scored in a game in Nuggets history, only trailing David Thompson's 73.
Adams helped usher in a three-point revolution
Following his career-best season, Adams was never the same. The three-point master was traded back to the Bullets in 1991 for the eighth pick in the draft. While he actually made the All-Star team that season in Washington, his 18.5 points was a steep dropoff from the previous year. His overall scoring numbers would end up decreasing each year, as well.
Adams left the NBA as one of the all-time leaders in threes made and attempted. Additionally, he held a record of 79 consecutive games with at least one three-point field goal. That record is now held by Curry, who hit a three in 157 straight games from 2014 to 2016.
Well before Stephen Curry was in the league, threes began to skyrocket around the time Adams was in his peak. Before he came to Denver, there were 8,913 threes taken across the league. In 1990-91, his last season with Moe and the Nuggets, there were 15,812. And in 1995-96, his final year, the NBA saw over 38,000 three-point attempts.
Adams is largely forgotten across NBA history, but that shouldn't be the case. The man with the funky shot was shooting a ton of three-pointers before it was cool, and making a good deal of them. If Adams' peak lasted just a little longer, it's likely he would be considered one of the game's most iconic long-range shooters.
All statistics courtesy of Basketball Reference.
RELATED: Stephen Curry May Be 'the Baby-Faced Assassin,' but He Still Feels Insecure on the Court: 'I Get Nervous Right Before Training Camp Starts'