Michael Brockers Just Fired a Direct Shot at Former Rams Teammate Jared Goff With His Recent Comments
Even before the day of the Super Bowl, the Los Angeles Rams and Detroit Lions pulled off a blockbuster trade by swapping their quarterbacks. After over a decade wearing silver and blue, Matthew Stafford will leave the Motor City and suit up for the Detroit Lions in 2021. This has at least one of his teammates, defensive tackle Michael Brockers, looking toward the promised land — while throwing Stafford's predecessor under the bus.
Michael Brockers airs his confidence
RELATED: Jared Goff Is Getting Help in Detroit From an Unexpected Source
The Rams/Lions trade does not become official until St. Patrick's Day, but there is no indication that anything will prevent it from going ahead. In return for Stafford, the Rams gave away quarterback Jared Goff, as well as their first-round draft picks in 2022 and 2023, and their third-round pick in 2021.
Despite the steep amount the Rams have given away in the deal, Brockers believes his team will come out ahead. In an interview with TMZ, he expressed his belief that the Rams will receive the better quarterback in the transaction.
"Is it a level up?" said Brockers. "In my heart, deeply, just understanding what [Stafford] brings, it's a level up."
He later added, "I don't want to say a lock for the Super Bowl, but with having a quarterback like that and just seeing what we did last year and just seeing what he can bring to this team, there's no wonder why we can't [win the Super Bowl]."
Them's fighting words from Brockers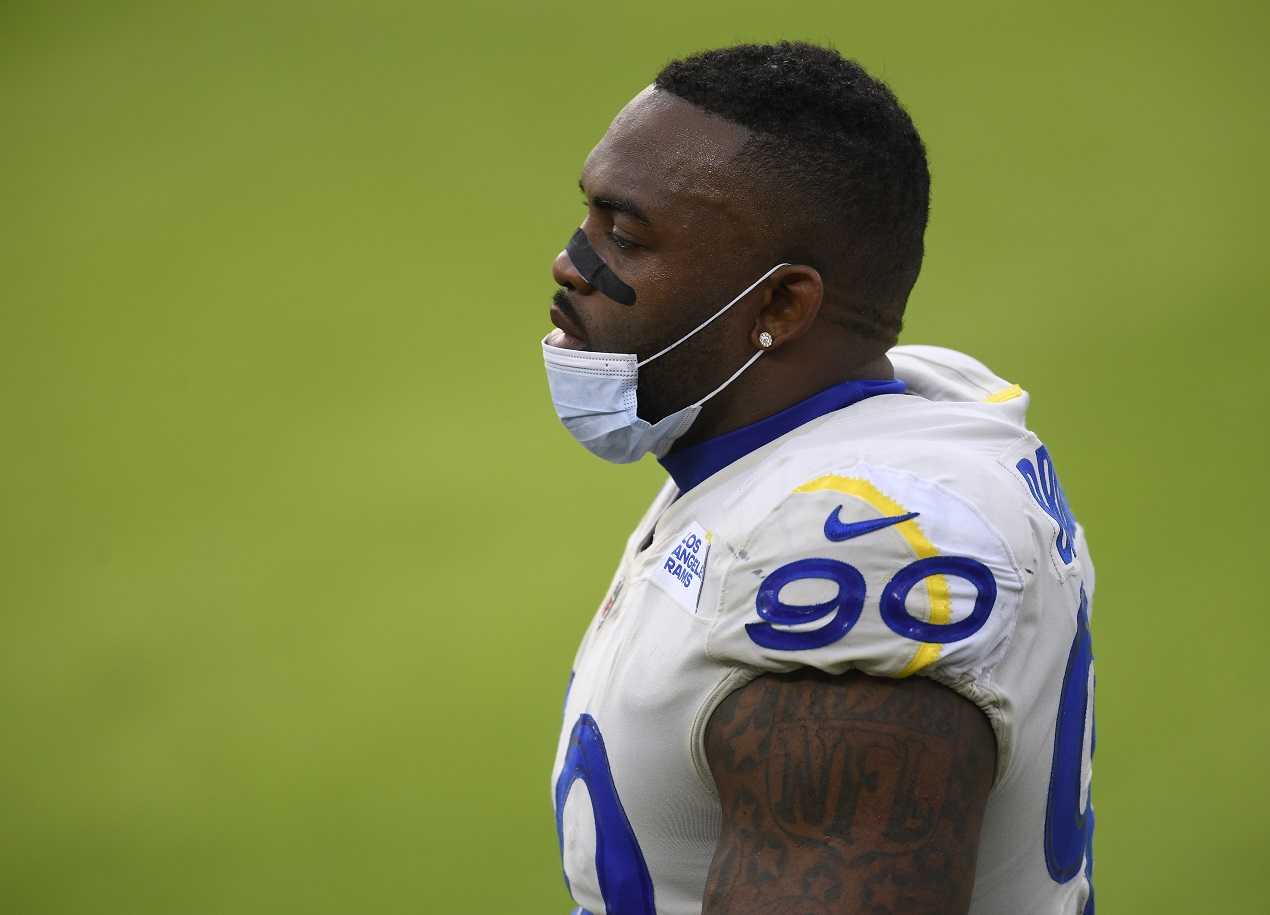 RELATED: Longtime NFL HC Dave Wannstedt Had a Sharp Message for Matthew Stafford's 'Stupid' Rationale
Brockers' comments are sure to raise eyes across the NFL, especially those of former teammate Jared Goff. After all, you might say that Goff led the modern-day Los Angeles Rams to their most recent Super Bowl appearance in the 2018 season. Goff's performance certainly played some role in that success. During that season, he posted career-highs in both passing yards (4,688) and touchdowns (32).
However, his numbers and the team's performance have gradually declined since. In 2019, the year after the Rams' Super Bowl run, Goff's touchdown output fell from 32 to 22, with his completion percentage falling a whole two points. He spent the latter part of the 2020 season battling a thumb injury which caused him to miss the wild-card game against Seattle.
Stafford, on the other hand, has yet to win a playoff game in his 12-year NFL career, all spent with the Detroit Lions. Then again, that can hardly be blamed on him. Throughout his career, Stafford has had to deal with inept management, a roster that mostly didn't play up to his level, and Matt Patricia. There were no hard feelings in Detroit when he left, with many wishing him the best of luck in his new home.
The Rams still have a defense
You could also say it was the Rams' defense that led Goff to the Super Bowl that year, and not the other way around. Last season, the Los Angeles Rams gave up the fewest points, fewest yards, and fewest first downs in the NFL. Defensive Player of the Year Aaron Donald should be healthy for the start of the 2021 season, which should make the Rams as formidable as before.
For once, Donald won't be the only sack-master in the NFC West. Former Houston Texan J.J. Watt has signed with the division rival Arizona Cardinals in free agency. In the same interview, Brockers took a shot at his new foe.
"We all know who the real 9-9 is," said Brockers, obviously referring to Donald.
Statistics courtesy of Pro-Football-Reference.