Michael Brockers and Jared Goff are Suddenly Best Buds Again – 'I Have So Much Respect For Him'
Quarterback Jared Goff and defensive lineman Michael Brockers were teammates for five years with the Los Angeles Rams. From 2021 onward, they'll be teammates again, this time with the Detroit Lions. This has created an awkward situation for the two men. In the short time between the two trades, Brockers said something about his current, then former, then current-again teammate which he has since taken back.
Michael Brockers once called Matthew Stafford a 'level up' over Jared Goff
RELATED: Ben Roethlisberger Just Took a $5 Million Pay Cut to Give the Steelers One More Shot at a Super Bowl Title
On the final day of January, the Rams and the Detroit Lions executed the blockbuster trade of the NFL offseason so far. They sent Goff, along with three draft picks, to the Lions in exchange for quarterback Matthew Stafford.
The trade didn't become official until March 18, but that didn't stop Michael Brockers from running his mouth. During a March 6 interview with TMZ, he had this to say regarding Stafford.
Is it a level up? In my heart, deeply, just understanding what [Stafford] brings, it's a level up [over Goff].

Then-Rams defensive lineman Michael Brockers, via TMZ
Little did Brockers know that he would not stay with the Los Angeles Rams long enough to experience this supposed "level up". On March 17, the Rams traded Brockers to — of course — the Lions in exchange for a seventh-round draft pick. This means that Brockers and Goff are once again teammates.
Michael Brockers makes amends with Jared Goff
RELATED: Matthew Stafford and the Detroit Lions Twisted the Knife in the Matt Patricia Era
As you would expect, social media had a field day and roasted Brockers for his earlier comments. Fortunately, Brockers has already reached out to Goff to make sure he hasn't burnt any bridges.
"I was really just trying to boost up the move that the team was doing and trying to make sure, boost up the fan base," said Brockers, via ESPN. "I don't think it was anything against Jared. I even had to go text Jared away from the camera, stuff like that, just man-to-man, just, man, bro, I did not mean it to go like that. I didn't mean what I said.
All seems to be forgiven. During an interview for Detroit's 97.1 the Ticket, Goff denied that there was any beef between him and Brockers.
"Brock is one of my good friends, and a good teammate, and I get it. He apologized very quickly," said Goff, via Yahoo Sports. "I love Brock. Sometimes it happens, but that guy is my guy."
The Detroit Lions upgrade their defensive line with Brockers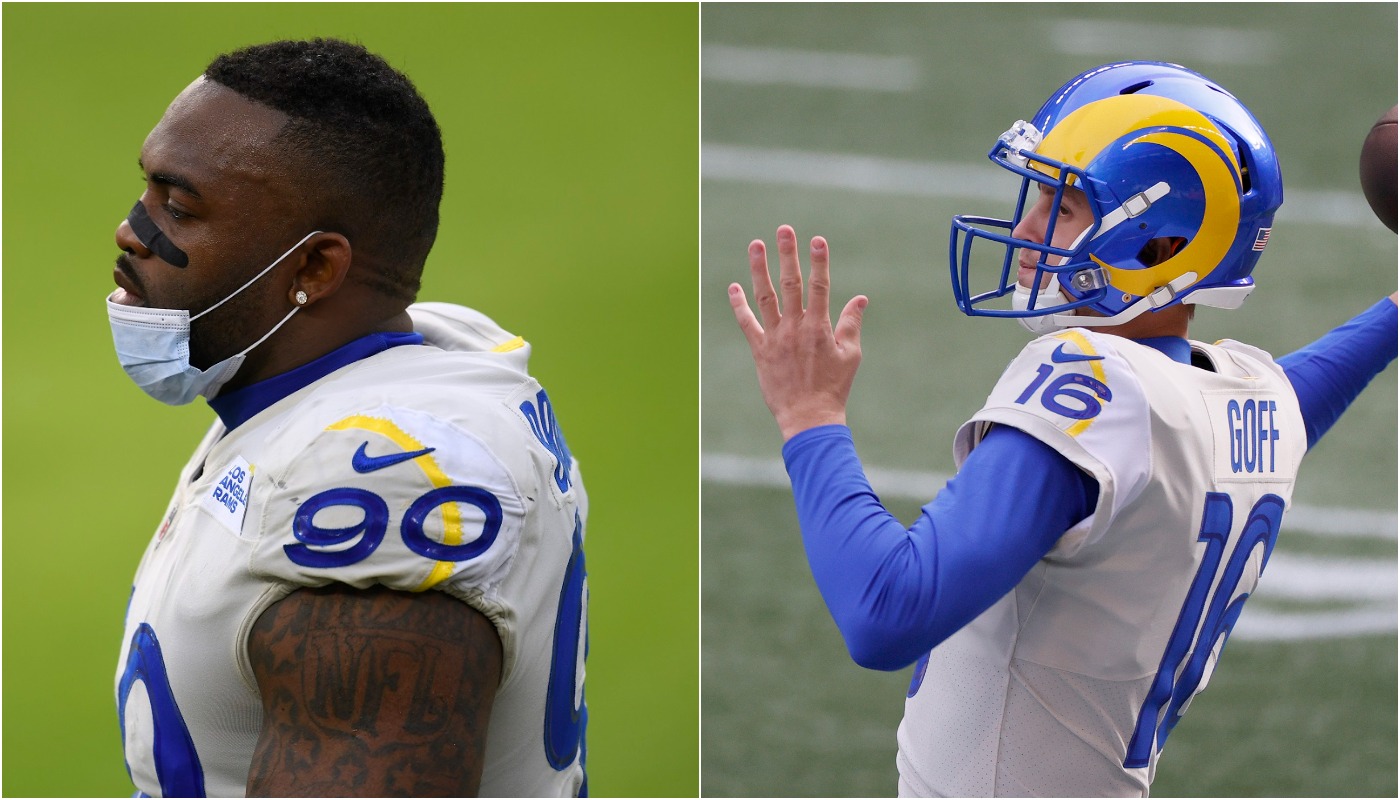 There is a good reason why new Detroit Lions general manager Brad Holmes went out and got Brockers. And no, it wasn't just to set up an awkward reunion with his former Los Angeles teammate.
Brockers had an unspectacular but productive 2020 season for Los Angeles. He recorded five sacks and 51 tackles for the NFL's best defense. Simply put, Brockers is a reliable defensive lineman — something the Detroit Lions haven't had since Ndamukong Suh. Over the 2020 season, the Lions ranked dead-last in both points allowed and yards allowed.
In fact, the only reason the Rams did away with Brockers is because they were desperately trying to slash payroll. Just before the start of the new league year, they had the worst salary cap situation of any team in the NFL.