Michael Chandler Will Do Anything to Compete Even as a Backup: 'I Haven't Enjoyed a Meal in 8 Weeks'
Not every great MMA fighter competes in the UFC, but many of them eventually do become UFC fighters. One of the organization's more recent signings is Michael Chandler, and he's already earned himself a title shot. The 35-year-old has worked really, really hard to get to where he is today.
Michael Chandler's UFC career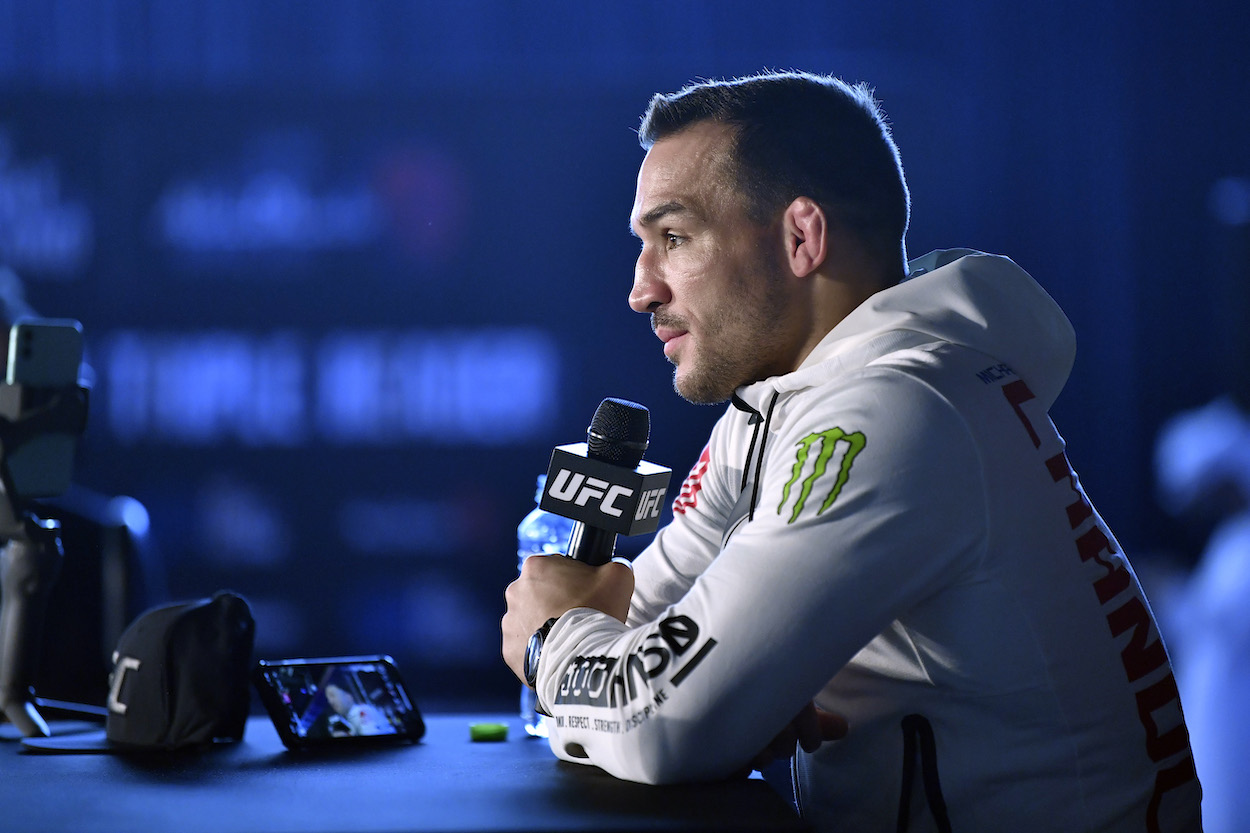 Outside of the UFC, one of the most popular and successful organizations is Bellator. Indeed, Chandler joined Bellator after just three pro fights, and it didn't take him long before he became a champ. In late 2011, just one year after signing, he choked out future UFC champ Eddie Alvarez to become the Bellator 155-pound lightweight champ.
He defended his belt multiple times. But in 2013, Alvarez won the rematch. Not long after, Chandler lost three fights in a row. But, like any champ, he bounced back. In 2016, he won his belt back by knocking out Patricky Freire in the first round. However, after losing and winning his belt back from Brent Primus, Chandler had a rematch against Freire. Freire knocked Chandler out in the first round.
In 2020, after knocking out former UFC champ Benson Henderson in the first round, Chandler wanted something more. He joined the UFC, and at UFC 257, he made his debut. He faced off against Dan Hooker, a highly-ranked lightweight, and it was a quick night for both fighters.
How much did the UFC pay Chandler for co-headlining UFC 257?
This fight was supposed to test Chandler, as some fans didn't believe he was UFC-caliber. However, rather than exposing Chandler, this fight showcased why he's a threat to the lightweight division. In just two and a half minutes, Chandler was able to knock Hooker out. This impressive performance from a newcomer earned him a performance bonus afterward.
In fact, due to Chandler's impressive record outside the UFC, he was paid a lot of money for fighting against Hooker. Sportskeeda reported that he was paid a total of $530,000 for the fight. $350,000 came from actually fighting, $180,000 came from sponsorships, and $50,000 came from that performance bonus.
Due to that high pay, it's no surprise that the UFC is already giving him a title shot against Charles Oliveira at UFC 262. Whoever wins that fight will win the lightweight title that Khabib Nurmagomedov relinquished after he retired from the sport.
Michael Chandler will do anything to compete
While Chandler debuted at UFC 257, it wasn't actually the first UFC fight that he prepped for. As Balance The Grind reports, he served as a backup fighter for UFC 254 in case either Nurmagomedov or his opponent, Justin Gaethje, dropped out. As a backup fighter, Chandler had to train and cut weight like a regular fighter, but he didn't care as he's used to it.
Chandler said, according to Balance The Grind, "I'm the most disciplined person in mixed martial arts. I haven't enjoyed a meal in eight weeks. That's the kind of discipline you must have." Along with a strict diet, Chandler, like most fighters, also has a strict workout routine. He trains six days a week, and from Monday to Friday, he does two workouts a day. On Saturday, he only does one workout, and he takes a break on Sundays. 
This level of discipline seems to have paid off as Chandler has a record of 22-5. Additionally, if he beats Oliveira and becomes the new champ, he may be able to entice Nurmagomedov to make a comeback. No matter what, that potential fight would be a tough test for both fighters.