Michael Irvin Brutally Slams Aaron Rodgers For Being Dishonest, Unvaccinated, and Selfish While Hurting His Packers Teammates: 'Cut That Mess Out'
The Green Bay Packers suffered a setback for their Week 9 matchup against the Kansas City Chiefs. Aaron Rodgers tested positive for the coronavirus (COVID-19) and will miss the game. Even at 7-1, every game is essential in the tightly-contested NFC.
After hearing the news, Dallas Cowboys legend and NFL Network analyst Michael Irvin had some choice words for the star quarterback.
Aaron Rodgers is making headlines for his clever word choice
Aaron Rodgers is catching a lot of heat right now, and not just because he won't be taking the field.
At a preseason press conference, reporters asked Rodgers if he was vaccinated against the coronavirus. He gave an interesting response: "Yeah, I'm immunized."
The nine-time Pro Bowler did not explicitly say that he was vaccinated. His clever word choice left room for a gray area, although his tone seemed to confirm his vaccination status.
According to ESPN, Rodgers asked the NFL if he could use an alternate treatment and have it count as vaccination. The league denied his request and deemed him unvaccinated by its standards.
Since the Packers' signal-caller is unvaccinated, he will need to quarantine and be out of action for at least 10 days. He'll definitely miss the Chiefs game but could return just in time for a Week 10 tilt against the Seattle Seahawks if he clears protocols.
The NFL is now investigating to determine if Aaron Rodgers and the Packers have broken any of the league's coronavirus protocols.
Michael Irvin had some strong words for the Packers' QB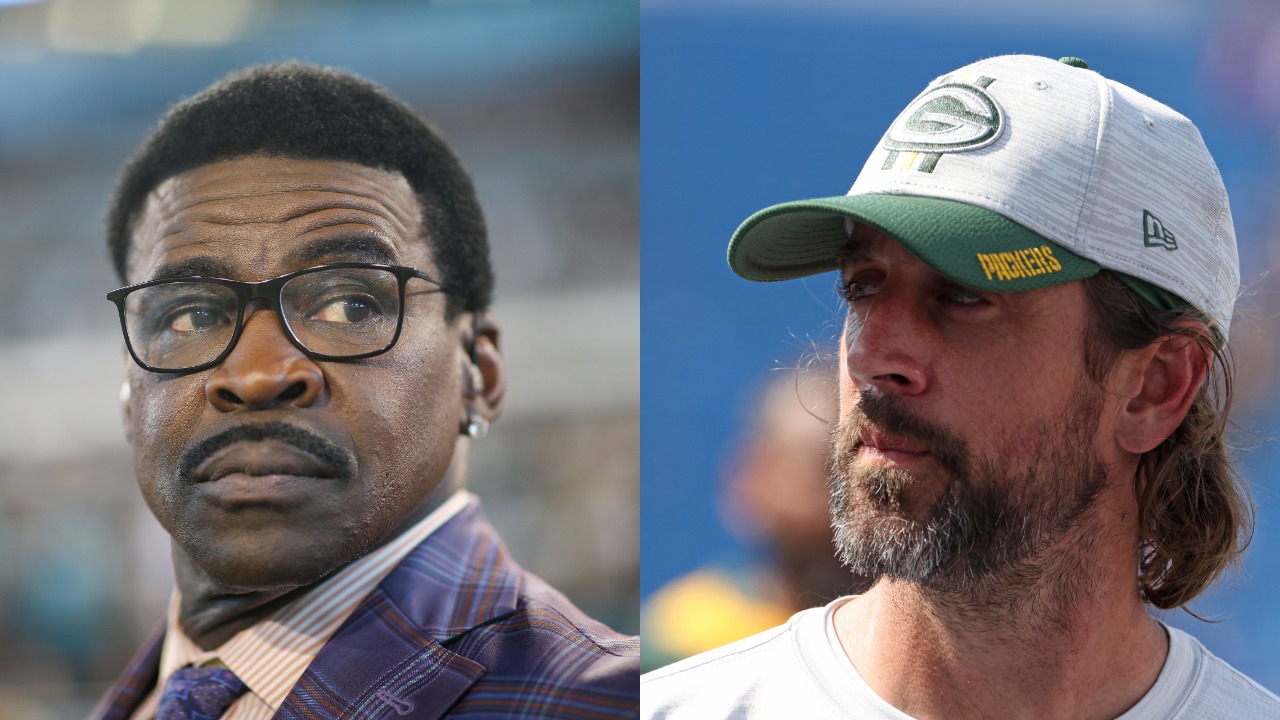 Aaron Rodgers found a loophole with the media and undoubtedly ruffled some feathers. Pro Football Hall of Fame wide receiver Michael Irvin had some strong words for the Packers' quarterback in response to the news.
"I can't even start in on Aaron Rodgers," he said on The Michael Irvin Podcast. "Because I know you did not hold out this whole offseason, holding everybody accountable. And saying everybody is falling short and not doing what they're supposed to do, and you're not vaccinated? Dude, c'mon, man."
The former Dallas Cowboys Super Bowl champion was shocked to hear that Rodgers wasn't vaccinated, especially given the offseason turmoil. The 17-year veteran skipped mandatory OTAs, and questions emerged surrounding if he'd report to training camp. He eventually did, solidifying his commitment to the Packers for 2021.
Irvin slammed Rodgers for misleading people, though. "Cut that mess out," he said. "That blows my mind. If you're not vaccinated, you're putting your team in harm's way. Your job is to eliminate things that can cause you to lose this championship.
The former five-time Pro Bowler believes Aaron Rodgers is costing the Packers. "If I'm paying you 30 or 40 million a year, I don't care about your choice," said Irvin. "Aaron Rodgers, shame on you for pointing that one finger at [Brian] Gutekunst and all these people in the front office and just disregarding those damn three fingers pointing back at you."
Michael Irvin left Rodgers with stern directions moving forward: "Go get your butt vaccinated, man, and stop messing around. Stop playing around, man. You know that team needs you."
One game can make all the difference for Matt LaFleur's squad
Michael Irvin makes a valid point. While it may not seem like a huge deal for Aaron Rodgers to miss one game, it is. Sure, the Packers are 7-1 now, but it's a long season.
The 2021 NFL season is only at its halfway point, so no team can truly get complacent. With the new playoff system, just one team per conference gets awarded a first-round bye and home-field advantage throughout the playoffs.
Green Bay is currently sitting as the No. 1 seed in the NFC. However, the conference is so tight, and the standings could change from week to week.
The Packers moved into first place after knocking off the previously unbeaten Arizona Cardinals. The Dallas Cowboys and Los Angeles Rams are the other one-loss teams. The Tampa Bay Buccaneers and New Orleans Saints are right on their heels with two losses each.
With Aaron Rodgers out against Patrick Mahomes and the Chiefs, Matt LaFleur turns to second-year quarterback Jordan Love.
The worst-case scenario for the Packers is Love plays poorly, and the team falls to 7-2. That would hardly be the end of the world. Still, every game counts.
Like Sportscasting on Facebook. Follow us on Twitter @sportscasting19.
RELATED: Aaron Rodgers' 4-Word Lie Just Handed the NFC Championship Game to Tom Brady or Aaron Donald: 'Yeah, I've Been Immunized'