Michael Irvin Calls Out the Buccaneers' Defense Despite Tom Brady's Poor Performance: 'It's Going to Take More Than a Shower to Get That off You'
Could the reigning Super Bowl champions be on the ropes? The Tampa Bay Buccaneers are currently on a two-game losing streak, which is concerning for a team that looked like a good bet to repeat in 2021. Tom Brady had a bad game in Week 10, but it was an all-around poor team effort. Michael Irvin is more worried about Tampa Bay's defense.
The Hall of Fame wide receiver ripped the Bucs' defenders for their embarrassing play as of late.
Tom Brady played poorly against the WFT
Even though he's 44 years old, Tom Brady has still been one of the best quarterbacks in the NFL. However, the seven-time Super Bowl champion has struggled in the Buccaneers' past two games.
Brady threw four touchdown passes against the New Orleans Saints in Week 9, but he also tossed two interceptions and lost a fumble.
Tampa Bay looked to bounce back on the road against the Washington Football Team, but things, unfortunately, didn't go as planned.
The Football Team shell-shocked the Bucs on both sides of the ball. Brady completed just 23 of 34 pass attempts for two touchdowns. However, he also threw two interceptions, making it five turnovers in two games.
Washington took advantage of Brady playing without his full complement of weapons, but there's still cause for concern moving forward for Bruce Arians' squad.
The banged-up Bucs' defense did not look good in Week 10, and the unit has had its fair share of struggles in the two losses.
Michael Irvin blames the Buccaneers' defense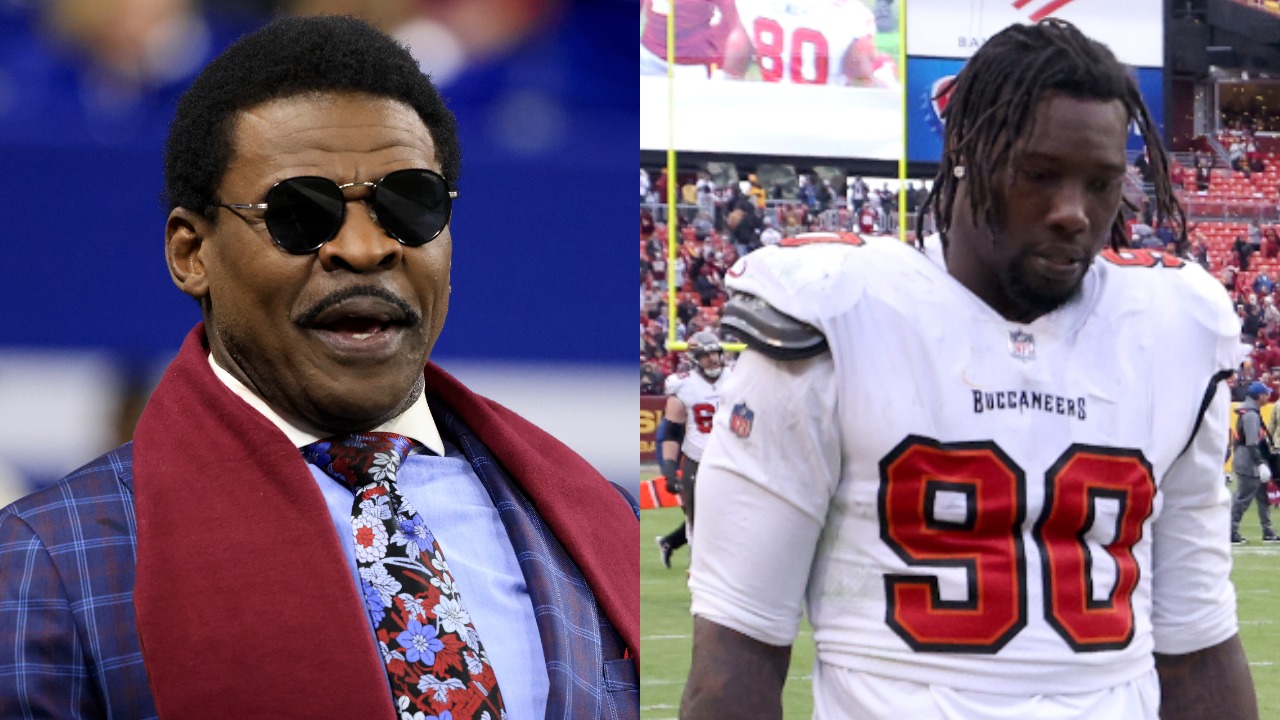 Dallas Cowboys Hall of Fame wide receiver Michael Irvin doesn't like what he's seeing in Tampa Bay right now, but not because of Tom Brady. The three-time Super Bowl champion has a problem with how Todd Bowles' defense has played recently.
Irvin appeared on ESPN's First Take with Stephen A. Smith and discussed the Tampa Bay Buccaneers' most recent loss to the Washington Football Team.
The NFL Network analyst weighed on the Bucs' defensive woes and didn't mince any words.
"You've got to go in the locker room," said Irvin. "It's going to take more than a shower to get this off of you. This is going to last going into the week. You've got to look in the mirror when you put toothbrush to tooth and say, 'was that us?'"
The Buccaneers' defense couldn't get off the field in the fourth quarter against Washington. The Football Team put together an impressive 10-minute drive, capped off by an Antonio Gibson touchdown run. The drive left just 29 seconds on the clock for Tom Brady and sealed the victory.
"Tom Brady ain't the problem," Irvin added. "The manhood of everybody on that defense must get checked. And they've got to check it at their own door."
How will Tampa Bay respond?
Michael Irvin is right. The Tampa Bay Buccaneers didn't look like Super Bowl contenders in Week 10 at all, but especially on the defensive side of the ball.
The Bucs' allowed just 320 yards of total offense, but they couldn't get enough stops. Washington completely controlled the time of possession battle (39:08 to Tampa's 20:52).
Tampa Bay has battled injuries on defense. They're still playing without cornerbacks Carlton Davis III and Sean Murphy-Bunting. However, most of the defensive starters were on the field.
Washington was playing without several key starters on offense, including Curtis Samuel and Logan Thomas. The Buccaneers have no excuses.
So how do Bruce Arians and company respond? Well, they'd better hope to answer how the Dallas Cowboys did after an embarrassing loss to the Denver Broncos.
Even though Tom Brady played poorly, he's still who he is, and we know what to expect. TB12 doesn't play defense, though. This unit needs to get its act together as soon as possible.
The once-vaunted Bucs defense doesn't strike fear in the hearts of opponents like it once did. If not corrected, not even Tom Brady may be able to save Tampa Bay's Super Bowl hopes.
All stats courtesy of Pro Football Reference